When asked to identify the weakest of the four conferences, without hesitation, most fans would say the CHA. The popular answer is not always the correct answer.
Thus far this season, if excluding games against independents Lindenwood and Sacred Heart, teams from the CHA are four games over .500. By comparison, Hockey East squads have compiled a collective record five games below .500 with the same exclusions, and teams out of the ECAC are 17 games under.
Looked at another way, CHA representatives have advanced to the NCAA title game once, Mercyhurst in 2009. Boston University last season was Hockey East's first foray to the championship game, and while the ECAC has several such appearances, only Cornell in 2010 played for the title in the last six years.
Of course, much of the success of the CHA occurs in Erie, Penn., home of the Lakers. Mercyhurst has put together a streak of seven straight NCAA tournament berths, a mark that is shared with Minnesota-Duluth and is still active for both. Accomplishing the feat without the safety net of an automatic bid to the tournament makes the Lakers' run all the more impressive.
"The nice thing with us and our program, and it is a challenge, is the cupboard is never completely bare," coach Mike Sisti said. "I think any quality program, you need that. I think that we've had so many great players here, and it has helped us in so many ways. Fortunately, as they move on, a combination of the younger players that learn from them that move into leadership roles and handle that well, and certainly the new players get thrown into the fire being able to pull their weight and perform well, has been the key to our success."
This season was one of the more challenging in that regard, given Mercyhurst's losses last season to graduation. When the team dropped a game in each of its first two series of the season, the string of NCAA bids looked to be in jeopardy.
"We knew we'd be very young; we lost about 800 or 900 points out of our lineup," Sisti said. "Over the years, our program has done a great job of replacing great players. Each year and team are different. We've been able to find whatever way is necessary for a particular team to win, given their strengths or weaknesses."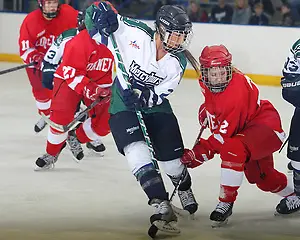 After a loss to Minnesota State dropped the Lakers' record to 1-2, they regrouped and rattled off nine straight wins heading into a crucial series hosting No. 3 Cornell. The contest was Mercyhurst's first against a team currently ranked in the top 10, but the team proved itself ready by scoring the game's first two goals and taking a 3-1 lead early in the second period.
"Our teams are always prepared to play," Sisti said. "That's a credit to my staff and a credit to the players, who really absorb whatever we give them. This team has learned so much. When you have a lot of new people, there's just so many things to teach them, from the basics to any complex tweaks or whatever you need to win a particular weekend. This team has been real diligent in how they go about their business, their work ethic, and really listen to what we're giving them and applying it come game day. Those games, we put in some tweaks, and they handled it well and really played well."
The Big Red stormed back, scoring three times in just over 10 minutes in the middle frame, and claimed a 5-4 decision on a late goal from Laura Fortino.
"In the second period, we took some untimely penalties, and they got a couple key goals there to get rolling," Sisti said. "Even with that game, we had chances late to come back. We tied the game, and obviously, they won it in the last minute. It was a really exciting college hockey game for the fans. It could have went either way. When you've got a team with so many game breakers that they have, they're never out of a game, and that's what happens on some nights."
In the rematch with Cornell, the Lakers didn't settle for the moral victory of playing well, but did the things necessary to skate to a 5-2 triumph.
"In game one, as well as we played, we made enough mistakes that a real good team took advantage of," Sisti said. "In game two, I guess if there was a difference, we just made less of those mistakes. Not that we still didn't make some. We got some great saves both nights, but goaltending was awesome night two, and we just made less mistakes. We were able to make sure they never got as close game two."
After not facing a top team for the season's first two months, Mercyhurst met them on successive weekends, traveling to Boston for a pair of games with No. 4 Boston College.
"I think we did not play nearly as good the second weekend," Sisti said. "Usually in games, you can get away with one or two players not playing their best, but it was just an off night for a lot of our players. A lot of credit goes to BC, too. They had a lot of energy. I think it was just one of those weekends where you do get in the term where a lot of players on your team don't quite have it on a particular weekend. Even there, our team fought hard. We had a chance to tie it late and gave up an open-net goal in the first game."
As in the Cornell series, the Lakers lost the opener, as Alex Carpenter's empty-netter sealed a 4-2 BC win. With tournament aspirations and a 1-2 mark over its first three games against opponents in the Teams Under Consideration category, No. 5 Mercyhurst knew salvaging points was critical in the conclusion of the series with the Eagles.
"They are a team; they really support each other and they don't point fingers at each other in tough times, and they don't give up," Sisti said. "They've been fun to coach, because as young as they are, they're all pulling together and they believe they can win games, and that's a big part of it. That's why certainly after game one that we knew our backs were against the wall and the team challenged themselves and we got tremendous goaltending, which is key. Our special teams answered the bell, and obviously, we were able to win the game."
Mercyhurst earned a 3-2 victory on the strength of two power-play goals and Wayne State transfer Jill Szandzik's game-winner at 3:01 of overtime.
The win was senior goaltender Hillary Pattenden's 91st in her Mercyhurst career, matching the mark that Wisconsin's Jessie Vetter established in the 2009 championship, ironically at the expense of the Lakers. On December 14, Pattenden set a new NCAA record with win 92 as Mercyhurst blanked Lindenwood, 9-0.
"It's been nice over the course of our program to have some NCAA records and some team awards," Sisti said.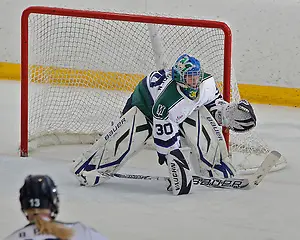 He believes Pattenden, whom he calls a great competitor, is certainly deserving of the record.
"She's a great person," Sisti said. "There's never been a player that we've had that has said a bad word about her."
Sisti describes Pattenden as quiet, but she also knows when the situation calls for something to be said.
"When she speaks, people listen," he said.
Much of the recognition of Mercyhurst players over the years has come at the other end of the ice. Meghan Agosta tallied an NCAA record 303 points in her career, and was voted a Patty Kazmaier top-three finalist all four years. Forward Vicki Bendus, who was a star in the classroom as well as on the ice, took home the Kazmaier Award in 2010.
Again this season, a number of Lakers are emerging as candidates for Kazmaier or All-American honors.
"[Senior Kelley] Steadman is having an awesome year," Sisti said. "[Christine] Bestland is only a sophomore, but we give her a lot of responsibility. Pam Zgoda, our captain on 'D', is anchoring a young 'D' corps. Certainly with [Bailey] Bram and Jess Jones and Steadman up front, they play in every situation. They are seasoned veterans. Jess Jones is really — a credit to her, she's had two knee surgeries on both knees, and that kid never gives up and can do absolutely everything for us and is such a smart hockey player, and obviously doing a great job leading for us as well. I think Bailey clearly deserves a long look at the Patty Kazmaier this year, along with some other great players across the country, but she's doing everything we ask of her."
Senior forward Bram's 48 points on 21 goals and 27 assists matches the total amassed by Wisconsin's Brianna Decker as the top production in the country. Having played in two fewer games, Bram has set the best mark in points per game with a 2.67 average.
In the second half of the season, CHA league play will get underway in earnest. Because the Lakers have claimed every CHA tournament and regular season championship, with the season crown being shared with Wayne State in 2007-08, they carry a target into showdowns with conference rivals.
"As far as our league goes, we've always been able to be tested and challenged by our league opponents, because there are huge rivalries that have been there," Sisti said. "We've been on top fortunately for a long time. Their season, it's no secret — they want what we have. Those are huge games on their schedule. We get their absolute top-level focus and competitiveness, and that's always a challenge for us."
With the possible exception of the Wayne State teams that featured Melissa Boal, Sam Poynton, and Lindsay DiPietro, the problem for the rest of the conference in tilts with Mercyhurst is that most of the best players on the ice are wearing Lakers jerseys. Whether the challenge presented by the maximum effort of lower-ranked teams will provide the competition necessary to achieve an NCAA crown remains to be seen. In the meantime, all the Lakers can do is prepare for whatever opponent the schedule brings.
"In our early years, we'd go into programs that had been around for 20, 30 years and didn't have any national players on our team, but our players would play with great heart and pride and find ways to win, and we've never lost sight of that."