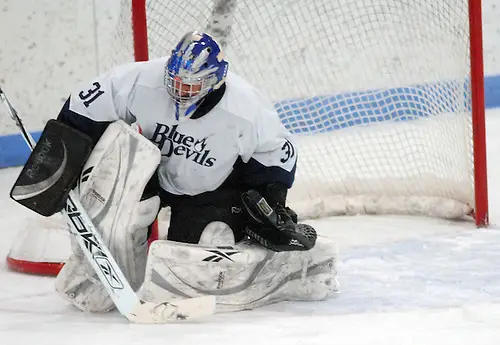 After two stellar performances, Wisconsin-Stout goaltender Nick Hopper may have solidified himself as the Blue Devils' starting netminder. Hopper, a senior, was named the Northern Collegiate Hockey Association Player of the Week for the week ending Nov. 19. With a remarkable 59 saves, Hopper propelled the Blue Devils to back-to-back wins over nationally-ranked teams in St. Thomas and Wisconsin-Superior.
While he'll gladly accept conference recognition, Hopper takes more pride in leading the Blue Devils to two impressive wins. Through Sunday, Wis.-Stout was 4-3-2 overall and 1-3 in the NCHA. The Blue Devils are sixth in the ultra-competitive NCHA.
"Receiving the recognition is nice, but more importantly, it proved that our team is for real," Hopper said.
On Nov. 13, Hopper stoned No. 13 St. Thomas, blocking 27 of 28 shots. The only goal he allowed was on a power play in the second period.
"Collectively, as a group, that was probably the best game we've played in our defensive zone," Hopper said. "We kept track of how many shots we gave up in the slot, and we didn't give up very much so it was kind of an easier game for me because the defense did such a good job pushing them to the outside and kind of taking away some of their second chances."
On Friday, Nov. 16, Hopper was near perfect again, recording 32 stops in a 4-1 win over No. 12 Wis.-Superior. Once again, the only goal he allowed was on a man-advantage. In the third period, Hopper turned back a Yellowjackets onslaught, blocking 14 shots. Through Nov. 25, Hopper ranked 19 nationally among goalies in D-III, and second best in the NCHA behind St. Norbert sophomore David Jacobson. Through five games, Hopper has a .937 save percentage, 18th D-III.
Heading into the season however, Hopper wasn't penciled in as the Blue Devils' starting goalie. Last season, he split time with fellow senior Tom Lescovich, and this season, he's still locked in a platoon with Lescovich. However, both Hopper and Blue Devils coach Terry Watkins insist there isn't a goaltender controversy at Wis.-Stout.
"Tom and I have had an interesting relationship since we've been here; we're probably the two closest guys on the team," Hopper said. "However it goes with ice time, we push each other every week in practice and we have such a great relationship that it really doesn't matter who's playing more or less, we're going to push each other even more. It's kind of an awesome relationship that we have."
Added Watkins, "They both came here at the same time. Tommy was on fire his sophomore year, so he got the majority of the starts. And then last year, they split and their numbers were about the same — neither one had a great year. But Nick has come in this year and has just played awesome. He's seeing the puck well and has just been really solid. Him and Nick are great friends and they get along well in practice, but right now, Nick has the upper hand."
Watkins attributes Hopper's improved play to a sense of confidence. The senior, a Culver, Calif., native, has been more relaxed this season.
"If you watched him play, you would say, 'There's a confident kid. There's a guy who's simplified it,'" Watkins said. "I don't think he did a whole lot different in the offseason than what he's done. Sometimes the game goes 100-mph and sometimes it goes 25. Right now, for him, it's probably going 25."
As the calendar flips to December, the Blue Devils have important series against St. Scholastica and Wisconsin-Stevens Point. Whether it's him or Lescovich in goal, Hopper knows a few wins before the Christmas break would push the Blue Devils into the top 15 in D-III.
He must be prepared to perform.
"I just want to maintain the level of play that I'm at and continue to get better everyday," Hopper said.