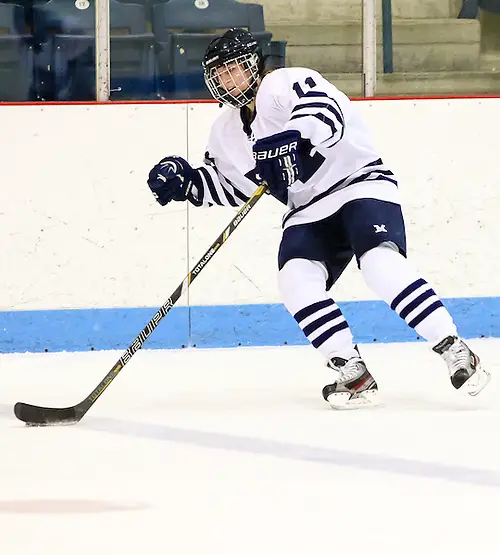 In a year where it seemed like things would be pretty cut and dry on which teams would be contending for the league and national titles, the NESCAC has been the outlier.
Three weeks ago, the conference looked like a pretty straightforward two-horse race between Middlebury and Bowdoin. Fast forward to the present and the only word that can used to describe what has transpired since is complete parity.
After splitting a series with Middlebury two weeks ago, Bowdoin had the inside track to capture the NESCAC crown. However, the Polar Bears have gone 1-2-1 over their last four games, including dropping both games to Trinity this past weekend to fall into a two-way tie for second place in the league, five points back of Middlebury.
Bowdoin is tied with Amherst, a team that was written off by many long ago after a slow start to the season under new coach Jim Matthews. The Lord Jeffs are 7-3-1 in their last 11 games, but they have four tough league games remaining, with a pair of games each against Bowdoin and Trinity.
While Middlebury has a five-point lead, the Panthers have played two more games than the rest of the contenders for the NESCAC title. Middlebury wraps up its NESCAC schedule with a home-and-home series with Williams this weekend. The Panthers can wrap up the regular season title and hosting rights throughout the NESCAC Tournament with a sweep of Williams. However, if Middlebury only gains three points, it opens up the regular season championship to a whole host of possibilities.
Although Middlebury has put itself in the driver's seat for the NESCAC regular season title, the Panthers have hit a bit of rough patch over their last four games, with just a 1-3 record and losses to Plattsburgh, St. Anselm, and Connecticut College.
Amherst and Trinity have played their way back into contention, but this weekend they'll face each other in a two-game series at Trinity which will likely eliminate one or both of them from having a chance to catch Middlebury, depending on the outcome.
Trinity has quietly been one of the hottest teams in the country over the past 10 games, compiling an 8-1-1 record, highlighted by their sweep of Bowdoin this past weekend. Backed by their star junior goaltender, Alexa Pujol, the Bantams have been firing on all cylinders lately. Pujol is 9-4-3 on the year with a 1.33 goals-against average and a .956 save percentage. Her goals-against average ranks eighth in the nation, and her save percentage ranks second behind only Lake Forest's Stacey Dierking.
What impresses me most about the NESCAC that doesn't really exist in most of the other Division III women's conferences is that any team from first to ninth can beat another on any given night. The closest conference to that sort of parity and competitiveness is probably only the NCHA.
One thing is for sure, the NESCAC Tournament will probably be the most exciting of the five conference tournaments from start to finish. Nearly every team in the league has a goalie capable of stealing a game from any other team in the conference. In a one-and-done situation, a hot goalie can be the difference between an auto bid into the NCAA tournament and staying home.
Baring collapses by Plattsburgh, Norwich, and Gustavus Adolphus, all three of those teams have all but locked up their respective regular season titles. The only other league with a lot still to play for in the regular season is the NCHA, which could be shaping up for a dandy of a final weekend showdown.
If Wis.-River Falls and Lake Forest can both get by St. Scholastica and St. Norbert respectively, they'll head into the final week of the season with two games head-to-head, all tied atop the league standings. Both squads currently sit with 26 points. Wis.-River Falls gets the honor of hosting the potential showdown for all the marbles and NCHA Tournament hosting rights.