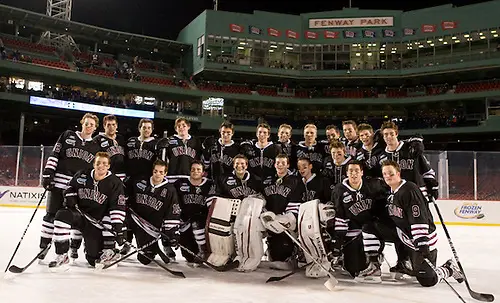 Outdoor hockey — the game in its purest form.
For the most part, you either love it or hate it. Anyone who knows me knows that, for the most part, I hate it.
Maybe hate is a strong word. But I certainly dislike watching a hockey game outdoors. Bad sight lines, uncertain weather, temporary ice where the conditions aren't guaranteed. Maybe it's fun for an exhibition, but games that count toward league standings, that's just not for me.
In college hockey, there have been plenty of outdoor games to dislike — from the packed Big House at Michigan to a college game between Connecticut and Sacred Heart that drew a whopping 1,911 fans.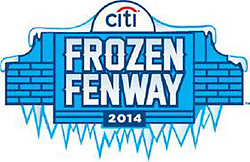 Frozen Fenway 2014
All times Eastern. All games at Fenway Park, Boston, and televised by NESN.
Saturday, Jan. 4
• Merrimack vs. Providence, 4 p.m.
• Notre Dame vs. Boston College, 7:30 p.m.
Saturday, Jan. 11
• Massachusetts-Lowell vs. Northeastern, 3 p.m.
• Maine vs. Boston University, 6:30 p.m.
Tickets: On sale through the Boston Red Sox.
But like or dislike outdoor hockey, you certainly have to give credit where it is due. The NHL has mastered the Winter Classic, though many wonder whether even the game's ultimate institution will go too far in 2013-14 when it hosts six — yes SIX — outdoor games. Because it's the NHL, it's likely all six games will be successful, but many around the game question if this overload might water down the outdoor product.
While there have been successes and failures when playing in nature at the college level, one thing now seems clear — Hockey East has figured out the formula to success.
This January, the league will host its third Frozen Fenway. The inaugural event was a smashing success in 2010 when Boston College and Boston University, riding the coattails of the NHL's Winter Classic between the Bruins and the Philadelphia Flyers, packed Fenway Park for a memorable event.
Two years later, the league attempted the venture again, this time without the help of the NHL to draw attention to the ice sheet in the infield of the historic ballpark. I was vocal at the time that the event had the potential to be a disaster.
But a combination of factors, the least of which includes a first-class marketing machine that is the Boston Red Sox, once again made Frozen Fenway (Part II?) another successful event.
So it's not surprising that in January the third version of this winter wonderland will once again grace the Boston baseball diamond. Given the success of the first two installments, I wouldn't bet against yet another cash cow for the league and Fenway Sports Management, the marketing arm of the Red Sox.
Whether it will be a financial windfall, though, may come down to whether the league has bit off more than it can chew.
In the first Frozen Fenway the formula was simple: one game, two teams and a blockbuster sellout. Having the league's marquee rivalry of BU and BC certainly didn't hurt. At the time, the two clubs were the last two national champions, BC winning in 2008 and BU in 2009.
The 2012 event doubled the Division I men's participants — a doubleheader with four state schools: Vermont vs. Massachusetts, New Hampshire vs. Maine. While that would produce a stadium that was approximately one-third empty for each game, it still produced a sellout and a financial success.
Those monies certainly go a long way. After paying out the home teams that sacrifice their gate, revenues from the event are split between all of the league's member teams.
The entire production, says league commissioner Joe Bertagna, carries with it little risk for Hockey East.
But if ever there is risk, it may be this year. What was once a single-day, single-game event four years ago now is comprised of two college hockey doubleheaders.
"People still like the novelty of coming into Fenway Park," Bertagna said. "The first one, we sold out four hours after tickets went on sale. I'm not saying we're going to do that this time. There's a lot more seats now with 75,000 [over the two dates]."
On Jan. 4, Merrimack and Providence will square off in the opening game while the marquee match will bring together two long-time college sports rivals in Boston College and Hockey East's newest member Notre Dame.
The BC-ND game, in essence, follows the format of past Frozen Fenways — bring together two of Hockey East's top rivals to develop a must-see game. BC-BU. UNH-Maine. And now, despite being a new league rival, BC and ND have plenty of history in both hockey and football.
"That's part of the reason we want to be in Hockey East," Notre Dame coach Jeff Jackson says. "They have high-profile teams that give our program more recognition."
Boston College and Notre Dame might make ticket sales easy for the first week of Frozen Fenway games. The question mark might be Frozen Fenway's second week. Massachusetts-Lowell, fresh off its first Frozen Four, will face Northeastern in the opening game, while BU and Maine make up what is considered the marquee game in the nightcap. The Terriers-Black Bears rivalry was strong in the 1990s, but using them as the calling card still might not be enough to fill the ballpark.
Simply put, that might not be the be all and end all for Bertagna and Hockey East.
After the 2012 event, three teams still hadn't been included: Providence, Lowell and Merrimack. All three programs are currently at their program's respective peaks. Merrimack is a few years removed from its first NCAA appearance as a Hockey East member and has drawn solid crowds at Lawler Arena for four straight seasons. Lowell, as mentioned, reached last season's Frozen Four, but also battled Providence to the final night last season for the regular season trophy.
If merit alone was a reason to include teams in Frozen Fenway, the three stragglers from past events more than deserved their place.
"BC-Notre Dame is pretty easy to promote as an event," Bertagna says. "But we went to the Red Sox and said, 'We want anyone who hasn't had a chance, to play.' They said, 'No problem.'"
Ambitious? Yes. Politically correct? No doubt. A definitive cash cow? That's still to be seen.
One aspect that helps all parties involved is corporate sponsorship. Sun Life Financial, which was the title sponsor of the first two events, isn't returning for 2014. But FSM and its marketing power convinced financial services provider Citi to take over the role of presenting sponsor, significantly relieving all parties of the financial burden associated with the event.
According to Bertagna, Hockey East sees little of the sponsorship revenue from the title sponsor, but the revenue helps provide the bells and whistles that make an event like this successful.
"Having a sponsor helps overall when we have to make decisions on things that involve money" on items that enhance the overall event, he says.
If there is any major concern that seems to be on Bertagna's mind heading into the third edition of Frozen Fenway, it is the impact of the event on the league's postseason tournament. The commissioner is more than aware that expendable income in this day and age is limited for the average family and, in that vein there are plenty of options where a family can spend that money.
In 2010 and 2012, Bertagna said there was a drop off in ticket sales for the league's postseason tournament at the TD Garden. Whether that was directly related to fans having to decide between watching hockey at Fenway or the Garden isn't certain. But the thought that the league could be marketing its two major events against one another certainly raises eyebrows.
"College hockey, as big as it is, we all try to market to the same people," Bertagna says. "In this area, it's so condensed for the choices on what they can do with their money."
So does Frozen Fenway present a risk to Hockey East? Bertagna definitively says no. "The bottom line is the benefit from this more than compensates for any loss [from the league tournament]," he says.
It still isn't certain that the third Frozen Fenway will be considered a success, but when it comes to outdoor college hockey games — and particularly the ability to continually repeat such games in the same venue — Hockey East seems to have a solid formula.
So will we see Frozen Fenway IV in 2016? We may have that answer when this season's event is complete.
"You have to sell tickets," Bertagna says. "If it's not a financial success, it doesn't happen."