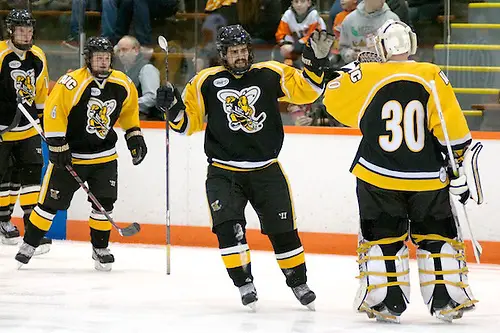 Two years ago, American International did something it had never done before in the Atlantic Hockey era when it didn't finish in last place.
While that statement is, in some parts, cause for derision and laughter, the 10th-place finish was the cause for unprecedented optimism and hope in West Springfield, Mass., especially when the team took Robert Morris to overtime in a deciding third game in the AHA's postseason.
"We had indicators [that we could be successful] when we lost in overtime," Yellow Jackets coach Gary Wright said. "We felt we'd grown; we had a good senior class coming back [in 2012-13], and we got better with our recruiting. It was a very encouraging time."
That encouragement gave way to jubilation last year.
After a decade of futility, AIC rose from the ranks of the AHA's basement to force teams to take notice in what's been arguably the program's best season to date. They won seven of their last 11 games of the season, losing only once, to go from a 4-12-3 team to a 12-15-6 team. Along with a couple of strokes of luck and fate, the Jackets finished ninth, the third-best team in the eastern pod, earning the spot on the season's last day with an overtime win over Bentley.
"Ninth place might be a modest finish to others," Wright said, "but it has significance to ours. It energized our program and it pushed us a little bit higher. We pushed past some teams along the way, and everything really came together."
An up-and-down squad for the first part of the year, the Yellow Jackets opened 3-5-2 with marquee victories over Penn State and Quinnipiac, the latter of which went on to be ranked No. 1 for roughly two months and finished as the national runner up.
Then AIC lost seven out of eight, including back-to-back-to-back 7-2 losses, with the second and third coming at the UConn Hockey Classic.
"We had a couple of highlights early, like that win against Quinnipiac, but we were really up-and-down until after that UConn tournament," Wright said. "We had a big downward dip after we lost [to Connecticut and Brown], but we came back in January and started playing some great hockey."
The season was buoyed by one of the best senior classes in the league. Ben Meisner got most of the glory in net in setting the career Atlantic Hockey saves record, but he had substantial help in front of him.
"Adam Pleskach was always a choice on the postseason honors," Wright said, "and Chris Markiewicz and Jeff Ceccacci did a great job anchoring the defense and power play. Plus four years ago, we received a full-time assistant coach, so our recruiting had progressed and improved substantially. We had a good complement of underclassmen."
So now AIC faces the next step, which is the sustainability of last year's success and the skepticism that their finish is going to be more than a one-shot season.
The preseason coaches' poll has the Yellow Jackets in 11th place under the argument that they were decimated by graduation and don't have a history to sustain the argument they'll be able to keep that going.
"Obviously, we lose a good senior class," Wright said. "But we have a good recruiting class, and it's the beginning of the season. Everyone's really full of hope."
About the Yellow Jackets
2012-13 overall record: 12-17-6
2012-13 AHA record: 9-12-6
2013-14 predicted finish (coaches poll): 11th
Key losses: G Ben Meisner, F Adam Pleskach, F Richard Leitner, F Steve Mele, D Jeff Ceccacci, D Chris Markiewicz
Players to watch: F Jon Puskar, F Blake Peake, F Chris Porter
Impact rookie: Hunter Leisner's last name might be one letter off from Ben Meisner, but the NAHL goaltender could step right into the role vacated by his predecessor. Leisner won 30 games for the Texas Tornado last year, saving over 90 percent of his shots faced with a GAA under 3.00.
Why the Yellow Jackets will finish higher than the coaches poll: The goaltender's role transitions seamlessly to Leisner, and the offense transitions to Puskar, Peake and Co. The defensive unit continues as a hidden gem within the AHA.
Why the Yellow Jackets will finish lower than the coaches poll: They can't replace Meisner, Pleskach and the program's best senior class. The inexperienced freshmen look it, and they tumble.