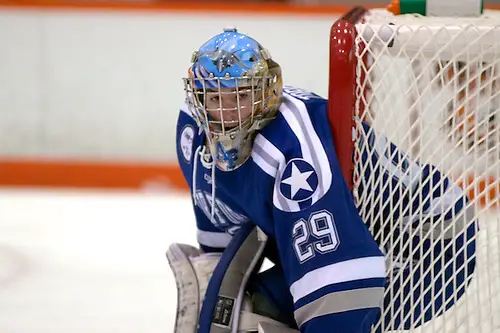 After the final weekend of the 2012-13 Atlantic Hockey regular season was in the books, Air Force coach Frank Serratore had every reason to be optimistic. His team had lost just once in its final eight games, including a convincing sweep of first-place Niagara to close out the schedule.
"We were a very, very good team at the end of last year," he said. "I thought we were going do it again."
By "do it again," Serratore meant win another AHA championship, what would have been the Falcons' sixth in seven seasons.
But Canisius had other ideas, sweeping Air Force in a pair of 4-3 quarterfinal contests on its way to the Atlantic Hockey title.
"All the championships we won, the bounces always went our way," Serratore said. "Last year, Canisius came in and they were a team of destiny. The bounces went their way; I'm not complaining. Canisius beat a good team. We played Niagara played in that final series and we beat them pretty handily. At that point I thought we were a team of destiny.
"No regrets, we were the team we wanted to be at the end of the year and it just didn't go our way."
The Falcons will need to find some offense if they're going to a be a team of destiny this season. Air Force returns (soon-to-be) four-year starter Jason Torf in net and most of its defense. The question area is up front, where the Falcons must replace their top two scorers, Kyle De Laurell (36 points last season) and Stephen Carew (29 points), as well as John Kruse (22 points).
"The glaring issue is the loss of senior forwards and their 40-some goals," Serratore said. "We're going to have to make it up, and make it up collectively."
That can put some pressure on junior Cole Gunner (29 points last season), senior Tony Thomas (28 points) and junior Chad Demers (24 points).
"A lot of guys are capable of chipping in a few more than they did last year, and we're going to have to do it by committee," Serratore said. "If we can get off to a better start with our goals-for to goals-against ratio and not give up as many points as we did early, then maybe we can make it up that way."
Defense will be a strong point, with Torf in net and a blue line corps that came into its own in the second half of last season. Adam McKenzie, last season's defensive player of the year in Atlantic Hockey, is back for his senior campaign. He and junior Dan Weissenhofer are expected to lead on special teams.
"When you can start out saying you've got the defenseman of the year coming back, that's a nice place to start," Serratore said. "Back him with Dan Weissenhofer — I think he's going have a breakout year. We've got two juniors, Mike McDonald, who I think is ready to have a breakthrough year, and Alex Halloran, who injured his knee a few years ago but is finally over his injury and appears to be ready to step forward."
Torf brings senior leadership and experience, with 89 games in net under his belt and a career .916 save percentage.
"I think [Torf] is a bit underrated," Serratore said. "He brings consistency. You always know what you're going to get with Jason. Other goalies maybe get more work and are seen as having a higher talent level but Jason is underrated. Having Jason back for his senior year means he'll be able to provide us that consistency he's given us for the last three years."
One of the Falcons' biggest losses in the offseason was behind the bench. Mike Corbett, Serratore's right-hand man for a decade at Air Force, has moved on to assume head coaching duties at Alabama-Huntsville. It's another challenge for Serratore and company to face in a league that has narrowed the gap between the top and bottom.
"The league keeps getting better," Serratore said. "We've got great coaches. They work hard; they're smart operators.
"The bottom [of the league] has elevated itself, it keeps moving up. On any given night, years ago the bottom teams couldn't beat the top teams. Now, watch out, it's going to happen and happen regularly."
About the Falcons
2012-13 overall record: 17-13-7
2012-13 AHA record: 15-7-5 (Second)
2013-14 projected finish (coaches poll): Tie, second
Key losses: F Kyle De Laurell, F Stephen Carew, F John Kruse
Players to watch: G Jason Torf, D Adam McKenzie, F Cole Gunner
Impact rookie: Forward A.J. Reid had 94 points in 81 games over two seasons with the Austin Bruins (NAHL).
Why the Falcons will finish higher than the coaches poll: Until a shocking upset in the quarterfinals last season at the hands of Canisius, Air Force was poised to win yet another title, peaking at the right time. The Falcons' defense and goaltending should again be solid. If their offense comes along, they'll be in the hunt again.
Why the Falcons will finish lower than the coaches poll: If Air Force can't replace the offense lost by the departure of their top two scorers, it will find itself out of the running for home ice.