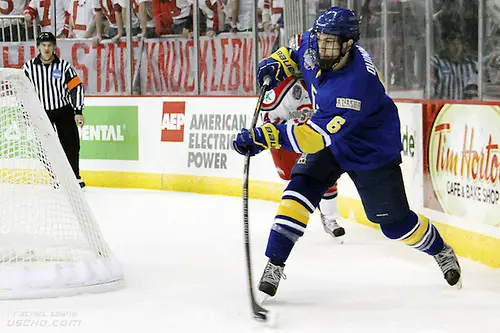 Other than league-favorite Minnesota State, only one team in the new WCHA finished last season with a winning record, and that was Alaska.
The Nanooks were in the mix for a possible NCAA tournament berth until they were bumped down in the PairWise Rankings at the very end of the season.
Alaska lost its top scorer, Andy Taranto, and four other regular forwards from last season's team, but it returns a strong group of veterans who should again keep the team in contention until, if not through, the last days of the season.
"I like our character; I like our enthusiasm," coach Dallas Ferguson said. "I like our attitude at the rink."
The Nanooks bring back three of their top four scorers from a season ago, including seniors Cody Kunyk (11 goals, 28 points) and Colton Beck (11 goals, 21 points) and sophomore Tyler Morley (10 goals, 21 points).
"[Kunyk and Beck] are established Division I players that produce consistently for us," Ferguson said. "They're two guys, but we're going to need it from everywhere. …
"We'll have three to five freshmen in the lineup who will be in some key situations. We have some areas where we lost some guys and need guys to step up."
Defense will be a strength, Ferguson said, despite the loss of last season's captain, Kaare Odegard, a player the coach called one of the greatest leaders in program history.
Still, sophomore defenseman Colton Parayko, a third-round draft pick of the St. Louis Blues in 2012, and three others — senior Michael Quinn, junior Trevor Campbell and sophomore Josh Atkinson — are back on the blue line.
"We're excited to have that core back," Ferguson said. "That will be the strength of our team at the start because we have so many returning guys."
One area that Ferguson expects will be more stable at the start of the season is in goal, where sophomore John Keeney resumes his role after a solid rookie season. Keeney had 13 wins a season ago with a .909 save percentage and a 2.31 GAA.
"Last year was a unique situation," Ferguson said. "We didn't have an established starter last year, and after Christmas, John went on a little run with six in a row. He was solid.
"He put us in a pretty good position heading into the home stretch. John learned a lot about what it takes to be successful at the level. …
"But we need John to elevate his game, and we need [the others] to push John."
The Nanooks' freshman class includes Brandon Morley, Tyler's brother, and Fairbanks-area natives Jared Linnell and Justin Woods.
About the Nanooks
2012-13 overall record: 17-16-4
2012-13 CCHA record: 12-13-3 (sixth)
2013-14 predicted finish: Fifth
Key losses: F Andy Taranto, F Jarret Granberg, D Kaare Odegard
Players to watch: F Cody Kunyk, F Colton Beck, D Colton Parayko, G John Keeney
Impact rookies: F Brandon Morley, D Justin Woods
Why the Nanooks will finish higher than predicted: Kunyk, Beck and Keeney take their games to the next level.
Why the Nanooks will finish lower than predicted: They're unable to replace Odegard's and Taranto's leadership and the offensive production of five graduated forwards.