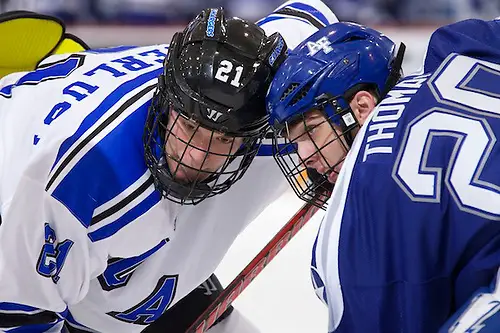 Do we dare say that there's finally some stability at Alabama Huntsville? Can we say that without knocking on wood?
The Chargers have been through a lot over the last 2½ years.
They had their program taken away and then were given a reprieve. They saw two head coaches come and go and are now on their third in as many years. They struggled through a three-win season, one in which they played just a single home series against a Division I opponent. They barely survived as an independent program and then found a home in the revamped WCHA.
"This group has seen a lot of things over the last few years, especially our seniors," first-year coach Mike Corbett said. "Different coaches and a lot of different schedules. A lot of adversity."
The senior class includes Brice Geoffrion, Alex Allen, Mat Hagen and CJ Groh.
"Brice is the player I lean on a lot," Corbett said. "He's been through a lot of that adversity. Brice has seen it all. His brother [Sebastian] was here. … He's been great. I'll be honest, I lean on him. We talk twice a week, and he gives me a lot of insight as to how things have been run."
The Chargers are in a conference for the first time since College Hockey America fizzled after the 2009-10 season, and Corbett said there's plenty of excitement in Huntsville, with season tickets at an all-time high.
"The first home weekend [Oct. 25-26 against former CHA rival Bemidji State] is going to be fun, really fun," Corbett said. "They're really pushing it around here."
Corbett expects to have a competitive team with a strong work ethic, but the Chargers also will be young with 12 freshmen on the roster. Many of those rookies, especially the forwards, will be in the lineup.
"They're going to get a great opportunity," Corbett said.
The top returning forward is junior Jeff Vanderlugt, who led UAH with seven goals and 11 points last season.
"He's a big, strong kid; he's probably our leader up front," Corbett said. "But we're one of those teams that's going to need to manufacture goals."
Corbett said his team's defense will be the strength. Physical, 6-foot-4 sophomore defenseman Anderson White returns as does junior Graeme Strukoff and sophomores Steven Koshey and Frank Misuraca.
Groh played in just three games in goal last season and 12 for his career. He'll be pushed by a pair of freshmen, Matt Larose and Carmine Guerriero.
"I've been learning about my team, and it's been very fun," Corbett said.
About the Chargers
2012-13 overall record: 3-21-1
2012-13 conference record: N/A
2013-14 predicted finish: 10th
Key losses: F Sebastian Geoffrion
Players to watch: F Jeff Vanderlugt, F Brice Geoffrion, D Anderson White, G C.J. Groh
Impact rookies: F Brandon Clowes, F Regan Soquila
Why the Chargers will finish higher than predicted: They take advantage of the excitement in Huntsville and make their rink a tough place for opponents.
Why the Chargers will match their predicted finish: They're still transitioning from several years of upheaval.