Here's our weekly look at big events and big issues around Division I men's college hockey.
Todd: I mentioned in passing in this space last week that Providence was 3-0 heading into a series with then-No. 3 Miami that could be interpreted as a great early test for the Friars. I think they did quite well. Providence got an overtime win and a tie against the RedHawks — losing a two-goal lead in the finale — to improve to 4-0-1. Are the Friars ready for elite-level status this season?
Jim: I think that my biggest concern with the Friars was whether they could score goals. When you have Jon Gillies in net, you know you're not going to allow a ton of goals, so the thought of winning games 2-1 or 3-2 exists.
That said, it's a lot easier to be successful if your offense is also strong and thus far the Friars have shown that. Through six games, Providence is tied with Northeastern for the nation's lead in goals per game, averaging 5.00. Yes, Providence's totals were bolstered by a 10-4 win over American International, but you can't deny that the Friars can score.
Speaking of Providence, might we believe that the city of Providence could host two very good college hockey teams with Brown's performance last weekend at the Liberty Hockey Invitational, ECAC Hockey's season-opening tournament in Newark, N.J.?
Todd: If the Bears' top line continues to produce at the level it did in Newark, you'd have to think so. But I'm not so sure that Matt Lorito, Mark Naclerio and Nick Lappin are going to be able to produce six goals and 15 points every weekend. It was a great way for Brown to start after its run to the ECAC Hockey title game and a winning overall record last season. If the Bears can keep the momentum rolling, they'll be a team to watch.
Not that a whole lot of people were around to watch them over the weekend. The attendance for the two games Friday in Newark was 1,209, with 1,546 seeing the two games Saturday. I'm all for playing games in big venues but I wonder whether having that few people in the seats takes away from the experience.
Jim: I'm a firm believer that if you are going to play in a big stadium, you have to fill it. Penn State had more than 17,000 in Philadelphia on Saturday against Vermont. That's success in a big venue. It's also the reason that I am sometimes against the outdoor games. In addition to the fact that they're becoming overplayed, you look back to when Union and Harvard played two years ago at Fenway Park in front of a mostly empty ballpark. The Frozen Fenway games are great and have all sold out. But the ancillary events that the Red Sox add outside of the Hockey East events don't seem to do well enough and thus are unnecessary to me.
Going back to the ice, looking at box scores from the weekend, I saw Raphael Girard posted a shutout against Bentley. If he continues performing well in net this season, you have to like Harvard's chances to be successful in the ECAC.
Todd: We can keep adding names to the list of ECAC teams that have a good chance at a highly successful season. Clarkson swept Colorado College at home last weekend to move to 6-1-1, and on Monday it appeared at No. 17 in the USCHO.com Division I Men's Poll. The Golden Knights are the fifth of five ECAC teams in the rankings, with three more also receiving votes.
ECAC teams are 26-11-4 against teams from other conferences so far this season after also posting the best out-of-conference record last season. Too many people disregard the league — which proved to be foolish when you saw last year's NCAA title game matchup — and maybe the recognition is finally coming around.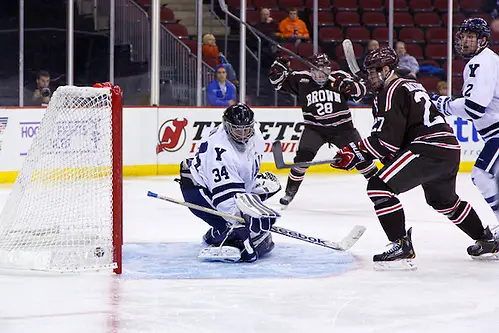 Jim: That is one impressive nonleague record to date that the ECAC is sporting. It's certainly better than the Big Ten and NCHC's out-of-conference marks, two conferences that many people felt would be dominant in the overall college hockey landscape.
Which brings me to ask: Despite a small sample size, do you think that it's possible that when all is said and done that either or both of those conferences won't bring with them the dominance that their collective members have had in college hockey in recent years? In other words, has realignment maybe brought with it struggles for the newest conferences members?
Todd: I don't know if realignment is what has brought on those struggles or is just putting them in a different category. The tough starts for Michigan State, Penn State, Colorado College and Nebraska-Omaha probably would have been the same had they been in the same conferences they were in a year ago.
I think it'll be a few years before we see the full effects of realignment in recruiting, but for now the big question for me is whether the conference changes will alter teams' NCAA tournament hopes. It'll take quite a bit of the conference schedule before we know anything definitive on that, though.
Let's take a look at what's ahead this weekend. We get to see more conference play and a few games between ranked teams. No. 5 North Dakota hosts No. 9 St. Cloud State in the NCHC, and in nonconference play, No. 13 Wisconsin hosts No. 12 Lake Superior State. I'll be interested to see how the Badgers respond to two blowout losses in Boston two weeks ago and a weekend off, and how the Lakers do after a 4-0 start and a weekend off.
There are plenty of big games out east, too. What catches your eye?
Jim: Well, Massachusetts-Lowell rebounded from a rough start with two wins at Michigan State and Michigan and it will begin league play with a home-and-home series against a New Hampshire team that has struggled at the start. I still think UNH has a lot of upside and, in league play, we'll learn a lot more about both teams.
Northeastern and Boston College will also square off in a two-game series beginning at BC on NBC Sports Network this Friday. Northeastern is off to a wild start but many say the Huskies haven't played anyone tough. Well, BC coming off an ugly loss at No. 1 Minnesota should be a tough opponent for the Huskies.
In the ECAC, I'm interested to see how Yale comes out of the gates against St. Lawrence and Clarkson, two teams that have played pretty well to date. Similarly, Quinnipiac will travel to Cornell on Saturday in a key early season matchup. And in Atlantic Hockey, Air Force will come east to play Rochester Institute of Technology and Mercyhurst, the latter a matchup of two of the top preseason favorites in the AHA. A lot of important early league games on the docket this week.