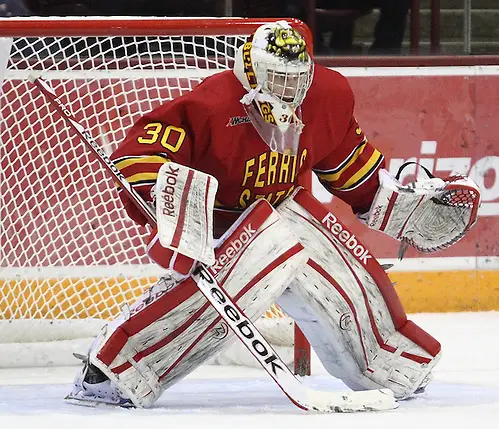 Hello, and welcome back to the USCHO Hobey Watch. I hope everyone is staying as warm and dry as possible, and for those of you who are snowed in, I hope you're enjoying the opportunity to watch some Olympic hockey.
This week, we're about five weeks out from the naming of the 10 finalists for the 2014 Hobey Baker Award, so I thought it would be a good idea to assess the field and see just who's in contention for those 10 spots.
It's fairly rare to have real drama when it comes to guessing the eventual winner out of the Hobey Hat Trick, but picking all 10 finalists is a real challenge (and one I've never been successful at). More importantly, especially in a year where we have a good sense of who's actually going to win, it's good to remember that for some of these players, being a finalist or a member of the Hobey Hat Trick is a victory in its own right.
Now, in sizing up the field, I think it makes sense to organize the candidates by their conference affiliations. It's worth remembering here that the vote to pick the 10 finalists occurs among the 59 Division I head coaches, with the results of the online fan voting serving as the 60th vote. This is why it's rarely a good idea to count on any conference being shut out of the top 10 entirely.
It's not that coaches in a given conference get together and ensure that their candidates get in. Rather, coaches spend so much time scouting and breaking down tape on opponents, and the players they see the most — the ones in their own conference — make a deeper impression. At least, that's how I see it. So, with that in mind, let's go through the conferences and see who makes up the Hobey field.
I'll do this over two weeks. Next week, we'll look at the candidates from the East, but this week, we'll start out with the candidates in the West.
Big Ten
One of two new conferences is also the smallest in the country, which could be something of a factor because it leaves the Big Ten with the smallest "voting block," if there is indeed such a thing.
That having been said, given the amount of time that Minnesota has spent this year as the No. 1 team in the country, it's fair to expect that sophomore goaltender Adam Wilcox (18-4-5, 1.97 GAA, .930 save percentage) will be among the contenders. There could also be some support for the Golden Gophers' leading scorer, junior forward Sam Warning (10g, 17a in 28 games, 0.96 PPG), but I think that Wilcox is going to be the lone finalist from that team.
Meanwhile, Ohio State junior forward Ryan Dzingel (17g, 20a in 26 games, 1.42 PPG) is the conference's leading scorer, and worth keeping an eye on as another potential finalist.
Finally, Wisconsin senior forward Michael Mersch (15g, 10a in 26 games, 0.96 PPG) — he of the highlight-reel goal against Michigan — has gotten some solid support in the online fan voting, and while that might not mean much, he is a senior and the leading scorer on a team that's in the mix for an NCAA tournament berth. I wouldn't write him off entirely, but I'd say he has an outside chance at best.
NCHC
The nation's newest conference (since it was formed after the Big Ten) has a couple of candidates with great numbers on a struggling team in Miami's dynamic duo of sophomore forward Riley Barber (17g, 19a in 26 games, 1.38 PPG) and junior forward (and returning finalist) Austin Czarnik (10g, 24a in 25 games, 1.36 PPG).
The conference leader, St. Cloud State, doesn't exactly have an obvious candidate, with senior forward Nic Dowd (15g, 12a in 26 games, 1.04 PPG) and sophomore forward Jonny Brodzinski (14g, 13a in 26 games, 1.04 PPG) leading the team in scoring and tying for 38th nationally. Junior goaltender Ryan Faragher (13-5-4, 2.64 GAA, .906 save percentage) has a lot of support in fan balloting, but the numbers really aren't there.
There are players in the conference with a better mix of individual and team success, most notably Denver senior goaltender Sam Brittain (13-8-6, 1.99 GAA, .934 save percentage) and Nebraska-Omaha junior forward Josh Archibald (21g, 11a in 26 games, 1.23 PPG), although both of those teams would probably have to win the NCHC tournament to advance to the NCAAs.
So, what to do here? It's hard to write off the Miami players, who are two of the top 10 scorers in the country, while Archibald, as the country's No. 3 goal-scorer, is also intriguing, and Brittain is a top-10 goalie in both GAA and save percentage. The one thing I will say is that St. Cloud State is highly unlikely to have a Hobey finalist.
WCHA
It's not terribly surprising that the reconstituted WCHA appears to be a one-bid conference at tournament time, and the sense I get is that it will be a one-finalist conference when the Hobey top 10 is announced.
And, with Ferris State as the top team in the conference and a contender for a top regional seed in the NCAA tournament, Big Rapids seems like a great place to look for that finalist, namely junior goaltender CJ Motte (19-4-3, 2.25 GAA, .927 save percentage).
As the most notable player on the conference's most formidable team, I think there's a pretty good chance Motte winds up in the top 10. If it's not Motte, it would be because Minnesota State makes a push over the remainder of the regular season and supplants the Bulldogs atop the conference standings, in which case I'd look to Mavericks junior forwards Jean-Paul LaFontaine (18g, 18a in 30 games, 1.20 PPG) and Matt Leitner (9g, 24a in 28 games, 1.18 PPG) as possible finalists.
So, with half the country's conferences accounted for, we have 11 candidates to watch. Come back next week, when we size up Atlantic Hockey, ECAC Hockey and Hockey East.