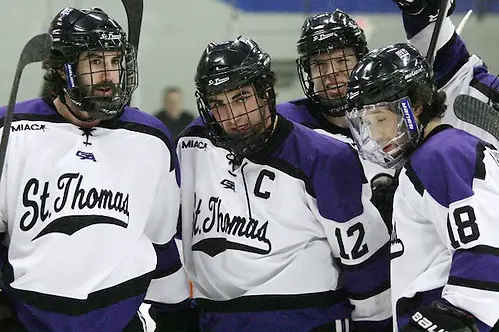 St. Thomas coach Jeff Boeser will be the first to tell you his team doesn't have a star.
Yet, even without star power, the Tommies keep getting it done on the ice.
It's why St. Thomas enters the final week of the regular season with the MIAC championship in its possession.
"If you look at our stats, we don't have that one guy who stands out," Boeser said. ¨We just have guys who play hard and work hard to be a successful team."
The Tommies have now won or shared the last three league titles and while it's an honor to be a champion, Boeser said his players aren't about to shift gears to cruise control this week.
"We are very humbled to win a championship and we are excited about the accomplishment," Boeser said. "But the season isn't over yet. Our focus is on the two games with St. John's this week. They are a very good hockey team and we have to be ready to play."
The Tommies secured their championship on Saturday as they completed a series sweep of second-place Gustavus Adolphus with a 4-1 victory on the road. The win pushed St. Thomas to 18-3-2 overall and to 12-0-2 in the conference.
No one for St. Thomas has more than nine goals. Alex Altenbernd leads the Tommies in scoring with nine goals and 12 assists.
Nick Nielsen has tallied six goals and 15 assists, while Tyler Gubb has come through with seven goals and eight assists. Jordan Lovick has racked up four goals and 11 assists.
Ten other players have scored at least two goals, while Drew Fielding is having a sensational season in goal. Fielding has a 1.43 goals-against average and has made 473 saves.
Boeser said a lot of the Tommies' success has to do with the leadership provided by Gubb, Bryce Walker and Alex Niestrom, the three seniors on the roster.
"Leadership has been very big for us," Boeser said. ¨Those guys push everyone else in practice. They have the respect of their teammates and they do a great job of leading by example.¨
Since a 2-0 loss to defending national champion Wisconsin-Eau Claire on Jan. 18, the Tommies have been on a roll, winning eight consecutive games.
And while their focus is only on the Johnnies at the moment as they look to wrap up the regular season in style, Boeser did talk about the keys to success come tournament time.
St. Thomas will be the top seed in the MIAC tournament and will be looking to win the title and earn the automatic bid to the NCAA tournament.
"At this time of the year, you just want to keep getting better every week," Boeser said. "You have to stay focused on the next game and just be ready to play smart and play hard. Our team isn't satisfied. We still have a lot of work to do."
Playoff Berths: In addition to St. Thomas, Gustavus, St. Olaf and St. John's have all clinched berths in the MIAC tournament. The Johnnies are the defending tournament champions as St. John's edged Gustavus 3-2 in the title game last season.
Waiting Game: Concordia (Minn.) is in wait-and-see mode in terms of the postseason. The Cobbers wrapped up the regular season on Saturday with a 5-2 loss to St. Mary's. Concordia won the opener of the series 5-4 in overtime.
Concordia, which is 12-8-5 overall and 6-6-4 in the MIAC, needs St. Olaf to beat, tie or take Augsburg in one of their two games this coming weekend. The Auggies would take the playoff spot from Concordia if it can win both games against the Oles in regulation.
Concordia has 23 points on the season, while Augsburg has 18. The Auggies are 12-8-3 overall and 5-6-3 in the MIAC.