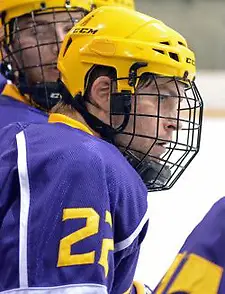 It all boils down to this.
The two top teams in the ECAC West – No. 1 Utica and No. 2 Elmira – will fight it out on Saturday for league supremacy.
Is anyone surprised?
Ya shouldn't be.
The two squads, who between them have taken the last six league championships (okay, Elmira copped the first five of those) will duke it out one more time, before what is expected to be a jammed-out Utica Aud, with a puck drop set for the rather advanced hour of 8:30 p.m. (New York state high school hockey championships having taken over the venerable building for most of the day).
No matter what the clock says – and heaven help any early risers if matters go to triple overtime – with a likely (but not automatic) NCAA tourney bid on the line, this tilt shapes up as being a classic.
"This should be fun," said Utica coach Gary Heenan.
Particularly for the winning team, of course.
"Each game [between Utica and Elmira] this season has been a one-goal game," noted Elmira coach Aaron Saul. "And I think that will be the same for Saturday."
Ranked No. 13 in the nation, Utica (16-6-4, 10-4-1), which beat Elmira (15-10-1, 9-5-1) twice and sustained an overtime loss in this year's head-to-head clashes, rolls in as winners of six out of its last seven.
"Utica is a great team and their group of forwards are exceptional," Saul said. "They attack with speed and shoot at anytime."
That potent group is headed by senior Trever Hertz (8-17-25 overall), who was earlier named the ECAC West's player of the year. Hertz is complemented by fellow seniors Ridge Garbutt (11-12-23), Jon Gaffney (9-12-21) and Adam Graff (10-7-17) and junior Louis Educate (6-11-17).
Still, the Soaring Eagles can match Utica in the firepower department, with four point-producers – Jesper Strale (8-14-22), Josh Burnell (11-9-20), Jarryd ten Vaanholt (7-12-19) and Michael Collins (7-11-18) all seated in the top five of the ECAC West's scoring list.
"Elmira has tremendous speed through the neutral zone and one of the best power plays in the country," Heenan noted. "They score a lot of goals. We need to slow their offensive attack down and stay out of the [penalty] box."
Recruits continue to roll in
Recent recruiting trips made by the league's schools have continued to pay dividends towards the makeup of next year's rosters.
The latest players to commit are forwards Tyler Wolf (Rochester, USPHL Elite) to Hobart, Liam Board (Georgetown, OJHL) to Neumann and Matt Smethurst (Apple Core, EHL) to Manhattanville.