The playoffs are here for Hockey East, a week earlier than usual.
The much-discussed all-inclusive playoff format will kick off this weekend with single-elimination games featuring 11th-seed Merrimack traveling to sixth-seed Maine, 10th-seed Massachusetts heading to seventh-seed Vermont and ninth-seed Boston University hopping on a plane to eighth-seed Notre Dame.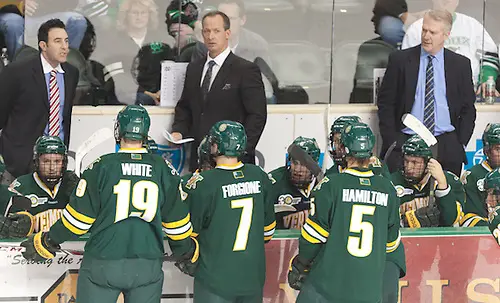 It's been quite a while since Hockey East last used a single-elimination format, the last time being 1995. Since that time, at least one and, since the addition of Vermont in 2005-06, two teams have been eliminated at the end of the regular season.
But the addition of Notre Dame this season (and Connecticut next) led to the review of the playoffs format, and athletic directors and presidents who want to see their teams playing in the postseason voted to include all teams.
Hockey East playoffs
See the tournament bracket and get links to schedules and stories at Hockey East Playoff Central.
Unlike ECAC Hockey and Atlantic Hockey, which play best-of-three series in the opening round, Hockey East decided to go for the winner-take-all, single-game approach. Certainly, it will add to the excitement. But it could also end some promising seasons prematurely.
For both Maine and Vermont, there have been plenty of NCAA hopes on campus, hopes that could be dashed with a loss this weekend.
Maine is below the NCAA bubble in the PairWise Rankings and needs to win games. Vermont is just above the bubble in 13th, but likely would fall below over time if it can't get out of the first round.
Notre Dame is a different story. The Irish, after beating Boston College last Saturday, sit in 10th in the PairWise. One loss may not drop them too far, meaning this Notre Dame team could survive a loss this weekend.
Still, it would be easier to win and advance, solidifying their position in the PairWise rather than be eliminated and have to sit around and wait.
As for the history of the single-elimination game in Hockey East, it hasn't been overly kind to the home team. The higher seed and host is just 8-6 in single-elimination games played in the tournament's opening round (play-in games, single-elimination quarterfinals).
The last time there were multiple single-elimination games was in 1995. That year, ninth-seed Massachusetts beat eighth-seed Boston College in the play-in round. Then sixth-seed Providence and fifth-seed Massachusetts-Lowell each pulled of upsets in the quarterfinal round. Only two home teams advanced that year and ever since then, everything outside of the Garden has been a best-of-three.
Getting back to this weekend's games, guessing which teams will advance seems like a crap shoot.
Boston University is coming off two wins over Northeastern and wasn't exactly manhandled by Notre Dame two weekends ago when the Irish won by identical 2-0 scores.
Merrimack has lost twice to Maine this season at Alfond Arena, both by a single goal. But the Warriors are coming off a weekend split with New Hampshire and Maine hasn't won a single game since beating Merrimack on Feb. 15 (0-3-1).
Vermont, though able to beat UMass by scores of 3-2 on the road and 2-0 at home, provides an even better story line as Kevin Sneddon will face his old associate head coach in UMass bench boss John Micheletto. That game will be televised live on NESN on Friday night.
So, what can be expected is anyone's guess. Certainly, the first round will be exciting and stress-building on the participating head coaches. The number of unhappy coaches, athletic directors and presidents at the end of the weekend likely will have a lot to do with whether this same do-or-die format is around next year.
The envelope please …
Hollywood may have had its biggest award show on Sunday night, but Hockey East's annual awards are just two weeks away. The ballots from the coaches have all been entered, thus I will take the opportunity to pick my recipients for each of the league's awards.
At the banquet, they'd hold the top awards until the end; I'll get the big three out of the way at the start.
Player of the year: Johnny Gaudreau, Boston College
I don't think there has ever been an award so easy to pick. Gaudreau has been the best player in Hockey East, in my opinion, since Brian Gionta dominated the league in the 2000-01 season.
Gaudreau scored in every Hockey East contest and was held off the board just once all season (when his entire team was shut out by Minnesota). It has been a long time since the Hobey Baker Award has been a shoo-in for a Hockey East player but in my opinion, Gaudreau's candidacy for the Hobey is head and shoulders above all the rest.
Honorable mention: Kevin Hayes, Boston College; Ross Mauermann, Providence; Clay Witt, Northeastern.
Rookie of the year: Mario Puskarich, Vermont
As easy as it was to pick Gaudreau for player of the year, it was equally as difficult to select Puskarich as rookie of the year. That hardly reflects on the player, rather on the depth of freshman talent that Hockey East offered up this season.
What separated Puskarich from the rest was his play inside the league, the criteria on which league awards are supposed to be voted. As a freshman, though, Puskarich elevated a Vermont squad that had struggled in recent years, returning the team to NCAA tournament contention.
Honorable mention: Mike Szmatula, Northeastern; Vince Hinostroza, Notre Dame; Thatcher Demko, Boston College.
Co-coaches of the year: Jerry York, Boston College; Jim Madigan, Northeastern
OK, I took the easy road and named two coach of the year winners. For me, the vote was simply too difficult.
You have Madigan, who elevated his team from what most considered a cellar dweller to a fifth-place team that is in contention for an NCAA bid.
And you have York, a coach for whom every year there is high expectations who this year delivered a 16-2-2 league mark.
Both coaches had incredible recruiting classes that had immediate impact. And both got so much out of their respective teams that ignoring either would be criminal.
Honorable mention: Norm Bazin, Massachusetts-Lowell; Dick Umile, New Hampshire.
Best defensive forward: Joe Pendenza, Massachusetts-Lowell
This and the next award are often two of the most difficult to select as it requires you to see a lot of the individual player to understand their defensive prowess.
Pendenza is possibly the best defensive player on a defensively focused team. He is one of the league's top faceoff men and contributes on both sides of the puck for a River Hawks squad that isn't offensively potent.
Although there are a number of forwards in the league that take pride in playing defense, Pendenza stands out in my mind.
Honorable mention: Braden Pimm, Northeastern; Kevin Lind, Notre Dame; Bill Arnold, Boston College.
Best defensive defenseman: Stephen Johns, Notre Dame
In his first and only season in Hockey East, Johns proved what a lot of people already know about the blueliner: He can shut down offenses.
The top defensive defenseman on one of the league's best defensive teams, Johns still contributed offensively for the Irish, leading the team in scoring by a defenseman.
Though only a plus-6 overall, there is no player you would want out on the ice in a shutdown situation more than Johns.
Honorable mention: Josh Manson, Northeastern; Isaac MacLeod, Boston College; Zack Kamrass, Massachusetts-Lowell.
All-Hockey East teams
Though the league awards only a first and second team, I'm naming three myself as some positions caused me enough strife that I believe it warrants recognition of three teams worth of players.
First team
F Johnny Gaudreau, Boston College
F Kevin Hayes, Boston College
F Ross Mauermann, Providence
D Ben Hutton, Maine
D Brett Pesce, New Hampshire
G Thatcher Demko, Boston College
Second team
F Bill Arnold, Boston College
F Devin Shore, Maine
F Chris McCarthy, Vermont
D Michael Matheson, Boston College
D Eric Knodel, New Hampshire
G Clay Witt, Northeastern
Third team
F Kevin Goumas, New Hampshire
F Kevin Roy, Northeastern
F Matt Willows, New Hampshire
D Colin Shea, Massachusetts
D Zack Kamrass, Massachusetts-Lowell
G Connor Hellebuyck, Massachusetts-Lowell
All-rookie team
F Mario Puskarich, Vermont
F Vince Hinostroza, Notre Dame
F Mike Szmatula, Northeastern
D Michael Kapla, Massachusetts-Lowell
D Doyle Somerby, Boston University
G Thatcher Demko, Boston College
And finally …
For those who have offered concern and thoughts for Dave Hendrickson, I wanted to pass along an update. Dave is progressing well from his open-heart surgery.
I had the chance to have lunch with him on Wednesday and he looks great. He is exercising daily and feels he is able to push himself physically. He's still unable to drive for a few weeks until he gets a doctor's clearance, but he hopes to be back for the NCAA regional in Worcester and the Frozen Four in Philadelphia.
All good news about one of the game's good guys.