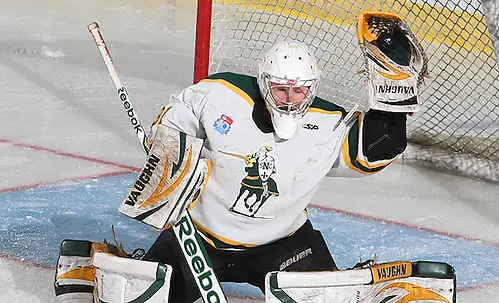 St. Norbert sweeps the USCHO.com Division III awards for the 2013-14 season as on Friday, Green Knights' junior goaltender David Jacobson was picked as the Player of the Year.
Jacobson, also the NCHA player of the year, national D-III player of the year and a West First Team All-American, rattled off eye-popping statistics in 2013-14 – a 24-1-1 record, a 1.26 GAA and a .942 save percentage – all among the nation's best.
He only allowed 33 goals in 26 games this season.
The 23-year-old out of Janesville, Wis., registered a Division III-best seven shutouts this season, including two each against NCHA foes Lawrence and the Milwaukee School of Engineering.
Jacobson opened the 2013-14 season on a nine-game winning streak, tied Wisconsin-Stevens Point on Jan. 11, then won five straight, lost his only game Feb. 1 to Adrian, and then finished out the season on a 10-game winning streak.
The St. Norbert stingy defense helped Jacobson out as well, with Jacobson never needing to make more than 27 saves in any one game during the year. The Green Knights allowed a nation-low 46 goals this season.
At the Frozen Four last weekend in Lewiston, Maine, Jacobson made 25 saves in a semifinal win over Geneseo and then 23 in the national championship game against Wisconsin-Stevens Point.
After the 2011-12 campaign, Jacobson was named the USCHO.com Rookie of the Year.
Earlier this week, St. Norbert freshman defenseman Blake Thompson was named the USCHO.com Rookie of the Year and Tim Coghlin was selected USCHO.com Coach of the Year.