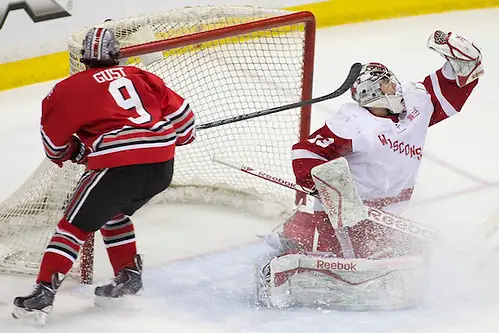 Hello again, and welcome to your NCAA tournament edition of the Hobey Watch!
We'll get to this weekend's regionals in a moment, but first, I think it's appropriate to see where I went wrong last week, when I managed just six out of 10 correct predictions for this year's finalists.
In case you missed it, I had Connor Hellebuyck, Cody Kunyk, Sam Brittain and Austin Czarnik among my finalists, occupying spots that actually went to Ryan Dzingel, CJ Motte, Josh Archibald and Nic Dowd.
So, where did I go wrong? Well, as far as Motte goes, I went wrong when I picked against my gut, predicting that the WCHA player of the year would be the pick out of the WCHA. It seems kind of obvious, but my gut liked the most significant player from the conference's strongest team to that point in the season, and that was Motte.
Plus, when I had a chance to talk to Kevin Czuczman last week after the former Lake Superior State defenseman had made his NHL debut with the New York Islanders, he seemed to think that Motte was the right choice as well. That one is completely on me for going against my instincts.
As for the NCHC guys, I wasn't entirely surprised to be wrong about Czarnik. Miami struggled so much this season, and even with that late-season run to the NCHC title game, I don't think that Czarnik's outstanding individual numbers and status as a returning Hobey finalist could overpower the RedHawks' lack of team success.
That was an instance of me trying to pick a surprise and picking the wrong surprise.
The right surprise would have been Dowd, who has had a great year, but not truly superlative from a numbers perspective. It goes back to that question of strong numbers on a very good team or superlative numbers on a struggling team.
The answer isn't always the same (see also: Carey, Greg), but in this case, I had the wrong answer.
On the other hand, I honestly thought that Denver's win over Nebraska-Omaha in the conference playoffs would swing momentum in Brittain's favor. I certainly agree that one weekend's performance shouldn't be enough to overturn a season's worth of results, but I thought Brittain was more than worthy as a Hobey finalist, given his performance in the Pioneers net.
It just goes to show that Hobey does indeed love goals … much more than he loves goalies.
Which brings me to Hellebuyck. This was the most surprising omission for me, as I had considered Hellebuyck a mortal lock as the owner of the best save percentage in the country, playing for an NCAA tournament-bound River Hawks team.
There were two factors I overlooked, however. The first was that Hellebuyck wasn't the River Hawks' full-time starter until the second half of the season, and not playing as much as other netminders in the field hurt him.
I've been telling myself that the coaches would pick Hellebuyck anyway, as they did Cody Reichard in 2010, but as I often point out, no Hobey candidate exists in a vacuum, which brings me to the other factor: a glut of well-qualified candidates from Hockey East.
I think it's somewhat surprising that a conference that has five teams in this year's tournament produced just two Hobey finalists, both from the same school. But then again, those five teams — not to mention a couple that just missed the cut — put forth candidates who could easily split votes.
At various times this year, I considered the following Hockey East players as Hobey candidates: Clay Witt from Northeastern, Chris McCarthy from Vermont, Ross Mauermann from Providence, Jon Gillies from Providence, Ben Hutton from Maine, Trevor van Riemsdyk from New Hampshire and, very briefly at the end, Kevin Goumas from New Hampshire.
Given that crowded field, perhaps it's not all that surprising that in the end, only Boston College's Johnny Gaudreau and Kevin Hayes were among the top 10, as they also happen to be the top two scorers in the nation. Also, since Gaudreau's eventual victory is pretty well sealed up at this point, I don't think Hockey East has all that much to complain about at present.
Finally, there's Ryan Dzingel, who occupies the slot I had earmarked for Hellebuyck. There's no doubt of his credentials, given the 22 goals and 24 assists he's posted for the Buckeyes this season.
At the same time, however, I was wary of going too big on the Big Ten, based on the fact that there are only six coaches in the conference and my sense that the coaches' voting is heavily influenced by which players they see the most.
On the other hand, as a colleague pointed out to me in the wake of last week's announcement, coaches had plenty of opportunities to see Dzingel thanks to the Big Ten Network. That's particularly true in this first season of Big Ten play, since Ohio State games weren't a naturally high priority when the network's hockey coverage consisted of a mix of CCHA and WCHA games and the Buckeyes played Michigan and Michigan State only so many times.
None of this is a knock on Dzingel, who is certainly deserving of his spot, but it's hard to argue that Hellebuyck wouldn't have been equally deserving. Again, no candidate exists in a vacuum, and you never know what factors might make the difference.
So, moving on to this weekend's regionals, I have to be honest: There really isn't much drama here from a Hobey perspective. If Hellebuyck had been picked as a finalist, I could dream up a scenario where he backstops Lowell to its second consecutive Frozen Four, allowing him to leapfrog Johnny Gaudreau if the Eagles were to fall in the first round with "Johnny Hockey" kept off the score sheet.
Without Hellebuyck in the mix, I don't see anyone who can catch Gaudreau now. As far as the Hobey race is concerned, everyone's playing for second and third now.
So, who gets there after the 27-person selection committee files votes by Tuesday? Well, I really like the two goaltenders out of the Big Ten, Minnesota's Adam Wilcox and Wisconsin's Joel Rumpel. A strong weekend and a trip to the Frozen Four could easily lock up a finalist spot for either netminder.
By the way, for what it's worth, BC and Wisconsin played for NCAA championships in 2006 and 2010, so the calendar suggests it could be that time again. Just saying.
I don't quite see it for Motte, although I suppose that it's possible for him to open some more eyes by backstopping the Bulldogs to Philadelphia. Finally, there's Union and Shayne Gostisbehere, who, by the way, just happens to be a Philadelphia Flyers draftee.
If Rick Bennett finds himself coaching a group of Pennsylvania Dutchmen after this weekend (har dee har har), I could see Gostisbehere in the mix, but I think he'd need to be particularly noticeable in the Union wins.
But then again, we may be overlooking one of the more likely scenarios: both BC players in the Hobey Hat Trick. It's not like it hasn't happened before: just ask Colorado College's Marty Sertich and Brett Sterling (2005) or Boston University's Matt Gilroy and Colin Wilson (2009).
If Kevin Hayes has a big weekend in Worcester, he'll find himself in a familiar position — right alongside Gaudreau — when the Hobey Hat Trick is announced.
It won't be easy, of course — after all, BC's path to Philadelphia could go through two Mike Richter Award finalists in Hellebuyck and Brittain — but even-numbered years tend to favor BC lately, and it's not at all hard to imagine Hayes and Gaudreau leading the Eagles on another Frozen Four run.
That does it for now. I'll be back next week with a Hat Trick prediction. Enjoy the regionals, everyone!