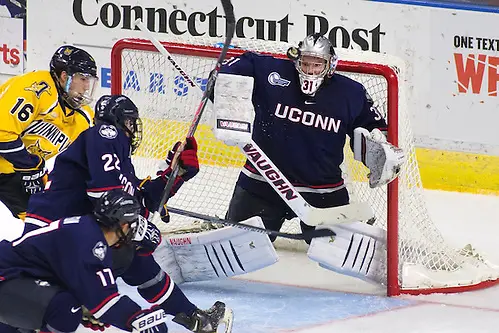 Connecticut coach Mike Cavanaugh had every right to be happy with his team's 1-0 victory last Wednesday night over then-No. 3 Boston College. Playing the team's first Hockey East home contest, the Huskies shocked many around the college hockey world with the upset.
But if you ask Cavanaugh, he's a lot more pleased with his team's 4-4 tie against then-No. 5 Boston University a few nights later.
"I don't think we snuck up on BU because of what happened on Wednesday night," Cavanaugh said. "And the way our guys competed at BU, I thought it was a really strong performance."
After getting three of four points against two teams ranked in the top five, Cavanaugh can settle some of his concerns entering this season of whether his team would be able to compete night in and night out in Hockey East.
"I know that we could get ourselves up for one game, but can you get yourself up to play back-to-back against quality opponents?" Cavanaugh said. "So I was really happy with the way we responded with the BC win."
Before we get too far ahead of ourselves, the win and tie bring UConn's Hockey East record to 1-2-1 after losing one-goal games at Merrimack and Vermont earlier in the season.
The overall mark for the Huskies at this point is 2-4-3, noteworthy for a team making a jump from Atlantic Hockey to arguably one of the toughest and deepest conferences in the nation, Hockey East. But there's no need to hand out a trophy just yet.
But anyone who locked UConn into a spot in last place on their preseason ballot (this writer, and my counterpart Dave Hendrickson both did exactly that) may need to rethink things.
This UConn team has significant talent. It begins in goal, where netminder Rob Nichols has begun his sophomore campaign with a 2.26 GAA alongside an impressive .932 save percentage in nine games.
"He was holding us in games early on," said Cavanaugh. "We were giving up too many grade A opportunities and he was making grade A saves to keep us in games.
"I think we've limited those grade A opportunities as the season has gone on here. He's certainly making the saves he has to make for us to be competitive. But I think our overall team defense has gotten a lot better as well."
Offensively, Cavanaugh compared his team a bit to the two-time defending Hockey East champions at Massachusetts-Lowell. He feels there is plenty of balance to his offense and believes his team can have success without a 60-point scorer.
That said, he also feels there is plenty to work on when it comes to scoring goals.
"Our offensive output has gotten better with each game we have played," said Cavanaugh. "It's very analogous to basketball where you create your shot but if you don't get the offensive rebound you're not going to be a good offensive team. It's very similar in hockey. We can get a shot on net but if we don't hunt down that rebound and create second-chance opportunities, we're not going to be very good."
While all of us learned last week that UConn will be quite competitive, we also learned this Huskies team will be supported in the Connecticut market.
The XL Center, configured to hold a little more than 8,000 last Wednesday, had that and many more, a positive sign that Connecticut and, in particular, downtown Hartford is prepared to support college hockey.
"It was electric," Cavanaugh said of the atmosphere. "The place was just full of energy. It was the first time since I've been at Connecticut that I thought we've benefited from a home crowd. This was almost 9,000 people and it was loud. It really was a fun atmosphere to play in front of."
An unlikely rivalry beginning for UMass?
While there are some significant rivalries that develop every year across college hockey, you might have been hard pressed to believe that one might develop between Massachusetts and American International.
Maybe it makes sense as the teams are separated by about 28 miles of highway along I-91. And for each, the other is the closest college hockey program, geographically speaking.
It also doesn't hurt that last year, AIC walked into the Mullins Center and pulled off a 3-2 upset victory. UMass answered last weekend with a decisive 7-1 win over the visiting Yellow Jackets.
And now you have what is needed in a rivalry: both teams proving the ability to win.
"You try not to look back on something like that, but at the same time, it left a bitter taste in our mouth from last year," said senior Zack LaRue of the Minutemen's ability to rebound from last year's loss. "Coach [John Micheletto] said that we want to make this [game against AIC] more of a rivalry and get a fire going underneath us. I think we prepared well."
That preparation was on display last Friday from the get-go as UMass struck just 57 seconds into the game and had grabbed a 4-0 lead before the end of the first.
That's the energy in the offense that Micheletto is looking for from his team, which aside from Friday has scored more than three goals just twice, one being a 6-5 overtime loss at Maine.
"We want to play a very up-tempo style," said Micheletto. "It's a necessity for us to be successful."
Also necessary for UMass is getting scoring from beyond the team's top two lines. On Friday, all four lines contributed offensively, something the team hopes to continue as it returns to league play on Friday at No. 8 Boston College.
"We're a deep team," said LaRue. "We'll take what we can. But it's nice to see all four lines going. You have your top two lines and those are sometimes the guys you rely heavily on. But when you're getting it across the board from all four lines, that's something special."
As for that rivalry, the jury is still out for me. Although AIC has had some bright lights in recent seasons, perennially it hasn't been a team that should be able to compete with the product UMass wants to put on the ice.
Last Friday, however, if UMass used the rivalry to give itself a shot in the arm, it certainly worked.
"Confidence, particularly with young men, is really powerful," said Micheletto. "There's a lot of belief in what we do, but scoring goals and winning games takes you further down that path."
Scoring by (a very large) committee for Lowell
Every coach wants a balanced offense. But Massachusetts-Lowell's Norm Bazin has something of an embarrassment of riches in that area.
After nine games, all but one forward that has seen playing time has scored a goal. Four defensemen also have found the back of the net.
When a pair of Jakes (freshman Jake Kamrass and senior Jake Suter) found the net last Saturday against Northeastern, Lowell's tally of goal scorers grew to 18.
Let's give that some perspective. Excluding the six Ivies that just began play last weekend, there are 10 teams in NCAA Division I that have yet to score 18 goals total and another two that have exactly 18.
Lowell's total likely will grow when Ryan McGrath, the team's second-leading returning scorer, returns from an upper-body injury he suffered in the season opener against Boston College.
No wonder the River Hawks are the nation's leading offensive team with 4.22 goals per game.
"In practice, we're always shooting to score and make plays," Kamrass said on Saturday. "You always have to shoot with your head up."
"It bodes well for the team," Bazin said of the depth. "It's a real team effort and we want to continue that."
Scrambling for a backup
Years ago in a prior life working in minor league hockey, I'd come upon a conversation that occurred a few times in the course of each season.
The NHL affiliate would call up one of its AHL team's two goalies on the morning of a game. There wasn't enough time to fly in a backup from the East Coast league affiliate, so the general manager would have to go scurrying about town to find an "emergency backup" to suit up that night.
Often times it was someone who still played men's league hockey but usually was up there in years. The player would come into the GM's office and sign a single-day contract, usually making a few hundred bucks to sit on the bench.
Every time, after the player signed the contract and was walking out, the GM would say the same thing: "Thanks very much. I hope I don't see you in net tonight."
Boston College coach Jerry York had to live that scenario in a college setting, something that rarely happens with the depth most college teams have at goaltender. But his starter, Thatcher Demko, was battling a viral infection that included a 103.3-degree temperature, and backup Brian Billett had taken a personal leave of absence from the team.
That left Brad Barone, a third-stringer whose only experience at BC was mop-up work over his first three seasons, as the only goaltender. Thus York had to scramble and find someone to backup Barone for BC's Tuesday night game against Harvard.
Fortunately, the Eagles had a goaltender who practiced with the team early last year as a freshman before playing for BC's club team. Alex Joyce was added to the roster on Tuesday afternoon and dressed for the Harvard game.
"Alex was with us last year a little bit at the beginning of the season," said York. "He's played a little bit on the club team. Not much this year, though.
"So with Brian [Billett] taking some personal time, it was kind of a 'where do we go now?' We made one phone call and [Joyce] said he'd love to play. A pretty good thrill for him tonight. Got to dress and sit on the bench."
The college hockey experience could continue for Joyce as BC heads to Michigan State for a game on Friday. Because the team flies out on Thursday morning, Demko will need to be cleared by the team doctor prior to the Thursday flight. Otherwise, Barone will remain the team's starter for the weekend with Joyce as the backup.
Knowing York as most of us do, I think the conversation with Joyce will be a different one than an AHL GM. It's hard to imagine him looking an excited college kid in the face and saying, "Thanks very much. I hope I don't see you in net tonight."