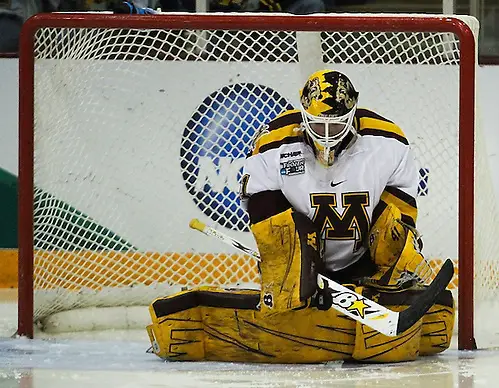 Last week, Megan Rapinoe and Sydney Leroux, a couple of members of the United States women's soccer national team, appeared on Fox Sports mixed martial arts series, "The Ultimate Fighter." Rapinoe told a brief anecdote about meeting fans after a game who would say something along the lines of, "Oh yeah, I brought my daughter, but you guys are actually really good."
Rapinoe's reaction? "That's actually offensive."
Perhaps the actual fan statement was slightly different and more along the lines of something like, "You guys are actually really good —- for women."
If that's the case, I'd be more inclined to agree with Rapinoe, because the constant desire of some to denigrate a women's sport and its players through comparison to males irritates me to no end. Everyone out on the field, court, or ice is female; that's part of the rules of the competition. The relative performance of males in a similar game is irrelevant.
When discussing youth hockey, I'd hope that constant comparisons wouldn't need to be drawn to bigger players, and we could enjoy the mites, squirts, peewees, bantams, or whatever divisions exist in your area, on their own merits. The youth teams aren't at the level of prep teams, which can't compete with college teams, which aren't NHL caliber. That's OK; they are all different leagues.
Similarly, women can achieve excellence in their sport without having to constantly be compared to males. Many played boys hockey when they were girls, and then their growth slowed, the boys' growth accelerated, and they could no longer compete as effectively with their male counterparts.
The point of athletics is to improve. While ability is measured via performance against competition, at a more basic level, a participant is striving versus herself, with the point where she started on one end of the spectrum and her ultimate potential at the other.
While the individual is trying to improve, her emerging sport is as well, whether it be soccer, or MMA, or hockey. The sports are attempting to make gains not only in the quality of the competition, but the opportunities that exist for its athletes, including earning income as professionals or through corporate advertising contracts.
One advantage soccer and MMA have over hockey is that the athletes are more recognizable. It is a short list of sports where the participants are more anonymous than hockey players while competing; fencing and swimming come to mind.
Some of the most popular sports for women in terms of fan appeal are those where viewers can share the thrill and the agony which accompanies the victory and the defeat. Prime examples are gymnastics and figure skating. Every emotion of the performer can be witnessed, as though she were a character on a movie screen.
Television can capture much of the emotion for soccer, but the size of the pitch undermines that to an extent when viewed live. Nonetheless, an Abby Wambach or Alex Morgan can be made into a celebrity, with the endorsement opportunities and income potential that goes with it.
Throughout their history, sports like boxing and wrestling have thrived on the villain as much as the hero, even if it means conjuring one up artificially. It's no coincidence that women's MMA enjoyed a surge in popularity with the rise of Ronda Rousey. Admired by some, despised by others, she almost single-handedly caused interest in her sport to explode by making followers care what happened. Obviously, it is easier to make someone the face of a sport if you can actually see her face, be it Rousey's scowl before a fight or her smile when she is promoting one.
For hockey, it is harder to become recognizable as an individual beyond a number, a name, and perhaps some manner of hairdo extending beyond a helmet. For the early part of the Olympic era, Cammi Granato was the face of women's hockey in the United States. From the media's perspective, that likely had as much to do with her being from a recognizable hockey family as her own considerable exploits. Since Granato's retirement, there really hasn't been that one personality that everyone thinks of first when the subject of the American team is raised.
A requisite for becoming a recognizable name and face is that you have to get exposure. Winning an Olympic gold medal provides the supreme opportunity, one no American has been afforded in 16 years. Unlike softball at present, hockey players do at least have the opportunity to compete in the Olympics every four years, and that in itself does provide a boost in recognition, if only for a few weeks.
Hilary Knight has made progress in building her personal brand. First, she appeared in the 2014 edition of ESPN the Magazine's Body Issue, which certainly increases exposure, in more ways than one.
Then on Oct. 3, Knight practiced with the NHL's Anaheim Ducks. Naturally, this triggered posts across the Internet by males saying basically, "She's not good enough to play in the NHL." Those who were actually on the ice with Knight, coach Bruce Boudreau and the Ducks players, were complimentary of her game and understood the spirit of the event that was part of World Girls' Ice Hockey Week.
Just as growth is important for the individual, as hockey is a sport where size and strength is an advantage, it matters for the sport as well. Hockey is still very much a niche sport, both in the United States and in the world as a whole. That is obviously true for women, but it remains true for their male counterparts as well.
If Rapinoe, Leroux, and their teammates struggle to get recognition as women playing for the top-ranked women's team in what is the world's most popular sport, the hill to climb in that regard for female hockey players worldwide is even steeper.
Hockey for women may be making gains in other countries, but when it comes to competition on the world stage, it is still Canada, followed by the United States, and then a gap back to the rest. The encouraging sign is that where once it was always Finland and Sweden as the third and fourth-strongest teams in either order, now countries like Switzerland and Russia are overtaking the Swedes and Finns. There have been some high-profile upsets over the years, where U.S. or Canadian teams have fallen to Sweden or Finland, but on a typical day, the North American squads retain a multi-goal advantage over the rest of the world.
When huge upsets have occurred, they've been backed by a stellar display of goaltending, and it is the goaltenders that have made the greatest inroads in being able to compete on the ice with the men. During the Olympics in February, Finnish goalie Noora Räty announced that she would have to retire from the sport, despite being only 24 at the time, if she could not find a job with a men's team, because it was too difficult to train at the level that being an elite athlete requires and still support herself. Räty is now playing for Kiekko-Vantaa in the Finnish Mestis league. Canadian goaltender Shannon Szabados has hooked up with a men's minor league team, the Columbus Cottonmouths of the Southern Professional Hockey League.
Playing with the men wouldn't be necessary if professional leagues for women, such as the CWHL, became better established and were able to pay players a decent salary. How close is that day? Unless some entity with deep pockets is willing to sponsor the league, like the NBA did with the WNBA, there will need to be a big jump in attendance at women's professional games, and those have typically lagged behind most NCAA games.
In February, Wisconsin drew a women's NCAA record crowd of 13,573 for a game versus Minnesota. Those two finished as the top two for attendance in 2013-14, both drawing over 45,000 for the season while averaging more than 2,300 per game. Growth in interest has been strongest in the West, as WCHA teams North Dakota and Minnesota-Duluth finished third and fourth last year, with UND drawing a program-record 5,835 fans to a January game.
However, there were some promising signs concerning attendance in the East. Cornell also averaged over 1,000 fans per game. Penn State opened the Pegula Ice Arena and its attendance more than tripled from its inaugural season. Vermont drew 2,028 fans to its "Pack the Gut" promotion, breaking the regular-season record for Hockey East in the process. Yale had 1,125 fans attend its "White Out for Mandi" to benefit the Mandi Schwartz Foundation.
In the Olympic season a dozen years before, the highest attendance any program averaged was 750. Progress is being made in terms of recognition and interest, perhaps not at the pace that most of us would like, but progress all the same. College hockey went through lean years on the men's side as well before reaching the popularity that it enjoys today.
One of the three most common reasons I hear from players as to why they started playing hockey is that they watched a game, loved it, and asked to start playing it. Perhaps the most common reason is that a sibling played, so attracting one girl to the game may bring more.
So when somebody confesses that they only attended a women's sporting event to bring a daughter but learned in the process that women can play, give the newbie some slack. By bringing a child to the game in the first place, they've already made a bigger impact than any praise, genuine or not, could make. If the daughter doesn't become a hockey player, perhaps she'll become a fan, and we can always use more of those.