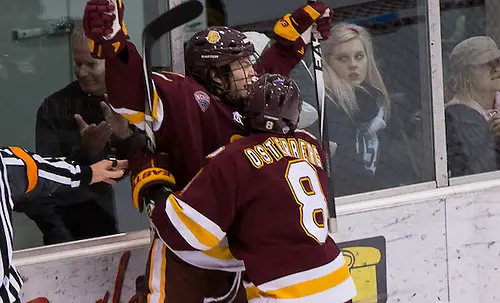 Going into last weekend, there was no reason to think that No. 13 Minnesota-Duluth would break its string of Friday losses and Saturday wins. The Bulldogs, who have played one of the nation's toughest schedules to date, facing all ranked teams, were headed to St. Cloud, where they hadn't swept a series since 1999.
The tough schedule had been made tougher by its losses, three of which were by one goal, including an overtime defeat by Minnesota State. After opening an early lead Friday, the Bulldogs saw St. Cloud State score two power-play goals in the third period, and it seemed the one-goal-loss trend would continue.
However, Andy Welinski scored late to force OT, and Cal Decowski scored in the extra session to give the Bulldogs the win. UMD followed that 3-2 win with a 3-1 victory Saturday, securing its first sweep of the season.
"I think the key was we had a good start in both games, getting a lead in the first period and making that hold up for most of the game," said Bulldogs coach Scott Sandelin. "I thought our guys did a good job until [Jonny] Brodzinski scored. A couple quick ones, we were down. We had a five-on-three and didn't execute, and we were fortunate to get a four-on-three and Andy [Welinski] scored to tie it, and come back in OT with a nice play from [Kyle] Osterberg to Decowski off a turnover. I thought our guys showed a lot, like they have on most Fridays, battling back, and this time we were fortunate to get the win."
The Bulldogs don't get a rest from ranked opponents. This weekend, they face off against top-ranked Minnesota in a home-and-home series. The two teams already faced each other once, in their season opener in the Ice Breaker Tournament, a game won by Minnesota 4-3. The Bulldogs fell behind early and were down 4-1 before a third-period rally fell short.
"We had some chances to tie the game, but again, some good lessons were learned," said Sandelin. "We battled back and made it a game. Both teams are different now. They have some players in and out of their lineup. They're a team that's playing very well. There's not a lot of holes in their game.
"We have a big challenge this weekend, but I like coming out of what we did at St. Cloud. I think our guys have some confidence. We have to play a solid game. There can't be any lapses."
Last season, Minnesota-Duluth depended on scoring by committee, but so far in 2014-15, the Bulldogs have been getting good scoring from several players. Both Dominic Toninato and Alex Iafallo average at least a point a game, while four other players chip in at least three-quarters of a point a game.
Toninato in particular has been strong, and his seven goals through last weekend matches the entire total of his freshman campaign.
"He's gotten stronger, he plays very competitively," Sandelin said of Toninato. "He's not afraid to get into the tough areas. Having that kind of start where he scored some goals early lifts a player's confidence. He plays a lot for us. He plays on the power play, he plays four-on-four, five-on-five, and I think going through last year and learning what works and what doesn't helps. That's the progress you want to see, that they take that next step, and hopefully that continues."
One other strength of the Bulldogs has been the play of freshman goalie Kasimir Kaskisuo, who has won the starting job thanks to jaw-dropping saves like this. Kaskisuo was in net against Minnesota in the opener, and Sandelin expects that he will get more support this outing.
"I think we all know that a good goaltender can make everybody look better," said Sandelin. "I think there's no question that he's gotten more confident every game. The first game of the year, we didn't give him a lot of help. Each game, he seems to be more and more confident, and he's played tremendous for us.
"I think the key is that he's made timely saves at key moments of the game. There haven't been a lot of soft goals, knock on wood. He's been really consistent, and any time your goaltender makes those kinds of saves, it gives your whole team a boost."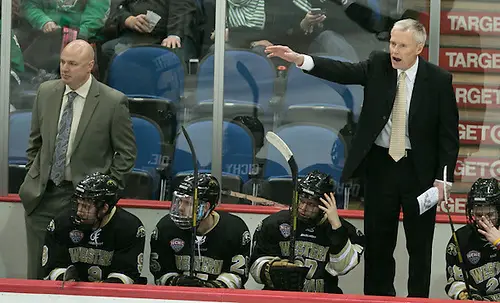 Western Michigan finds its offense
When Western Michigan opened its season with a 4-2 loss to Canisius, it seemed ominous. Despite winning the second game of the series 4-2, the Broncos' struggles continued. They lost their next three games, twice failing to score a goal games while getting swept by NCHC opponent Omaha and losing to Alaska.
Considering that the Broncos had lost their two top scorers from last season in graduated seniors Shane Berschbach and Chase Balisy, perhaps the slow start was to be expected as the Broncos looked to restart their offense.
However, since falling 1-0 to Alaska on Oct. 24, the Broncos have found their offense, scoring four goals in two games and five in another while going 2-1 over that span.
"I think our guys have started to put the puck behind the goalie, rather than in front of him," laughed Broncos coach Andy Murray. "Against Omaha the first night, we had 43 shots. We had a lot of shots against Canisius as well, and we weren't able to score. The big thing I think is we have been a little more diligent around the net, and our chances have gone in. I don't think our style has changed. We've always been a team that tries to work hard and play hard in the offensive zone."
One of the players to emerge is Broncos captain Nolan LaPorte, who leads the team in scoring with eight points, averaging a point a game. Last season as a sophomore, LaPorte averaged 0.6 points a game.
"He's playing with a lot of discipline," said Murray. "He's an emotional player, and he's done a good job of staying on the positive side of his emotions and channeling them into a positive direction. He's the captain of our team for a reason: He's an everyday practice player and every-shift-a-game player. He plays really hard."
One reason for the recent offensive success has been the play of the power-play unit, which is currently ranked 14th in the country at 22.86 percent.
"It's interesting: Last year, we were one of the better teams scoring five-on-five and couldn't do anything on the power play," said Murray. "This year, up until last weekend, we struggled to score five-on-five, but we got it going again. I think we're a little deeper on the power play than we've been in the past, and though we lost some elite players, possibly our top two defensemen and certainly our top two forwards from last year, we seem to be a little deeper in terms of being able to use different people."
While the power play has been a boon, the Broncos have struggled somewhat with penalty killing, with only a 79.4 percent success rate. Murray said his team will be more aggressive on the penalty kill while working to improve.
"I think first-time clears on your penalty kill are very important; we've failed to do that at times," said Murray. "We've allowed teams to get extra opportunities because we've failed to clear the puck. I think coach [Dave] Shyiak, who is in charge of our penalty kill, does a great job. We're emphasizing getting in the shot lanes and being more assertive on our penalty kill."
This weekend, the Broncos will host No. 15 St. Cloud State, which was swept last weekend by Minnesota-Duluth. Murray knows his team needs to be ready for an NCHC battle.
"It's a great league, and there's great parity, and every night you have to be at your best, and we've got an angry St. Cloud team coming in here this weekend," said Murray.
NCHC boasts best nonconference record
The NCHC, which has the most teams of any conference in the USCHO.com Division I Men's Poll with six in the top 15, reflects that with the best nonconference record of all the conferences. At 25-14-2 (.634), the NCHC has a .500 or better record against all five other leagues.
The NCHC is 7-2 against the Big Ten this year, with the only defeats coming against top-ranked Minnesota. NCHC teams are also 12-9-2 against ranked nonconference teams this year.
Players of the week
Offensive player of the week — Riley Barber, Miami: Barber notched four points in Miami's weekend sweep of Colorado College, scoring two goals and two assists. In Friday's 3-0 shutout, he had an assist and registered a plus-3. On Saturday, he had a power-play goal and an even-strength goal and assisted on the final goal in Miami's 5-1 win. Barber finished plus-5 on the weekend while firing 12 shots on net.
Defensive player of the week — Andy Welinski, Minnesota-Duluth: Welinski was a key player in a Bulldogs' defensive unit that allowed only three goals, all scored on a power play, as Minnesota-Duluth swept St. Cloud State on the road for the first time since 1999. On Friday, he scored the game-tying goal in the third period to force OT, and on Saturday, he assisted on the game-winning goal. On the weekend, Welinski was plus-5 and blocked three shots.
Rookie of the week — Avery Peterson, Omaha: Peterson scored three goals and two assists in UNO's sweep of Ohio State. On Friday, he scored a power-play goal and assisted on the game-winning goal. On Saturday, he notched his first career multi-goal game, scoring the first goal to tie the game at 1-1 while assisting on the goal that tied it at 3-3. Peterson finished plus-3 on the weekend.
Goaltender of the week — Jay Williams, Miami: Williams posted a 0.50 GAA and a .973 save percentage in Miami's sweep of conference opponent Colorado College. On Friday, he stopped 21 shots for his first shutout of the season and his third in his collegiate career. On Saturday, he made 15 saves while only giving up a power-play goal. He helped kill nine of 10 CC power plays on the weekend while stopping 36 of 37 shots.