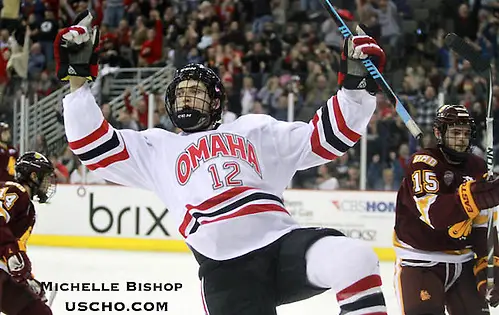 Before the inaugural season of the NCHC some 18 months ago, the coaches of the league's eight teams all said that the league would be highly unpredictable.
That's exactly what it ended up being. Perhaps the ultimate case-in-point came in the form of the Miami RedHawks, who finished the first NCHC regular season dead last and yet, come playoff time, ended up one win away from earning an NCAA tournament berth.
As we approach the midway point of the NCHC's second regular season, the league has been a little bit more predictable but by much. There have still been plenty of surprises, both good and bad.
Here are some of what I feel have been the biggest talking points thus far this season:
Biggest surprise: Omaha
Omaha coach Dean Blais tried to keep preseason expectations low, and it was easy to see why. The Mavericks said farewell last spring to arguably the best senior class in program history before welcoming in 11 freshmen for this season's team.
So far, though, UNO is playing like its roster has all been playing together for years. Heading into their series this weekend at home against Alabma-Huntsville, the Mavericks are 10-4-2 (6-3-1-1 NCHC) and have successfully navigated what up to now has been a difficult first-half schedule.
There are areas in which UNO still has plenty of room to improve. Arguably chief among them is the Mavericks' power play, which has been clicking at only a 15.9 percent clip, good for 32nd in the country.
Things may well get even better in Omaha, however, before the playoffs come around. UNO has a favorable remaining schedule, as it will only hit the road to face a currently ranked opponent once more when the Mavericks visit No. 8 Minnesota-Duluth Feb. 27-28.
Honorable mention: Minnesota-Duluth, which is tied with Miami for first place in the NCHC.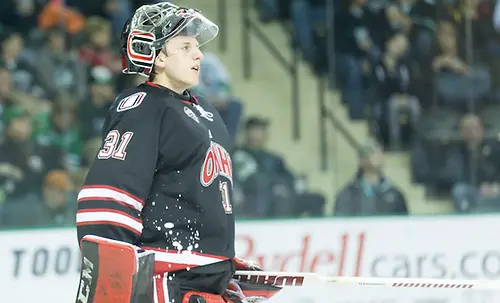 Biggest surprise player: Ryan Massa, Omaha
Throughout Omaha's program's history, goaltending has rarely been the Mavericks' strongest asset. Before this season, not since Dan Ellis a decade ago has UNO boasted one of the nation's consistently best netminders.
So far this season, however, senior Ryan Massa has been making his case to be considered one of the best Mavericks goalies there's ever been. UNO knew it needed Massa to perform well this season if the Mavericks were to get anywhere. He has, and they have.
Through his first 14 starts this season, Massa has posted a .935 save percentage, fourth-best in the country among goaltenders with as many starts as he has. Massa has also posted a 2.06 GAA and has backstopped the Mavericks to all but one of their wins in the first half of his final season with UNO.
Honorable mention: North Dakota senior forward Mark MacMillan, who relatively few would have anticipated would be leading the NCHC in scoring right now (seven goals, six assists), but here we are.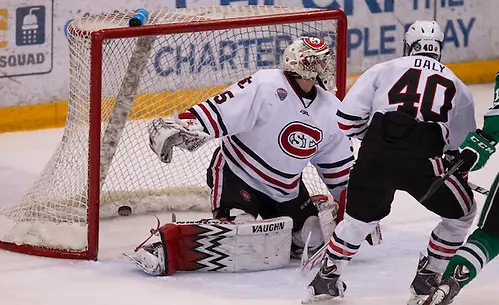 Biggest letdown: St. Cloud State
One or more decent teams are always going to underperform compared to their league rivals in a conference as stacked as the NCHC is, and it's tough to predict which teams will be nearer the bottom.
St. Cloud State is one that you'd have thought would be much nearer the top than it is.
Half a year removed from winning the Penrose Cup as the NCHC's inaugural regular season champion, the Huskies have entered the holiday break with a 6-9-1 overall record and gone only 2-5-1-0 in league play. Last weekend, SCSU fell twice on the road at No. 12 Omaha.
Coach Bob Motzko's Huskies have had a tough first-half schedule to deal with, and it doesn't get any easier in the new year. All but one of SCSU's opponents from here on in, save for Western Michigan (in St. Cloud on Jan. 23-24), are currently ranked.
Dishonorable mention: Colorado College, which sits in the NCHC basement as many predicted before this season began.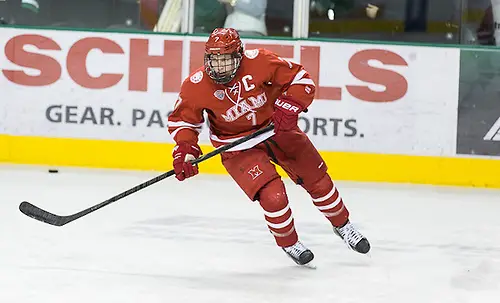 Biggest turnaround: Miami
Coach Enrico Blasi's Miami RedHawks came into this season keen to prove that its last-place finish last season was an aberration. So far in that regard, history has no danger of repeating itself.
Ahead of its meetings with Notre Dame and either Lake Superior State or Cornell in the Florida College Classic after Christmas, sixth-ranked Miami is sitting pretty, tied at the top of the NCHC standings. Miami (11-5, 7-3) and Minnesota-Duluth have identical NCHC records.
The RedHawks have been hot lately, too, having won six of their last eight games ahead of their abbreviated holiday break.
Honorable mention: Minnesota-Duluth, which finished last season with a .500 record in league play and only just clinched home ice in the first round of the NCHC playoffs on a fourth-place tiebreaker.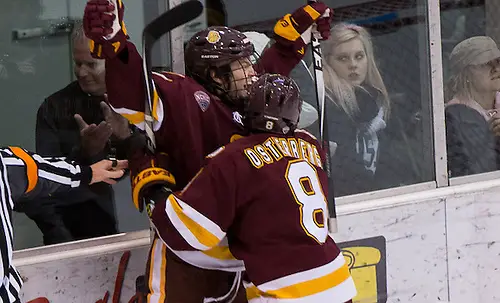 Looking ahead
Miami looks as good as anyone right now to win the NCHC regular season title, but I'm going to be interested to see how the RedHawks fare in the final month or so.
They have a favorable schedule until the middle of February when they host No. 7 Minnesota-Duluth, then go to No. 11 Denver and then host second-ranked North Dakota, all in consecutive weeks. There's a lot of hockey yet to be played between now and mid-February, but the regular season crown very well may not be decided until the final night of play.
UMD will make a push of its own, and I think the Bulldogs' brutal first-half schedule will help them going forward. Colorado College was UMD's only unranked opponent in the first half of the season, and Scott Sandelin's Duluth club has picked up plenty of firsthand knowledge of what it's going to take to lift the Penrose Cup.
Omaha and UND will also be in the hunt for the regular season title if they can keep building on their solid starts. There's then a seven-point gap between fourth-place UND and Denver, and each of the league's current bottom four is going to need to pick up the pace in a hurry.