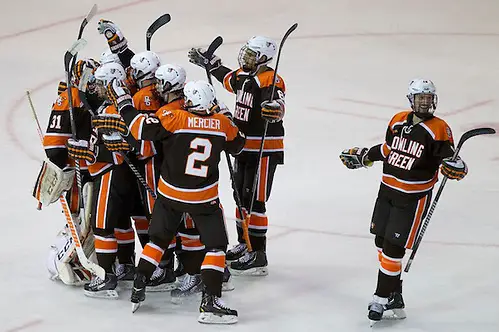 The comeback, coach Chris Bergeron said, was born out of what has been happening at Bowling Green for the last four-plus years.
The Falcons, down three goals in the third period and trailing by two after killing off a penalty with about a minute to play, scored twice with an extra attacker to force a tie with Alaska on Saturday night at home.
Earlier in the game, Bergeron said, he felt like it was "going to be one of those nights," as his team got behind early, played a bad second period and took a bad penalty late in the third.
The end of an eight-game unbeaten streak was in sight. Except …
"We've been able to develop some resiliency the last four years, playing from behind a bunch," Bergeron said. "We haven't played from behind much this year. It was nice to see the guys not quit on it."
Junior forward Ben Murphy scored both goals in the comeback. He finished off a nice play with the puck crisscrossing the rink twice with 46 seconds to go. And with 22 seconds to play, an Alaska turnover put the puck right on Murphy's stick in the left circle, and he ripped it in.
After the two teams finished overtime in a 4-4 tie, the Falcons' unbeaten streak went to nine games (6-0-3), the longest in the nation currently. Bowling Green is 13-3-4 (9-1-2 in the WCHA) and has lost just once in its last 13 games. The Falcons also moved up to No. 7 in the USCHO.com Division I Men's Poll, their highest-ever ranking.
That's a long way from Bergeron's first couple of seasons. But, the coach said, that's when the current attitude was first conceived.
In 2010-11, Bowling Green won eight regular season games, three in the CCHA, but upset Northern Michigan in the best-of-three first round of the conference tournament.
A season later — when the Falcons' current seniors were freshmen — they won 10 regular season games and won two playoff series, upsetting Northern Michigan again and then Ferris State.
"We were developing the program, developing an identity, developing a thick skin," Bergeron said.
Fast forward to this season, and the Falcons are one of the hottest teams in the country, even if they are flying a little under the radar compared to two conference foes, Minnesota State and Michigan Tech, both of whom have been ranked No. 1 this season.
And they're doing it with a balanced attack.
"No disrespect to our current players, but there's probably not one guy in the current group who is single-handedly going to win us a game," Bergeron said. "When it comes to all-conference accolades, I'm not sure we have anyone in the conversation. But we have a pretty good record."
Three sophomores — Matt Pohlkamp, Kevin Dufour and Pierre-Luc Mercier — lead Bowling Green in scoring with 16, 15 and 15 points, respectively. Dufour leads the team in goals with 10, and Murphy and freshman Brandon Hawkins come in next with seven goals and 13 points each.
Bergeron has played three different goalies, and all have good numbers. Chris Nell is proving to be the best rookie goaltender in the league. He is 6-0-1 with three shutouts, a .950 save percentage and a 1.41 GAA.
"Our internal competition in goal has brought out the best in all of them," Bergeron said.
Bowling Green is in third place in the WCHA, seven points behind Minnesota State. However, the Falcons have four games in hand. This weekend they play at second-place Michigan Tech, a team they trail by one point but on which they have two games in hand.
"We're going to do our best to stay in this fight and this race," Bergeron said. "It's going to be difficult. There's a bunch of hockey to be played yet."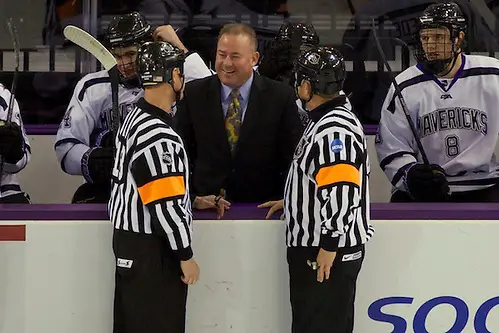 Mavs rise to No. 1
Minnesota State is ranked No. 1 in the nation for the first time in program history, and the significance is not lost on coach Mike Hastings and his team.
"It's an opinion poll, and we're appreciative of the opinion," Hastings told the Mankato Free Press. "It's good for the program to be in that spot and to be thought of that way."
The Mavericks' 16 wins lead the nation, as do their 81 goals and 3.86 goals per game. No team is allowing fewer shots on goal per game than Minnesota State, which is giving up 21.24. The Mavericks, who will travel to Ferris State this weekend, also are 11-1-1 in their last 13 games.
"The [players] are the ones who got us to this point," Hastings said. "The guys have done a good job up to this point, just worrying about today. Hopefully, that doesn't change."
Bemidji State streaking
Bemidji State spent nearly the entire month of November doing one thing — losing.
Between Nov. 7 and Nov. 28, the Beavers lost seven consecutive games to ranked teams, including Michigan Tech, Bowling Green and Minnesota State in league play and St. Cloud State in a nonconference game.
A 4-1 victory over St. Cloud State on Nov. 29 on started a new streak for the Beavers, an unbeaten one that, after last weekend's sweep of Alabama-Huntsville has reached seven games.
"I don't think we think about [the losing streak] now," defenseman Ruslan Pedan told the Bemidji Pioneer. "We try and take it day by day. Pucks are going our way and bounces are going our way. That seven-game losing streak, nothing was going right, but finally it's going our way now."
The Beavers will try to extend their streak at Lake Superior State this weekend.
Ice chips
• Alabama-Huntsville enters the weekend seeking to score its first league points against Northern Michigan. The two teams played to a tie in Marquette on Oct. 31, but that was part of a nonconference series between the teams. The Chargers are 0-8-2 in the all-time series. Wildcats goaltender Mathias Dahlstrom, who played last weekend for the first time since Dec. 6, is 5-0-1 with a 0.82 GAA and two shutouts against Huntsville.
• Alaska and Alaska-Anchorage will play the first two games of their Governor's Cup series this weekend in Fairbanks. The last two games will take place on the final weekend of the regular season (March 6-7) in Anchorage. The Seawolves enter the weekend on a six-game winless streak (0-4-2) and have won just once in their last 13 games (1-10-2). The Nanooks have lost just once in their last six games (4-1-1). The series will feature 12 Alaska natives, six on each team.
• Ferris State will be playing its only two home games in a stretch of seven weekends when it hosts No. 1 Minnesota State. The Bulldogs went 2-4 in the first road swing, including a sweep at Alaska-Anchorage last week. They are 5-8-1 away from Big Rapids and 6-3 at home. After an idle weekend next week, they will play the Mavericks again Jan. 30-31 in Mankato and then play Bowling Green on back-to-back weekends — starting on the road, of course.
• Lake Superior State will play at home for the first time since Thanksgiving weekend when it hosts Bemidji State, a longtime nemesis. The teams met for the first time in 1967-68 in NAIA play, and the Lakers lead the all-time series 24-21-2.
• Michigan Tech, which is in the midst of a nine-game home stand, is just 5-4 in its home rink and faces a tough test with Bowling Green coming to town. Meanwhile, they're 10-2-1 away from Houghton.
• This week's WCHA players of the week are Ferris State forward Justin Buzzeo (offensive), Bemidji State goaltender Michael Bitzer (defensive) and Bemidji State forward Kyle Bauman (rookie).