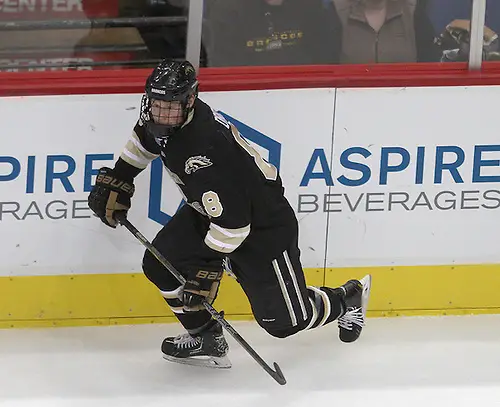 Western Michigan has won nine of its last 10 games, but Broncos coach Andy Murray isn't altogether positive that his team will win another game this season.
On the surface, that seems colossally pessimistic. Western sits at 10-9-3 overall and 3-6-3-3 in the NCHC and is mired in a dogfight just to earn home-ice advantage for the first round of the league playoffs, but momentum seems to be on the Broncos' side.
There is, however, a method to Murray's madness.
The Broncos are on a roll these days, and their coach doesn't dispute that. Nine wins since Nov. 28 and one loss in that time — on neutral ice against then-No. 17 Colgate in Pittsburgh on Dec. 29 — have made Western one of the hottest teams in the country.
Most recently, Western picked up a shootout victory and regulation win last weekend at No. 6 Minnesota-Duluth. The Broncos won a four-round shootout last Friday night following a 2-2 tie before WMU bested the Bulldogs 4-2 the following night at Amsoil Arena.
That string has transformed Western Michigan from something of a NCHC doormat to a team that looks like it could very well still finish in the league's top four.
The Broncos have to keep winning in order to make that happen, however. That's why Murray has his sights fixed exclusively on the future — specifically, this weekend's trip to St. Cloud State — and not the past.
"We're playing hard and we're skating, but that was last weekend, Murray said in his weekly local news conference on Tuesday. "Right now, we've got a number of games left and I don't know if we'll win another one. That's kind of the way you've got to look at it.
"We've got to go out and win at St. Cloud [on Friday], because if we don't win that one, who knows if we're going to win the next game. You've just got to go out and try to win every single game you play."
Murray declined a telephone interview request for this story.
Western Michigan could still stand to shore up its defense a little. The Broncos have conceded fewer than two goals only once in their last six games and just twice in their last 11.
The Broncos may yet rue their poor start to the season, as well. Western lost four of its first five games of the season and went 3-8-0-1 in its first 12 games.
Since then, however, Murray's group has gone on a serious tear. Part of that, he suggested earlier this week, has been down to his team playing smarter, more efficient hockey of late.
"In the early part of this season, I think we struggled certainly with our discipline," Murray said. "We were taking some penalties that put us in trouble, and we took some penalties at wrong times of games that created situations where [opponents] grasped a hold of it and ran with it a bit.
"We're playing much more disciplined, we're playing just as physically if not harder physically, but our discipline has been better. The other thing, interestingly enough, we've never been a team that's given up a lot of shots because we have the puck quite a bit, but certainly our ability to score and finish plays off and execute in key offensive situations has helped."
"I think a strong point of our team is we don't get ahead of ourselves," Murray continued. "If we win the last game we play this year, we're going to feel pretty good."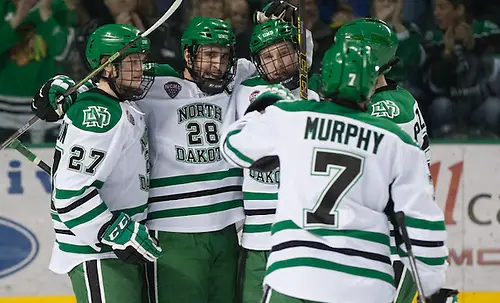 UND takes care of business in nonconference
North Dakota didn't do itself a lot of favors last season when playing against nonconference opponents.
UND finished in second place in a tight inaugural NCHC regular season, only losing its grasp on the Penrose Cup on the final game night ahead of the league playoffs. A 15-9 league record was more than respectable, but UND missed several opportunities when playing against teams from other conferences, finishing 5-2-3 in nonleague play.
That's not bad, but losses to Boston University and St. Lawrence on back-to-back Fridays in November 2013 and those three ties stung. It hurt UND even more come the postseason, when it needed outside help to get into the NCAA tournament.
This season, UND hasn't really left much to chance in nonconference play. After dropping a 5-1 shocker at home to Bemidji State on Oct. 10, UND bounced back by going 9-0-1 in the rest of its nonleague games.
Last weekend saw UND round out its nonconference slate with a home series against Niagara. The Purple Eagles were pounded 7-1 by their hosts on Friday in Grand Forks, N.D., before UND completed a series sweep with a 5-0 win on Saturday night.
UND coach Dave Hakstol said he was pleased not only to pick up two more nonleague wins but also to watch his team put in two solid performances.
"It's just playing well, that's the biggest thing," Hakstol said. "The results in getting the wins were critical, and we knew that coming into the weekend. The scores don't matter.
"These were tough games, and we had to really stay with the things that we do well, and I thought [Saturday] in particular we did that."
Following the sweep of Niagara, UND finds itself fourth in the PairWise Rankings. If the NCAA tournament began this weekend, UND more than likely would be the last No. 1 seed. If it makes the NCAA tournament, it's guaranteed to play in the West Regional in Fargo, barely over an hour's drive from Grand Forks.
UND would have dropped to 10th in the PairWise if it had lost either of its games last weekend against Niagara.
Clearly, plenty was on the line last weekend for Hakstol and his group. It's because of that that Hakstol was glad to see his team beat what was put in front of it.
"It's so important to be successful in the nonconference side of things," Hakstol said. "Every game that we play in a nonconference basis is really tough, especially in this building.
"There's two different effects that you see, and I thought [Friday] maybe we caught Niagara a little flat-footed; [on Saturday] I thought we saw a really hard, tenacious-to-play-against team."
"Nonconference is extremely important," he continued. "Our guys did the job."
Players of the week
Offensive player of the week — Colton Hargrove, Western Michigan: The junior forward scored three goals and picked up an assist last weekend in two games at Minnesota-Duluth. Hargrove had a career-best three-point night (two goals and an assist) on Saturday when the Broncos knocked off Duluth 4-2.
Defensive player of the week — Joey LaLeggia, Denver: DU's senior rock on the blue line picked up a goal and an assist in both of the Pioneers' wins last weekend against St. Cloud State. He also played a key role on a penalty-killing unit that went 6-for-6 when down a man against the Huskies.
Rookie of the week — Avery Peterson, Omaha: Peterson became the league's rookie of the week for the second week running after recording four points in a split at Colorado College. The freshman forward had a career-high three points (two goals and an assist) on Saturday in the Mavericks' 4-1 win over the Tigers.
Goaltender of the week — Tanner Jaillet, Denver: The Pioneers freshman was in goal for both of his team's wins last weekend against St. Cloud State. Jaillet finished the series with 44 saves on the 45 shots he faced.