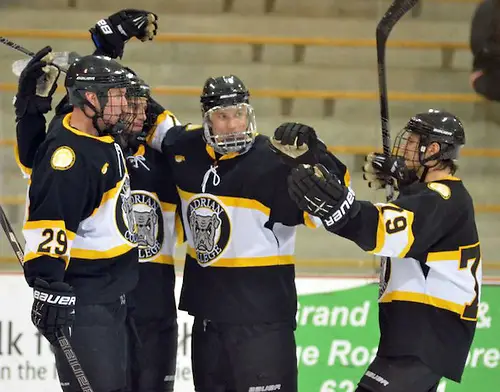 The action was hot and heavy in Division III last weekend and our esteemed columnists highlight what went down.
ECAC EAST – Having ascended to the nation's No. 1 ranking, Norwich cemented its standing by taking decisive wins over New England College (6-2) and St. Anselm (4-0). William Pelletier potted a pair of goals (plus an assist) against NEC on Friday, while Austin Surowiec netted two the following night. Freshman goalie Braeden Ostepchuk saw just 11 St. A's shots, but stopped them all for his third shutout of the season … Massachusetts-Boston notched wins over Skidmore (3-1) and Castleton (4-3 in OT) to strengthen its hold on second place in the East (by three points over Babson). The Beacons erased three different Castleton leads and got the game to overtime on Dan Cornell's power-play goal with 2:16 remaining in regulation. Matt Lemire then netted the game-winner with just 36 seconds left in overtime.
ECAC NORTHEAST – Nichols remained at the top of a very tight Northeast heap (two points separate the top four teams) with a 6-3 win over last-place Becker. The Bison received goals from five different sources, including two from Brett Jackson, and hold a one-point lead over both Johnson and Wales and Salve Regina … Alan Boozer with 2:45 gone in overtime gave J & W a 3-2 win over fourth-place Suffolk. It was the Rams' first league loss of the season … Salve kept pace with a 3-2 win over Wentworth. Evan Schmidbauer contributed the game-winner with his fourth goal of the season at 11:10 of the third period.
ECAC WEST – With just six teams, the West is the tiniest conference in the East (that make sense?) So it was that three teams – Hobart, Nazareth, and Utica – all came away from last weekend smiling with two-game sweeps over (respectively) Neumann, Elmira, and Manhattanville. Hobart and the Naz sit atop the league, tied with 14 points, three better than third-place Neumann.
MASCAC – League-leaders Plymouth State maintained its five-point lead over second-place Salem State, after winning its lone start of the weekend, a 6-3 thumping of Westfield State Saturday. Chad Barthelmess tallied twice in the victory and added an assist. Andrew Wigg, who had scored three times for the Panthers in Thursday's 12-2 obliteration of Framingham State, netted one more against Westfield, giving him 14 overall for the season.
MIAC – Concordia (Minn.) and St. Thomas are still tied atop the conference standings after both earning splits in their respective weekend series. The Cobbers bounced back from a 2-0 loss on Friday night against Hamline to beat the Pipers 4-1 on Saturday. St. Thomas blanked Augsburg 5-0 on Friday and fell 4-3 in the finale. The Cobbers and Tommies have 21 points apiece … In Saturday's win, Concordia got a huge lift from Jordyn Kaufer, who racked up 28 saves. Tucker Coborn scored two goals to pace the Cobbers and Zach Doerring dished out two assists. Jeremy Johnson and Jordie Bancroft also scored goals. On Friday, the Cobbers were kept off the scoreboard for the first time in 73 games, a stretch that began at the end of the 2011-12 campaign. Joe Rubbelke and Brandon Zurn both scored goals for the Pipers. The Cobbers are 11-7-3 overall and 6-4-2. Hamline dropped to 8-74 overall and 4-3-3 in the league … St. Thomas lost its first conference game of the year on Saturday as Nate Flynn scored the game-winning goal for the Auggies. It was one of three goals Flynn scored in the win as he came through with a hat trick. Drew Anderson tallied two assists for the Auggies, who improved to 9-10 overall and 6-4 in the MIAC. They are just three points out of first place in a tight MIAC race. The Tommies, 12-4-3 overall and 6-2-2 in the league, dominated Friday's game. Thomas Williams scored twice and Alex Altenbernd, Brian LeBlanc and Tyler Richter also scored goals for the Tommies, who are still unbeaten at home with a 9-0-2 record. The shutout was the 18th of goalie Drew Fielding's career. He made 22 saves and improved to 9-3-3.
NCHA – As far as statements go, Adrian made one that was loud and clear this weekend, sweeping second-ranked St. Norbert in a crucial conference series. The No. 10 Bulldogs swept the Green Knights, who had not been swept in a road series since 1997 against Alaska-Fairbanks. Adrian won the opener 4-2 and closed the door on the series with a 6-4 victory. Adrian is now all alone in first place with a 15-3-3 overall mark and 12-1-1 record in league play. Kevin Balas scored twice for the Bulldogs, while Duston Hebebrand ended a seven-game drought without a goal. Scott Shackell tallied 27 saves in a game where Adrian held a 37-31 advantage in shots. St. Norbert is 14-4-2 overall and 10-3-1 in the conference. Adrian hit the ice playing inspired on Friday, scoring three goals in the opening period en route to the win. Kyle Brothers fueled the attack as he scored twice in the victory. Daniel Lisi and Jeremy Olinyk also scored goals. Mathew Thompson dished out two assists. Shackell stepped up again in goal as he tallied 35 saves … Northland has had a tough season, but it battled hard in a two-game series with St. Scholastica. The LumberJacks tied the Saints 4-4 in the opening game and skated to a 3-2 win on Saturday. It was the first time in school history that that Northland has beaten St. Scholastica. Logan Millican, Darius Cole and Anthony Stempin all scored goals for the LumberJacks, who ended a three-game winless streak. Michael Berens came through with two assists and esse DiLillo racked up 32 saves. Northland improved to 3-14-4 overall and 3-9-2 in the league. The LumberJacks and Saints battled to a tie in the opener. Northland led 2-1 at the end of one and 4-3 after two periods. Cole scored twice for the LumberJacks and DiLillo racked up 40 saves in a game where the Saints tallied 44 shots compared to just 13 for the LumberJacks. St. Scholastica came out of the weekend at 10-8-3 overall and 7-5-2 in the league.
NESCAC – Trinity remained in first place despite suffering its first league loss, a 3-2 setback to second-place Amherst, Friday. In that tilt, the Lord Jeffs were outshot 35-19, but grabbed a 3-1 lead on goals by Jake Turrin, Mike Rowbotham and Aaron Deutsch. Ethan Holdaway cut the margin to one with 6:39 gone in the third, but the Bantams could come no further. Trinity rebounded the following night with a 6-1 spanking of Hamilton. Elie Vered led the way for the Bantams with a pair of goals … Amherst followed up Friday's big win with a 6-2 blasting of Wesleyan. David White scored three goals (giving him 11 for the season) for the Jeffs, while Thomas Lindstrom added two more.
SUNYAC – Plattsburgh remained atop the SUNYAC, although the Cardinals split the weekend with a 4-3 win over Brockport, then fell to Geneseo, 3-2. Fueled by three first-period goals by Connor Gorman, Platty surged to a 4-1 opening stanza lead over Brockport on Friday. The Golden Eagles chipped back to within a goal after a pair of tallies by James Ryan. The following night, Plattsburgh grabbed the lead again, 2-0 midway through the third, but this time was unable to hang on, as the Knights rebounded with three unanswered goals, two of them by David Ripple. Ripple notched what proved to be the game-winner at 10:22 of the third … Oswego (17 points) remained in second place, three points back of the Cardinals and have two games in hand to boot. The Lakers won their only start, 7-4 at Cortland Saturday after getting goals from seven different marksmen. Cortland's Nick Zappia, the nation's leading scorer (tied with Mass-Boston's Stephen Buco at 36 points) and goal-getter (with 19), scored twice and added an assist.
WIAC – Wisconsin-Stout pulled off a stunning win on Saturday, knocking off No. 12 Wisconsin-Eau Claire 4-3 on the road. The Blue Devils led 2-0 early and used two goals in third period to pull away for good. Shayne McLaughlin, Justin Moody, Craig Lindegard and Karl Andersen all scored for the Blue Devils, who improved to 8-10-1 overall and 3-3 in the WIAC. Joe Schmitz came through with a pair of assists in the upset. Spencer Viele was the winning goalie as he racked up 48 saves. The Blue Devils have played well lately, and Saturday's win was their third in the last four games. Eau Claire, 12-5-2 overall, 4-2 in the WIAC, took the opener on Friday, skating to a 5-3 win. Ethan Nauman scored twice for the Blugolds, including a goal in the second period that gave the Blugolds a 4-3 advantage. Preston Hodge played a key role in the offense as he tallied an assist on four of Eau Claire's goals … Sixth-ranked Wisconsin-River Falls picked up two important wins over the weekend and is in second place in the standings behind Wisconsin-Stevens Point. The Falcons defeated Wisconsin-Superior 3-1 on Friday and finished off the series with a 4-1 win. After winning only once in six games, the Falcons have now won two in a row. Mike Fazio, Taylor Burden, Cory Lushanko and Kyle Gattelaro all scored goals for River Falls, which is 16-4-1 overall and 5-3 in the conference. Gattelaro leads the team in goals with 10. Blake Huppert and Mitch Kotny both tallied assists in the win and pushed their assist totals to seven on the season. River Falls completed a season sweep of the Yellowjackets, winning all three games this season. Mike Williams, Alex Murphy and Gattelaro all scored goals for the Falcons in Friday's opener. Tanner Milliron came through with 33 saves in a tight game played in front of one of the largest home crowds of the season. The Falcons are 10-2-1 on their home ice this season.