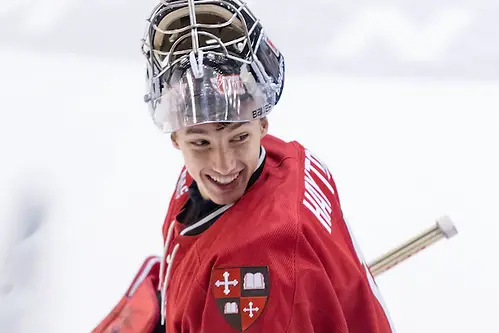 According to the Old Farmer's Almanac, there is a 90 percent chance of awards over the next four weeks, coinciding with intense episodes of playoffs and the New Moon opening the month.
Hey, it predicted a bad winter, too, so let's not roll our eyes out of hand, eh?
Esteemed colleague and dismayed Northeastern alumnus Nate Owen detailed the lay of the land with one weekend to play, so I'll skip that stuff and dive right into something a bit more debatable.
Trophy season
There are 12 games separating us from the ECAC Hockey annual awards. Granted, the winners won't be announced until the final days before the league's championship weekend, but the votes are gathered and tallied before the first round even begins.
Here are my unsolicited picks and analysis of the winners-to-be.
Rookie of the year: Kyle Hayton, St. Lawrence
There are only two viable candidates for this award: Hayton and Quinnipiac forward Landon Smith. Smith is a very good player, but he has not had the kind of standout season that Hayton has.
Hayton played all but one of SLU's 32 games thus far, going 18-10-3 behind a team that was outshot by more than four shots a game on average. He stopped 30 shots or more 15 times, 40-plus thrice, and peaked in a two-goal, 51-save loss at Miami in October.
Hayton gave his Saints — picked 11th in the coaches', media and both USCHO correspondents' preseason polls — every chance to succeed by holding opponents to two goals or fewer 23 times so far.
Nothing against Smith, but the 6-foot Colorado sniper is merely third on the Bobcats in goals and fourth in points. That's obviously nothing to sniff at, but he isn't carrying his team to anywhere near the extent that Hayton has.
Ken Dryden Award: Kyle Hayton, St. Lawrence
ECAC Hockey boasts three top-flight goalies this season, and they are all underclassmen: Cornell sophomore Mitch Gillam, Yale sophomore Alex Lyon and Hayton. Among these top goaltenders (statistically speaking), Hayton is the only one whose league save percentage (.945) is higher than his overall save rate (.940).
Overall, Gillam's .941 save percentage leads the league, but Hayton is obviously a goal or a couple saves behind; Lyon's .938 is in the same ballpark as well. Against the ECAC, however, Hayton's .945 is a full 11 points ahead of Lyon and Quinnipiac junior Michael Garteig.
Hayton is also second in the league in total saves (566), trailing Princeton sophomore Colton Phinney (584, whose save rate is .911); overall, Hayton is an astounding 142 saves ahead of the league's runner-up, Steve Michalek of Harvard.
tl;dr: Hayton has played as well as anyone else in the league, and has shouldered a much larger workload to boot.
Best defensive defenseman: Rob O'Gara, Yale
This is a difficult award to flesh out because there simply aren't any good metrics available with which we can compare players beyond the score sheet. That said, I believe big, bad O'Gara has as strong a case as anyone else for this honor.
The 6-foot-4 junior blueliner from Long Island was picked in the fifth round of the 2011 NHL Entry Draft by the Boston Bruins, who got to see him play in their own backyard at Milton Academy with Harvard star defender (and fellow Long Islander) Patrick McNally.
This season, O'Gara made an impression on scouts as well as opponents with a plus-15 plus/minus rating, second-best among ECAC defensemen behind St. Lawrence sophomore Eric Sweetman.
While Sweetman bested O'Gara there as well as in points (2-15–17 to O'Gara's 5-11–16), the Yale rearguard scored more goals in five fewer games due to the Ivy League schedule and boasts an incrementally better points-per-game average. The other factors that led to this choice are O'Gara's 60 blocks (Sweetman has only 30) and 11 penalties (Sweetman: 17); it is hard to tell from box scores, but it would appear that O'Gara also played top-pair minutes more often than Sweetman this year.
Best defensive forward: Kyle Criscuolo, Harvard
Top plus/minus. Blocks shots. Kills penalties. Wait, are we talking about Criscuolo or Union senior star Daniel Ciampini? Hold yer horses, I'm getting there.
Yes, the prior criteria describe both Ciampini and Criscuolo. What separates them is that while Ciampini is slightly better than Criscuolo overall, the Harvard junior is well ahead of the Schenectady standout in league play.
Against the ECAC, Criscuolo leads all forwards with a plus-14 rating in 20 games played; Ciampini is just plus-8. They each average about three shots on goal per game, which gives them credibility as puck-possession players, but the Crimson forward's 13 blocks are icing on the cake. Ciampini is an exceptional player, but he is no shot-blocker, with just eight in 20 outings.
Coach of the year: Greg Carvel, St. Lawrence
I initially figured Quinnipiac's Rand Pecknold would take the title, but the more I think about it, the more I realize how truly shocking St. Lawrence's success has been this season. As aforementioned, every single preseason poll picked the Saints to finish 11th in the league, and here they are in the second seat.
Yes, Hayton has been a mind-bending wizard in back, but a three-goal-a-game offense and 89 percent penalty kill are credits to the coaching, not the netminding prodigy or any other individual on the St. Lawrence roster.
Pecknold continues to craft national-caliber squads in Hamden, and this year's Cleary Cup team was no safe bet with 18 freshmen and sophomores on the 27-man roster. That said, having Travis St. Denis, Matthew Peca, Sam Anas and Michael Garteig among the returning players ought to be good for at least a home-ice playoff series right there. I'm not attempting to marginalize what Pecknold & Co. have accomplished this season; it's just that Carvel and the St. Lawrence staff have delivered a more unexpected success story.
Player of the year: Jimmy Vesey, Harvard
There could be a case made for Hayton, but I doubt the coaches would find the outstanding freshman worthy of all three honors for which he is eligible. Anyhow, Vesey has had quite an impressive campaign in his own right.
The junior winger and Nashville Predators prospect earned a point in 25 of his 27 games played — and he played every game for the Crimson this year — despite missing linemates and depth support to injury with uncomfortable frequency. He scored a goal in 17 games, demonstrating remarkable consistency, and led the ECAC in both overall points per game (1.52) and league points per game (1.55).
At nearly four and a half shots on goal per game in league, Vesey was an absolute puck-possessing terror to opponents, and his plus-13 ranks fourth in the ECAC behind two defensemen and frequent linemate Criscuolo.
Got a beef with a pick for a reason I haven't addressed? Leave a comment or find me on Twitter.