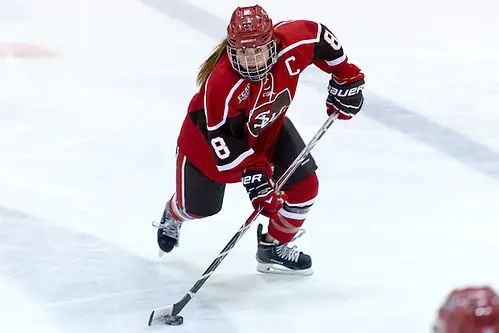 St. Lawrence Saints
USCHO prediction: Sixth
Coaches' prediction: Fifth
Last season: Fourth (tie) (19-12-5, 13-5-4 ECAC)
The names
I like St. Lawrence, so I'm not sure why for the second year in a row I'm picking the Saints to finish below where the league's coaches placed them. Actually I do know why — Carmen MacDonald. The recently graduated SLU goaltender started 122 games in her four-year career and was a big part of the success that her team achieved over that time.
Anyway, St. Lawrence finished in a tie for fourth despite my disrespectful prediction of seventh a year ago, so I realize that I'm going to be wrong even as I make the pick.
Chris Wells isn't planning to change the way things are done in Canton, N.Y., now that MacDonald is gone. He says that it will continue to be business as usual, with his team getting up and down the ice, improving over the course of the season, and enjoying themselves.
Enjoyment is quickly tempered if soft goals find a way into a team's net, so some combination will need to emerge from the five goaltenders on the roster: senior, Mikaela Thompson; sophomore, Brooke Wolejko; and freshmen, Allison Compeau, Grace Harrison, and Sonjia Shelly.
The remainder of the roster is more proven. Forwards Kayla Raniwsky and Jacqueline Wand combined for 50 points in their senior seasons, but returning are the other four forwards to top 20 points: Brooke Webster, Jenna Marks, Kennedy Marchment, and Kailee Heidersbach. Sparkplug Amanda Boulier is back to anchor the blue line and is on pace to reach triple digits in career points.
The numbers
One big difference between Wells' teams and those that Paul Flanagan coached at St. Lawrence is the star power. Flanagan recruited five players who went on to surpass 150 points in their careers, a milestone Wells' recruits have yet to reach. It is difficult to best the likes of Harvard, Clarkson, Cornell, and Quinnipiac in the playoffs for two or three rounds if they always have you outgunned.
When St. Lawrence won the ECAC tournament in 2012, it was plus-38 in goal differential for the season. The Saints were plus-33 in Wells' first season of 2008-09, and last year's plus-14 was the third-best mark during his tenure. It would follow that improvement in that statistic will be key in advancing further, because if a team yields roughly a goal for every one it scores, its record will linger near .500. The best chance to improve would seem to be a gain in goals scored, as it is unrealistic to expect much of a decrease in goals allowed in the first season with a new goalie. The Saints offense averaged just under three goals per game, so they'll likely have to be more prolific offensively to seriously contend in the ECAC.
The prognosis
SLU has fallen short of the ECAC's final weekend the last two years. Wells says they were overmatched by Quinnipiac two years ago, while last season's series loss to Cornell could have been altered by a bounce or two.
The rest of the roster looks up to the task, but only if the goaltending falls into place. If not, SLU will reach the playoffs but not advance.