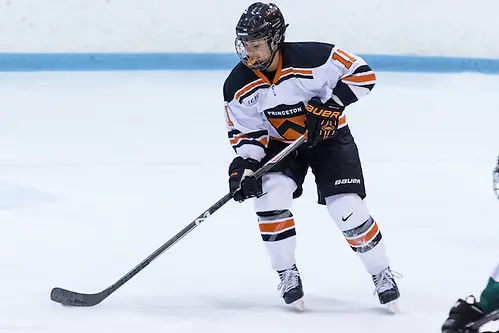 Princeton Tigers
USCHO prediction: Fifth
Coaches' prediction: Sixth
Last season: Sixth (15-14-2, 13-8-1 ECAC)
The names
Princeton coach Jeff Kampersal likes what he saw last season from his returning players.
"We competed hard, and we're hoping to carry that into this year," he said.
It all starts in net.
"Kimberly Newell, who has been an outstanding goaltender for us and who has won games single-handedly sometimes for us," Kampersal said.
The Tigers found a catalyst when Kelsey Koelzer moved from forward to defense for her sophomore year and responded with an All-USCHO caliber season.
"She's an awesome kid, so she welcomed it," Kampersal said. "When she was up front, she couldn't really get her speed going, but when she's in the back, the whole position has sort of suited her. She can see the whole game. When she wheels around the net, she generates a ton of speed. Her body type is solid; she's really strong, really fast, and I think last year she caught a lot of people by surprise when they thought they had her and two seconds later she's by them. Then there are times when she rests, too, so she can exert herself really hard, and as a D-man you can pick your spots. It ended up working out really well for her and for us."
Up front, Kampersal looks to a senior, "Jaimie McDonell, who is a great, all-around player for us, and who is someone I think they should be looking at for the next level of hockey after college," as well as a junior, Molly Contini, who led the league with 15 goals in ECAC play last year.
The team adds some depth with four incoming freshmen.
"We feel like they're a really good group," Kampersal said. "Steph Sucharda was a defenseman on the Canada U-18 team. Karlie Lund won state championships with Blake School in Minnesota. Keiko DeClerk has been a solid player with the USA Hockey program, as well as Kimiko Marinacci, who has been a solid D-man in the Ottawa Senators program. We're really happy that they're part of our group."
The numbers
Of the teams to advance to the ECAC playoffs, the Tigers ranked last in scoring offense, averaging 2.35 goals per game. This is an area that needs improvement in order to build a team capable of advancing to the league's final weekend.
"We're not a team that scores a ton of goals," Kampersal said. "There's kind of a quirk in the ECAC where you play well against certain teams, and then maybe not so well against other teams. So I think our biggest goal that we're working on this year is to improve our mental toughness and mindset when we approach certain teams that we haven't had as much success as we would have liked recently."
The prognosis
There looks to be a knot of teams in the middle of the ECAC that could shake out in any number of combinations. I'm expecting Princeton to emerge on top of this group largely because the Tigers look to be set defensively, and that should serve them well in the standings.