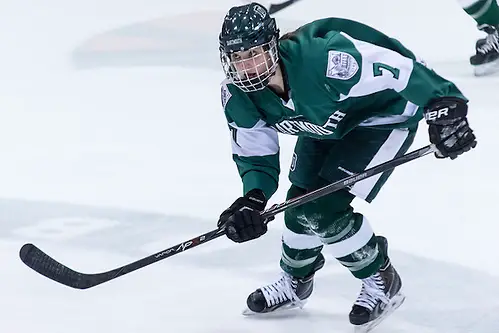 Dartmouth Big Green
USCHO prediction: Seventh
Coaches' prediction: Seventh
Last season: Eighth (13-15-2, 9-11-2 ECAC)
The names
Dartmouth's senior class is a big reason why its coach is optimistic about the upcoming season.
"We've got six players in our senior class and they've all contributed significantly, one way or the other — on the ice, off the ice," Mark Hudak said. "It's a really close group, and I think we saw some benefits of that even last year in some of their leadership, having them kind of bring that intangible in the tangibles to the team. I really think that that class is going to lead us well this year, on the ice and off the ice."
While the leadership, off-ice activities, and intangibles are important, at some point, it has to translate into scoring goals and preventing opponents from doing so.
"Certainly, some of the people in that class, Laura Stacey, Lindsey Allen, have done really well for us on the ice," Hudak said.
Those two, along with junior Kennedy Ottenbreit, led the team in scoring with 26 points apiece.
The senior class also provides some much-needed depth throughout.
"Ailish Forfar, we were without for a year because of some hip surgery and some hip problems, was back for us last year, but really didn't get up to 100 percent until the second part of the year," Hudak said. "I think having her back healthy right from the start is huge for us. Catherine Berghuis, who will be one of our captains [along with Stacey] in that class, she's kind of that prototypical — she can play on any line. We can put her anywhere, but she can play a lot of different roles for us."
"Back on the D, Olivia Whitford, Zoe Brennan, both have been very steady D, give us some good experience back there."
After playing little as a freshman, Robyn Chemago got nearly all the minutes as a sophomore.
"I'd like some type of a rotation," Hudak said. "I think it's great to have a goalie that you say, 'Hey, this is our go-to kid,' and knowing that we can rely on her. I think it's really tough though [to not have a proven backup available.] There's just so much pressure on Robyn every game, 'Robyn, you've got to play well.'"
The new arrivals offer some help in that regard.
"We've got two goalies that are freshmen this year that are going to push Robyn for some playing time, Christie Honor and Shannon Ropp," Hudak said. "I think we're going to be stronger in the net this year, whether it's because of Robyn's experience from last year or because we have a freshman or two that's going to be able to jump in there for us."
The numbers
The Dartmouth power play ranked third in league action, converting at 22.2 percent, suggesting that there is some top-end talent in Hanover.
The prognosis
After missing out on the playoff picture, Dartmouth has been back in the last couple of seasons. However, if the Big Green want something better than a first-round date with the league champ, they'll like need big things from their senior class.