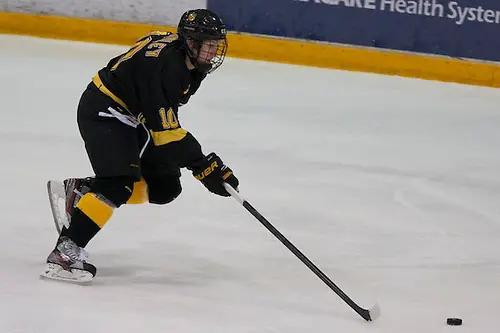 It started out OK. Colorado College swept Alabama-Huntsville in its opening series last season.
Then the losses mounted. By Christmas break, the Tigers had only one more win, a 5-2 decision over Wisconsin, and a tie/shootout win over Western Michigan in the last game of the half. The second half went much like the first.
There were some hopeful signs. Toward the end of the first half, the Tigers played teams tough, and often just couldn't hold a lead down the stretch. The second half opened with an overtime loss to Providence that typified their season — they let two leads get away in the third period, came back to tie it late, then fell in overtime.
"I think that's a big level to get through," said CC coach Mike Haviland. "I call it closing games and winning games. There's such a fine line. I think once you learn how to win games, it becomes a habit and goes through the room.
"I think it's managing the puck better, and knowing that we can't take a shift off, and understanding what it's like to play with the lead, and play from behind. There's a lot of learning there. I thought we grew for sure last year, but we need to take the next step. It's time to stop saying we are so close, and learn how to win those close games."
CC has a huge freshman class this year, with 14 players. Standout defenseman Jaccob Slavin is gone to early departure, while four seniors who saw regular playing time, like second-leading scorer Scott Wamsganz, also have departed.
"We lost six seniors, and then lost a couple of guys who went back to juniors, and Jaccob Slavin ended up going to the NHL, so to be honest, we're happy we brought 14 guys in," said Haviland. "We lost 10. The thought process was to continue to earn our ice team and compete against each other to get to where we need to go to."
Given that CC struggled not only to score but to prevent scoring, the loss of four regular defensemen is going to make it hard for the Tigers to clamp down in their own end, especially since the penalty kill really struggled last year, succeeding only 77.9 percent of the time.
"I think that's the commitment by everybody, all five guys," said Haviland. "I thought we got better in the second half with it, but it certainly needs to improve. We brought in some older defensemen that we feel can step right in and play."
One game on CC's radar is the contest Feb. 20 against Denver at Coors Field, home of baseball's Colorado Rockies.
"I think it's something special," said Haviland. "It doesn't happen even to guys in pro hockey. To play in an outdoor game is something that may only happen to you once in a lifetime. To play against our biggest rival, DU, I think it's going to take the rivalry to a different level."
Last season
6-26-3, 2-19-3-1 (eighth) in the NCHC. Lost to North Dakota in the first round of the NCHC tournament.
Names to know
The Tigers are led up front by Cody Bradley, who scored 30 points last year; the next closest scorer had only 19 points. Hunter Fejes and Sam Rothstein will need to step up their offensive production. A new goaltender, Jacob Nehama, should push Tyler Marble for starting time.
Three questions
1. Will CC's moribund offense, consistently ranked near the bottom, pick up speed?
2. Will the departure of standout defenseman Jaccob Slavin impact the team's prowess on the blue line?
3. Can either of the goalies step up if the defense collapses, and improve on their over three goals per game average of last season?
Crystal ball
CC looks to be rebuilding not just this season but in the near future. Last in the conference and out in the first round of the NCHC tournament seems likely again.