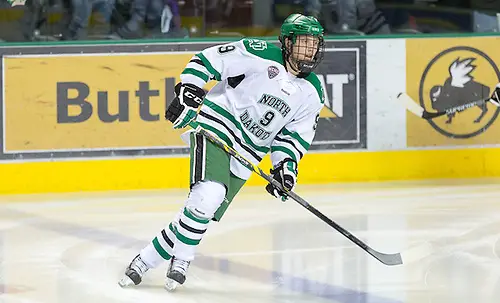 Every college hockey team faces its fair share of turnover in the summer months. The trick to working around that is to keep the team's environment as consistent as possible.
North Dakota will have its work cut out there. Not only did UND lose a significant amount of firepower from last season's team, but the group is also working under a new head coach.
Dave Hakstol was named on May 18 as the new head coach of the NHL's Philadelphia Flyers. College hockey's winningest coach over the past 11 years was quickly replaced in Grand Forks, however, by former assistant Brad Berry.
Berry, like Hakstol an UND alumnus, now faces the challenge of replacing several people who recently joined Berry among the ranks of former UND players.
Three of UND's top five scorers from last season have moved on. Forwards Michael Parks (12 goals, 20 assists) and Mark MacMillan (16 G, 9 A) both graduated, and defenseman Jordan Schmaltz (4 G, 24 A) forewent his final season of eligibility to sign with the St. Louis Blues.
Also gone is goaltender Zane McIntyre, who left after his junior season to sign with the Boston Bruins. Of the three netminders on UND's roster this season, only sophomore Cam Johnson (two appearances last season, 0-0-0) has prior college playing experience.
Replacing those key pieces with returners and newcomers — 11 freshmen in all — will take time. As the season progresses, however, Berry will look to continue what the past handful of UND head coaches before him developed.
"Gino Gasparini coached all of us here at North Dakota," Berry said in referring to the current coaching staff. "Whether it was Dean Blais here or Coach Hakstol and myself, the one thing [Gasparini] said to us is that nobody's bigger than the program, meaning that the program comes first.
"We use the word 'culture,' and the word 'culture' is a big word for us and whoever comes and goes through this program, whether they be coaches or players, the culture remains the same. That's a big thing for us."
Last season
29-10-3, 16-6-2-0 (first) in the NCHC. Lost to St. Cloud State in the NCHC playoff semifinals. Lost to Boston University in the national semifinals.
Names to know
UND returns its leading scorer from last season in Drake Caggiula (18 G, 18 A), and Tucker Poolman (8 G, 10 A) could give opponents problems as he moves from forward to defense. Returning goaltenders Johnson and Matt Hrynkiw will battle with freshman Matej Tomek to see who takes over in net for the departed McIntyre.
Three questions
1. UND fell in the national semifinals each of the past two years under Hakstol. Can they go one step further this year with Berry taking over?
2. Who takes over for McIntyre? Can either of the two incumbents lock up the No. 1 spot, or will the heralded newcomer Tomek make that role his?
3. Who steps up offensively to fill the shoes vacated by Parks and Schmaltz, two departed players who combined for 60 points last season?
Crystal ball
UND will run into growing pains early in the season as its newcomers get acclimated, but UND will compete for another NCHC regular season title and a high seed in the NCAA tournament.