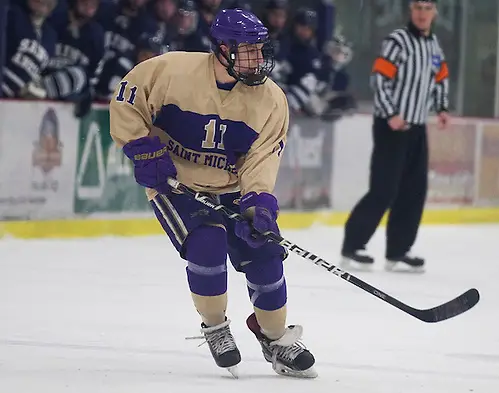 The six teams that comprise the Northeast-10 are technically Division II programs that play a limited schedule against each other and the majority of their games with D-III schools across the region.
While two schools, St. Anselm and St. Michael's, also compete in the NEHC, they are only eligible to play in the NE-10 postseason tournament and that puts a premium on the limited games against the fellow D-II schools to ensure qualification and seeding in the tournament.
The preseason poll heavily favored the defending champions from St. Anselm to repeat, but as coach Ed Seney knows, everyone in the conference is looking to play their best game when the Hawks appear on the schedule.
"You can't take a night off against anybody in the NEHC or in the NE-10," said Seney. "If you go into any game thinking that showing up is good enough to get a win, you are in for trouble. Last year, Assumption got us with a hot goalie and wanting it more than we did, so I have to make sure we are ready to compete at a high level and don't take anything for granted in any game on our schedule."
The Favorites
The defending champs have started the season outside NE-10 play and the first three games have their coach thinking positively about the potential of these young Hawks.
"It all starts for us in the back end and our goaltending," noted Seney. "Shane [Joyce] had a solid freshman season and we are looking to him to keep us in hockey games along with a young defensive group that only has one senior. To win college hockey games, your special teams have to be good, so I am really pleased to see that in just three games, a small sample, we have yet to give up a power-play goal and five of our nine goals have come with the man-advantage. We need to be better defensively in our 5-on-5 play, but I like our compete level early on and we will need that this weekend heading to Norwich and an important game with St. Michael's.
"As far as the rest of the league goes, Stonehill was very good last year, so I expect they will be right there battling for the conference this year. With such a small number of conference games, it really challenges everyone to make sure they are competitive in those limited D-II games."
The Dark Horse
The Purple Knights of St. Michael's were last year's conference tournament runners-up and coach Damian DeGiulian's team has a younger look after significant losses to graduation. Much will be expected from the younger players to fill critical roles and provide the offense for St. Mike's if they are to return to the title game and battle for the conference championship. The schedule in the NEHC will test the team early and that may aid in the pursuit of the NE-10 by having the team come together quickly.
Players to Watch
Assumption: Brandon Bete – forward
Franklin Pierce: Bruce Marshall – coach; Brendan Glyn – forward
Southern New Hampshire: Joe Collins – forward; Jim Gabrione – forward
Stonehill: Richard Harris – forward; William Palmer – goalie
St. Anselm: Shane Joyce – goalie; Bryan Sullivan – forward
St. Michael's: Danny Divis – defense; Kevin Altidor – forward
USCHO Predicted Finish
1. St. Anselm
2. Stonehill
3. St. Michael's
4. Southern New Hampshire
5. Assumption
6. Franklin Pierce
Former Connecticut coaching legend Bruce Marshall takes the helm at Franklin Pierce this season, which should help the Ravens elevate their game.
While many of the games on the schedule against D-III opponents don't count in the standings, the games against their fellow D-II schools mean an awful lot in determining which four schools qualify for the NE-10 conference championship in the spring. The Hawks clearly have a bulls-eye on their chests from each opponent, so nothing can be taken for granted by any of these teams.