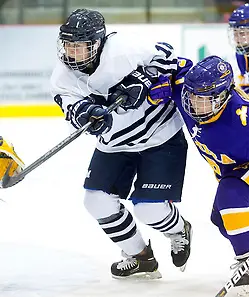 Just a sophomore, Maddie Winslow is playing beyond her years for No. 7 Middlebury.
She talks a mature game as well.
Add to that the fact that she is double majoring in economics and art history and you can't help but be a fan of the native of Manchester, Vt.
Growing up playing hockey for the esteemed Assabet Valley program in Concord, Mass., Winslow wanted to continue playing competitive hockey in college.
That's where Middlebury came into play.
"I was excited to play for Coach (Bill) Mandigo and for a team that wanted to compete," said Winslow. "I felt like I could become a better player at Middlebury and could make an impact here. I also was excited to play in such an evenly matched and competitive league like the NESCAC. I like that we have such a hard schedule and that every game is just as important and just as competitive as the next. The school was also a great fit for me both academically and outside of hockey, which was really important for me during my college search."
In 15 games with the Panthers this season, Winslow leads the team in scoring with 18 points on eight goals and 10 assists. Last season, she tallied 10 goals and 20 points in 28 games, good for fourth on the team.
"Offense has always come more naturally to me, which is why I'm really focusing on getting better on the defensive side of the puck this season," explained Winslow. "Growing up, I always loved being a playmaker. I played boys hockey for a long time, so I was always surrounded by bigger kids with stronger shots. I found most of my success in beating them through outsmarting them and looking to make plays and set up my teammates."
Middlebury is 9-3-3 overall with a 5-0-3 mark in NESCAC play, which has the Panthers third in the league standings.
The Panthers play two at Hamilton this weekend before going to No. 10 Norwich next Tuesday.
"After graduating eight very talented seniors, we came into this season with a really young team with 15 underclassmen," noted Winslow. "There was obviously a lot of learning that needed to be focused on at the beginning of the season, but coming back from winter break, I think our team has really come together. Everyone from the freshmen to the seniors has been contributing to our success. I think our team right now is focusing on doing all the little things, whether that's blocking shots, backchecking hard, or winning the battles in the corner, and I think this mentality has contributed to the enormous amount of progress our team has already made this season.
"I think that if we keep working as hard as we are, our team can accomplish a lot this season."
On an individual level, Winslow has been as consistent a player there has been in all of Division III.
"This season I've been focusing on 'doing my job,' as coach Mandigo always says," said Winslow. "I think any individual success I've had so far this season can only be contributed to a collective effort from my team. All our wins have been team wins and I am happy that I have been able to play my role and contribute in my team's success."
Winslow added that hockey has been a major part of her life for as long as she can remember.
"I started skating about as soon as I could walk," remembered Winslow. "My family always had an outdoor rink growing up, so the second I could fit into a pair of skates, they had me out there skating with my older siblings and neighborhood friends. I joined my first team when I was four years old and was by far the youngest player out there."
On that first team, coached by her father, Winslow found herself in an unfamiliar position — quite literally.
"My dad volunteered me to play goalie for the first game when no one else wanted to, but the pads were too big for me, though, so whenever I went down to make a save, I couldn't get back up," laughed Winslow. "I finally decided to just lie across the crease all game instead of trying to get up. Unfortunately, I was too small to even cover the entire crease. We lost the game 6-0, so safe to say I learned early on that a future goalie career was out of the question."
Some years later, Winslow is enjoying college life, on and off the ice, and has big-time goals for the Panthers as the season stretch drive is around the corner.
"Obviously, I would love to see our team win it all," said Winslow. "I think what really will make this season successful for the team as a whole and for me is forward progress. Are we getting better every day? Are we correcting mistakes? Are we strengthening our skills? If at the end of every week we come out a better team than we started, we are headed in the right direction.
"My only expectation for my team for the rest of the season is that we will outwork every team we play. There are a lot of really great teams this year and the rest of our season will be very competitive, which is awesome. It's fun to play good teams. We have been playing good teams all season long, and I hope to keep playing good teams until the last possible weekend we can."
On an individual level, Winslow credits her success to the rest of her squad.
"This season will also be successful if I can make my teammates better," Winslow said. "I have become such a better player in my two years at Middlebury so far and a lot of that is thanks to my teammates pushing to make me better, and I only wish that I can have the same impact on them as they do on me."
NOTEBOOK
St. Michael's senior defenseman Emily Loebs is one of 18 nominees for the 2016 Hockey Humanitarian Award. She's also the lone women's D-III player on the ballot. A Dean's List student, Loebs is also a member of the women's lacrosse team, co-president of SAAC for the 2014-15 and 2015-16 school years, is involved in the Purple Knight Leadership Academy, and serves on Athletic Advisory Council and St. Michael's Athletic Hall of Fame Committee. … No change in Monday's USCHO.com Division III Women's Poll; Plattsburgh still No. 1 at 18-0-0 and garnering all 15 first-place votes. … Adrian's Logan Taylor leads all of women's D-III with 25 assists, Lake Forest's Michelle Greeneway is tops with 26 goals, and Adrian's Kristin Lewicki is the top scorer with 38 points on 24 goals and 14 helpers. … Plattsburgh goalie Camille Leonard continues to put up staggering numbers: 16-0-0, .978 save percentage, and 0.38 GAA, and, oh, 11 shutouts. … Andrea Klug of Concordia (Minn.) and Utica's Keira Goin each have six goose eggs this season.