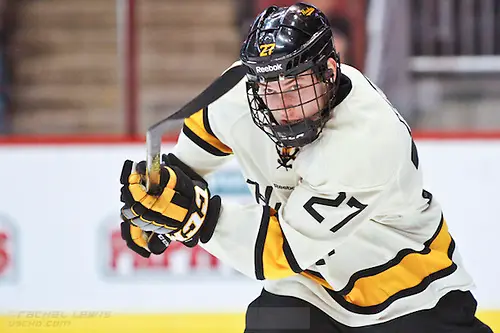 Mel Pearson wasn't angry, exactly, last Friday night in Bemidji, but he sure was disappointed.
It had been more than a year since the last time Michigan Tech was shut out, but the Huskies looked listless in the eyes of their head coach following a 3-0 loss to Bemidji State.
Maybe it was that they were coming off a bye weekend and had swept Lake Superior State the week before that, but whatever it was, Pearson didn't like the effort.
"We hadn't played a team like this in a while," Pearson said following Friday's loss. "We didn't have the grit, the jam, the intensity you're going to need to play against a team like Bemidji. … We played a more relaxed game."
Pearson guaranteed the Huskies would "play with a little more zip" in Saturday's game.
Whatever he said to the team in the intervening 22 hours must have resonated: The Huskies dominated Saturday night's game 9-2, handing the Beavers their worst loss of the season and in the process salvaging two points and staying in the thick of the MacNaughton Cup race, two points behind Minnesota State.
"I'm just really pleased with the effort and the bounce back," Pearson said. "We go from being shut out for the first time in a long time to scoring nine. I just liked our overall game. The players did a real good job. They played with more urgency, more desperation.
"It was an important two points on the road. And we've been a good road team all year so it was important to get the win tonight, because they're a good hockey team."
The Huskies (17-8-5, 14-7-3 WCHA) went to Bemidji on an eight-game unbeaten streak, having not lost since falling to instate rivals Michigan in the Great Lakes Invitational title game on Dec. 30. It had been even longer than that since they were shut out — a 2-0 loss at Wisconsin on Jan. 3, 2015.
So losing the series opener was something of an eye-opener for Tech, which came into the weekend with a chance to pull even with Minnesota State for the WCHA lead. The Mavericks were idle last weekend so a road sweep would have meant they were tied with four games to play.
But thanks to their big 9-2 win, the Huskies were able to salvage something from the series. Eight different players scored in the rout, including two from Tyler Heinonen — his first since Dec. 5 against Alaska-Anchorage. Tech's top four scoring leaders, including Heinonen, Alex Petan, Malcolm Gould and Joel L'Esperance, all scored at least one goal, while C.J. Eick added three assists and Brent Baltus two.
Senior goaltender Jamie Phillips made 27 saves on Saturday to add to 22 on Friday.
Overall, it was two key points.
"I'm happy to get the points, especially after Friday night," Pearson said. "But we're right in the chase. We have three home games in a row and we have to make some hay in those games."
The Huskies return home this weekend to face an Alaska team still fighting for its playoff life before closing out the season with a home-and-home series with Upper Peninsula rival Northern Michigan.
"[These next four games are] a big four games for us," Pearson said. "I like where we're positioned, I like how we're playing and we're coming off a real good game.
"Points are valuable. It's going to come right down to the last weekend. We were hoping to leave here tied for first with Minnesota State, but Bemidji State played a real good game [Friday]."
Outside looking in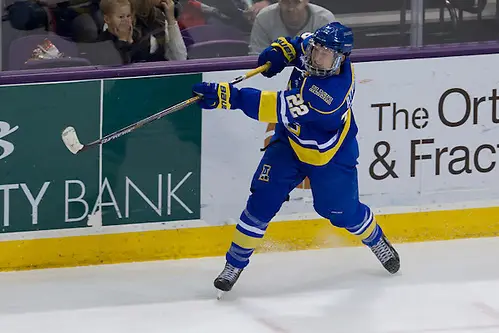 Alaska got a desperately needed home victory last Friday, beating Bowling Green on Tayler Munson's short-handed goal with 8.8 seconds remaining in regulation.
It was the Nanooks' first victory in Fairbanks since Nov. 6, breaking a nine-game winless streak there. It also broke a five-game losing streak overall.
The next night, the Nanooks lost at home again, keeping them two points behind rival Alaska-Anchorage for the WCHA's eighth and final playoff spot with four games to play.
"It's gut-check time," junior forward Marcus Basara told the Fairbanks Daily News-Miner after Saturday's game. "We need points, and we really have no choice now."
Alaska travels to Michigan Tech this weekend and closes the season with a home series and what could essentially be a playoff against the Seawolves.
Ice chips
• Alabama Huntsville was swept by Northern Michigan last weekend and scored just one goal on the weekend, but as it turns out that goal was all the Chargers needed to eclipse their goal total from last season. They have scored 63 times in 2015-16 compared to 62 in 2014-15. Junior captain Brent Fletcher was the lone scorer for Huntsville.
• Alaska-Anchorage senior forward Blake Tatchell became the third WCHA player to join the century club this season when he scored his 100th point last weekend. Tatchell, who has 101 career points, joins fellow seniors Tyler Morley of Alaska and Teddy Blueger of Minnesota State. Michigan Tech senior Petan hit 100 points during his junior year.
• It was an up-and-down weekend for Bemidji State, which beat Michigan Tech for the first time since 2011 on Friday before suffering a 9-2 loss on Saturday. Coming into the series, the Beavers were winless in their last 10 games (0-7-3) against the Huskies. It was also the Beavers' fifth shutout of the season — the most since posting seven shutouts in the 2007-08 season. Conversely, their 9-2 loss on Saturday was their largest deficit since they lost to Ferris State 8-0 on March 14, 2014.
• Bowling Green hosts Ferris State in a key series between a pair of top-five WCHA teams. The second-place Falcons are two points behind first-place Minnesota State and tied with Michigan Tech, while the Bulldogs are three points back of BG and Tech in a fourth-place tie with Northern Michigan. In the all-time series, Bowling Green has a slight edge on Ferris State 58-57-21. This weekend marks the teams' first meeting of the season.
• Of Lake Superior State's 11 game-winning goals, nine have been scored by its freshman class and two have been scored by newcomer JT Henke, a transfer from Maine. The Lakers freshman class ranks tied for second among WCHA teams with Michigan Tech's junior class at nine game-winning goals, trailing only Minnesota State's seniors with 11.
• Minnesota State should be well-rested after having its final bye last week. The Mavericks travel to Alaska-Anchorage, where they hope to maintain or extend their lead atop the WCHA standings. Minnesota State hasn't won a WCHA game on the road since Nov. 7 at Ferris State, going 0-1-6 since then. The Mavericks do have two nonconference road wins in that span, both against Minnesota, one in Minneapolis and one in St. Paul, Minn.
• Northern Michigan swept Alabama-Huntsville with 3-0 and 3-1 wins. A season-best 15 Wildcats players registered at least a point during the series, with only three skaters being held off the score sheet entirely. Darren Nowick, who scored the game-winning, power-play goal in Saturday's 3-1 win, tied Minnesota State's Blueger for the WCHA lead in points (28) with the goal. Aside from Nowick and Blueger, Wildcats forward Dominik Shine sits one point back of Nowick and Blueger in the WCHA scoring race with 27 points (13 goals, 14 assists).
• WCHA players of the week were Alaska-Anchorage sophomore forward Matt Anholt (offensive), Northern Michigan senior goaltender Mathias Dahlstrom (defensive) and Northern Michigan freshman defenseman James Vermeulen (rookie).