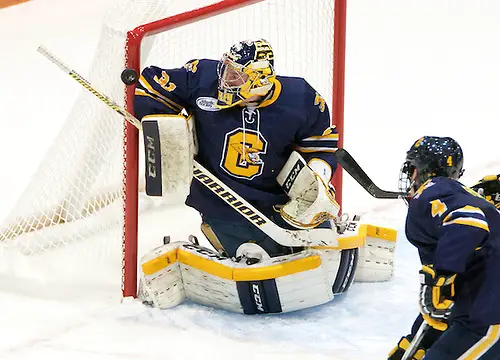 The drama and excitement surrounding hockey playoffs at any level has no comparison. The twists and turns at every motion, the emotion of the battle and the energy expended to win even a single game is like nothing else in sports.
People who sit and watch a hockey playoff game can't help but be wrapped up in the atmosphere on the ice. Overtime playoff hockey is a whole other beast, one that causes aging to happen ungracefully and gray hair to sprout almost immediately.
Just ask the Canisius Golden Griffins, who had a front-row seat to the women's hockey championship weekend for the CHA. They had a chance to sit and wait for their playoff games against Niagara while watching the semifinals at Buffalo's HarborCenter on Friday. They had an especially good seat for the Syracuse-Penn State game, which saw the Nittany Lions erase a two-goal, third-period deficit to force overtime.
One overtime is something everyone can enjoy. Three overtimes, however, turns it into something totally different. As Niagara and Canisius waited for their game to start roughly an hour late, the nearly four-hour, triple-overtime, 3-2 Syracuse victory was something they knew needed to be enjoyed, not rushed.
"It was a surface distraction for both teams," said Canisius coach Dave Smith. "But immediately after you looked past that distraction, it was absolutely great. You couldn't help but watch it with that youthful enthusiasm that comes with watching playoff hockey. Our guys knew they would play at a different time, but they knew it was special even as they sat around and watched the game.
"It was good to work on our routine during the week, knowing there was a chance at overtime [in the earlier games]," said Smith. "Before the game ended, we let our captains dictate what the team was doing, and our guys were doing what they needed to do to stay warm — both figuratively and literally since it was cold in the rink."
Playoff hockey drama in Buffalo is nothing new, so it was a good time for the Griffins to sit back and enjoy it as opposed to partake in it, especially since their own story was about to be written. They've advanced to Rochester each of the past three seasons, winning one championship and appearing in another tournament final. This year, they found themselves matched up in the first round with their biggest rival, the Niagara Purple Eagles, in an unexpected return bout to the Griffs' three-point weekend in the Battle of the Bridge earlier in the year.
"It definitely added something having a series that included bragging rights in Western New York," said Smith. "In some regards, that even took precedence over the fact that this was a playoff matchup."
In that delayed start first game, Canisius outshot Niagara by nearly double (33-17), but the Purple Eagles cashed in twice on five shots in the first period en route to a surprising 3-2 victory. For Niagara, Jackson Teichroeb made 30 saves and put Canisius in a spot it became known for putting opponents through the last three years — potentially losing a playoff series in which it expected to come in and win.
"I thought we dominated on Friday, but we made a couple of errors and it cost us the game," said Smith. "That really shook us down to the core. This particular team had never really had its back to the wall before, and now they've lost to the No. 10 seed who is also a rival in Western New York."
With Niagara hungry and Canisius with their back to the wall, Saturday turned into an instant classic, with the Griffs winning a 1-0 game in which the teams combined for 64 shots. Simon Hofley made 33 saves in net, and even though Teichroeb was once again on point, it was a duel that turned momentum back to the blue and gold.
The next night, in Game 3, Canisius regained its mojo and took the series with a 4-1 win in a game in which it opened up a 3-0 lead in the third period.
"I thought Saturday was a tremendous hockey game," said Smith. "It was a dangerous game, and we were able to get through it. Once we reached Sunday, we were able to say, 'OK, we've done this before' and play with more confidence. We had the school band out and a great crowd on hand, and our attitude shifted to just going out and getting it done."
The Griffs' reward for winning is the normally unenviable trip west to take on Air Force. The Falcons are 14-6 lifetime in Atlantic Hockey home postseason games, having won seven of nine series played at Cadet Ice Arena.
Air Force has been swept at home only four times in the regular season or the playoffs, but two of them, including the only one in the postseason, has come at the hands of Canisius.
"It's a tribute to our conditioning plan," said Smith. "People talk all the time about the altitude, but we believe we can plan to play out there. It's a little humorous, but we have to feed our guys. We go to five meals per day since we find that our guys respond well after eating. It keeps them charged up, and it helps prepare for the physical things because you have to be ready for everything."
Breaking down the quarterfinals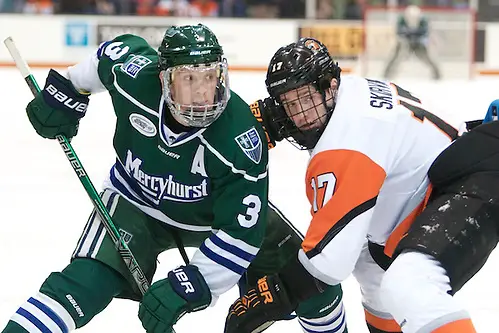 Canisius-Air Force is one of four matchups that will determine who moves onto Blue Cross Arena for single-elimination games and a shot at the ultimate prize of a trip to the NCAA tournament.
Canisius is looking for its fourth straight trip to Rochester, while Air Force seeks its first trip it last won it all in 2012. The Falcons took the trip east this year, taking three points in late January from Canisius. They haven't played in Colorado since the last weekend last year, when Air Force and Canisius split.
Rochester Institute of Technology heads to Mercyhurst for a rematch of the last weekend of the regular season. It's also a rematch of last year's Atlantic Hockey championship, which the Tigers won 5-1 before over 3,500 hometown fans at Blue Cross.
The Lakers sweep to end the season forced a 2-2 split on the season after RIT swept them in a home-and-home series in early January.
At least one "eastern" team will advance to Rochester for the first time since Connecticut in 2013 after Army West Point heads to Holy Cross. Holy Cross last advanced during the 2011 season, but Army seeks its first trip to the semifinal round since 2008. That year, the 10-team Atlantic Hockey standings used a final five format, with the fourth and fifth seeds meeting in a play-in game after the quarterfinals to determine who'd meet the top seed in the semifinals.
This season, the teams met twice in February at West Point, with the Black Knights taking three points.
And in the last matchup, Bentley heads to top-seeded Robert Morris. The Colonials won the league in 2014 and seek their third consecutive trip to Rochester after winning their second consecutive regular season crown. Bentley, meanwhile, is looking to qualify for the semifinals for the first time since 2009.
Strike up the band
It's worth noting that the playoffs brought out the best in pep bands. The pep band played Sunday for the Canisius Golden Griffins, but my tap of the stick goes to Sacred Heart's band. Playing Saturday at Bentley, they turned around and made the three-hour drive back to Fairfield, Conn., for the Pioneers' women's basketball game on Sunday. Following the hoops game, they turned around and drove right back to the Boston area for Game 3 of what might've been the most even, most complete series played all weekend.
There's something about a band playing a fight song that is so essentially college. Fight songs are an intricate part of some schools' identities, and it adds something that simply can't be recreated in the professional ranks. Some of the larger, more well-known schools like Cornell or Boston University have ingrained cultures thanks to their bands. Here's to hoping we see more of this as the seasons go on.
The final word
Since this is my final weekly column of the year (Chris brings us home next week), I wanted to take an opportunity to send out some recognition. This is, as always, a labor of love, and it's a passion that grows more and more each year I have the opportunity to be a part of the amazing hockey community and culture. But I wanted to single out a few in particular:
• My editor, Todd Milewski, does more yeoman's work than anyone through the course of the year. He's been an absolute godsend in terms of patience and feedback, and he's probably the best person we could all ask to work for. I've really grown to appreciate the background more and more, and how much really goes into it. The discussions, which I'm sure have occasionally left him annoyed with me, have helped me grow every time. I also want to thank him in particular for showing me that Wisconsin brats are one of the single greatest things on the planet.
• The Atlantic Hockey coaches deserve special recognition for all that they do and the time they take to deal with us pesky media folks. They've been an absolute thrill to talk to, this year more than others, and I think our league in particular has a special kinship that other leagues don't enjoy. There's something that's pure about the game in this league, and it's because of what you do.
• A big thank you to the coaches at Bentley — Ryan Soderquist, Ben Murphy and Steve Silverthorn — for continually teaching me about the game. Another big thank you to Kyle Mack for providing me with the occasional proofread and advice. Hard to believe I've been there for eight seasons now, and there's no group that makes game day better.
• Thanks to Chris Lerch, my partner for the past three seasons. I don't think anyone realizes the wealth of knowledge Chris brings to the table, and one of my favorite pastimes will be sharing stories with him and Ed Trefzger. It's funny to think that because of those two and Scott Biggar, I probably would've gone to RIT if I had the chance to do it all over again. Chris is an amazing ally to have, and I would be lost if I didn't have him to work with. Plus, I found out this year that like me, he's a huge Springsteen fan.
• Last, thanks to my wife, Michelle. Hockey season isn't just about the sacrifices of the players, coaches, media members or fans. It's about the sacrifices of people who put up with us. There have been countless car rides, dinners delayed and rescheduled, nights and plans with families and friends ruined so I could go and do this. She had the hockey life forced on her without asking, but she's made it all her own in her own way. I can never thank her enough for her patience, her feedback or for being the ear and shoulder for the highs and lows of a season. As the offseason dawns, there's one thing I always look forward to, and that's simply being Mrs. Rubin's Mr. Rubin.
• And of course, thanks to all of you for reading, tweeting, chatting and joining us for the ride. You're what makes college hockey great, and we'll be doing it all again very soon. I can't be humbled enough to have had the opportunity to do this, and you're all the reason why I can't live without this. I wish you nothing but the best for a healthy and happy summer.