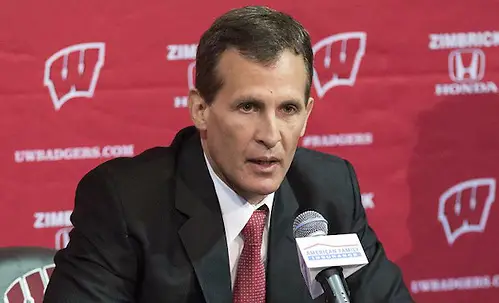 New Wisconsin coach Tony Granato has a vision for the future of the Badgers program, and it is drawn heavily from the program's successful past.Granato, introduced Wednesday alongside associates Don Granato, his brother, and Mark Osiecki, said he's focused on restoring championship ways in Madison.
"We're going to be back like we were in the Bob Johnson [years] and the early Jeff Sauer years and the early Mike Eaves years when we were not just winning but we had a product on the ice that when the building was jammed and Mike Leckrone's band was going nuts, there was energy," Tony Granato said at a news conference on a stage atop the Kohl Center ice.
"There was passion. The community was behind us. The students were behind us. And that's what our goal is. We all know what it's going to take — it's going to take work. But we're going after the best recruits, and we're going to get them."
Granato saw that firsthand when he played for the Badgers from 1983 to 1987, earning a Hobey Baker Award finalist nod as a senior. His associates did, too — Don Granato as a player and Osiecki in playing and assistant coaching stints.But they have some rebuilding to do in all of the aspects that Tony Granato mentioned.
Wisconsin fired Eaves last month with three years left on his contract after a second straight season of a record that was seen as unfitting for a program as decorated as the Badgers'.
A team that has won six national championships and was a No. 1 seed in the NCAA tournament just two years ago slipped to a total of 12 victories over the last two seasons and a pair of last-place finishes in the Big Ten.At the same time, declines in season ticket sales and attendance were reaching their nadir.
So a big-time hire was in order for Wisconsin athletic director Barry Alvarez, who said he initially called Tony Granato, an assistant coach with the NHL's Detroit Red Wings, to get his input on the future course for the program.
Don Granato and Osiecki were on Alvarez's short list along with Badgers women's coach Mark Johnson.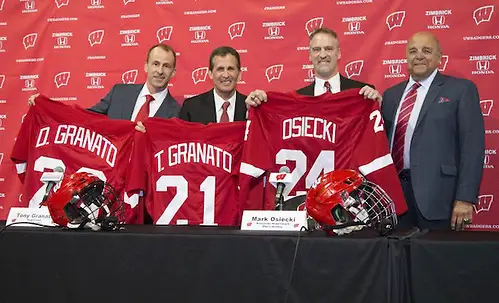 "The different people that I talked to, that I relied on, they all started the same way: 'Well, Tony's the guy but he won't be interested because he's an NHL guy,'" Alvarez said. "And then [Osiecki] and Donny and Mark Johnson. Everybody that I talked to, those were the names that came up."
But Alvarez casually threw into the conversation a question on whether Tony Granato, who has two-plus seasons of NHL head coaching experience with the Colorado Avalanche, would ever want to be the Badgers' coach.
"My initial reaction was absolutely," Tony Granato said, "but only on the condition that I could bring these two guys with me as my associate coaches."
A few more phone calls later, the Badgers had a staff that turned some heads when word started getting out last weekend.
"I think it brings excitement and energy to the program," Alvarez said.The move came at a time when interest in the team seemed to be waning in Madison, with attendance in 2015-16 reaching a low for the 18-season Kohl Center era.
Season ticket sales fell 23 percent after the Badgers went 4-26-5 in 2014-15, with totals less than half of the level they reached the season after Wisconsin won its most recent NCAA championship in 2006.
Tony Granato, 51, who played in 853 NHL regular season and playoff games over 13 seasons, said the Badgers needed to put people back in the seats by playing the kind of hockey that will make fans want to return.
"The game of hockey is entertainment," he said. "We need people in the seats to enjoy our product. So we're looking to play the same type of game that maybe we played in Pittsburgh, the same type of game we play in Detroit: an exciting brand with skill."