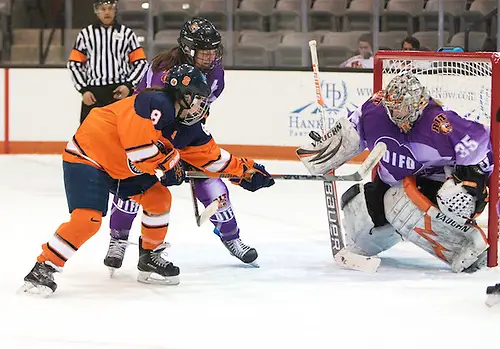 The CHA has, in its history, been about one team: Mercyhurst. The Lakers have finished first in the league in 11 of 12 seasons, and even before the CHA tournament gave the winner an automatic bid to the NCAA tournament, Mercyhurst usually qualified as an at-large team. Other CHA teams have challenged the Lakers at times, including Robert Morris, which defeated the Lakers in 2012 in the CHA tournament before it gave an auto-bid, and RIT, which defeated the Lakers in the CHA tournament in 2014 and 2015. However, the Lakers have usually been the top squad. Last season saw Syracuse take the Lakers to overtime in the CHA tournament final, but Mercyhurst came out on top.
This season, USCHO women's columnist Nicole Haase expects the Lakers to be challenged by both Syracuse and Robert Morris, but the Lakers should come out on top again.
Lindenwood
Last season
9-24-4, 5-11-4, (fifth). Lost to Robert Morris in the first round of the CHA tournament.
Names to know
Junior Sarah Bobrowski: The Lions had just five players with double-digit points last season and their leading scorer graduated. Bobrowski finished 2015-16 with 27 points and will need to continue to find the net for Lindenwood to find success.
Sophomore Shannon Morris-Reade: She was named to the CHA All-Rookie Team at the end of last season. Her 23 points were third on the team.
Sophomore Jolene deBruyn: She was the only goalie aside from All-American Nicole Hensley to see ice time last season. Presumably the net is hers to lose, but living up to the precedent set by Hensley will be a lot of pressure.
The Lions return 16 of 20 players while adding eight new faces this season. They open the season at Minnesota, so they'll need to rely on that veteran experience early on. Lindenwood hosts the 2006 Frozen Four in March
Three questions
1. How do you replace Nicole Hensley? She set the all-time NCAA career saves record with 4,094.
2. Which underclassmen will step up and score points?
3. Can the defense provide more protection and allow deBruyn a chance to settle in?
Crystal ball
Lindenwood may struggle to score while also missing Hensley's presence in net. Sorry Lions, but I think you'll finish last.
Mercyhurst
Last season
19-11-5, 14-3-3, (first). Won the CHA tournament, lost to Wisconsin in the first round of the NCCA tournament.
Names to know
Sophomore Rachael Smith: Led the team in scoring as a freshman and was named CHA Rookie of the Year.
Sophomore Sarah McDonnell: As a freshman, received the CHA Goaltender Trophy for the lowest goals-against average (1.75) in conference play.
Fourteen of the team's 23 players are underclassmen. Senior captain Paige Horton and senior Jillian Skinner provide a solid defense for the Lakers.
Three questions
1. What can they do to break through in the NCAA tournament? They've qualified 11 of the past 12 seasons, but were eliminated in the first round seven times.
2. Can they hold of Syracuse? The Orange were voted preseason favorite, but Mercyhurst are the returning regular season and conference tournament champions.
3. Who steps up to fill Emily Janiga and Jenna Dingeldein's spots? The seniors were the two of the team's three top scorers and accounted for 50 points.
Crystal Ball
The Lakers have finished first in the CHA in 11 of the past 12 seasons. It'll be difficult to unseat them. They win the CHA and the NCAA autobid.
Penn State
Last season
12-19-6, 6-8-6, (fourth). Lost to Syracuse in the semifinals of the CHA tournament.
Names to know
Senior Amy Peterson: She led the Nittany Lions in points last season with eight goals and 21 assists.
Senior Laura Bowman: Second in scoring last season with 17 goals and eight assists. Linemate with Peterson.
Sophomore Victoria Samuelsson: The Sweden National Team member had a successful freshman campaign and proved herself in the faceoff circle. That's a role they'll need her to improve upon so she can replace Bowman next season.
Freshman defense Olivia Villani was a late commit to the Nittany Lions. Junior Bella Sutton is the top returning defender. She needs to stay out of the penalty box, but is a scoring threat from the blue line.
"We want to build on the foundation that's been created here, both on the ice and in the classroom, continue to represent Penn State with class, pride, and all-out effort, and play tough, aggressive hockey." – Coach Josh Brandwene
Three questions
1. Is Junior Hannah Ehresmann ready to take the net full time? She started 15 games in 2015-16 and had a 5-8-2 record.
2. Can the Nittany Lions build off last season's success? They placed fourth in the CHA at the end of the regular season, but took Syracuse to triple OT in the tournament semifinal.
3. Can they be consistent and finish the season strong?
Crystal Ball
With Syracuse and Mercyhurst worrying about each other, there may be a chance for Penn State to play spoiler and sneak in unnoticed. They'll have to hold off an experienced Robert Morris, first. The Nittany Lions finish fourth.
RIT
Last season
8-27-1, 4-15-1, (sixth). Lost to Penn State in the first round of the CHA tournament.
Names to know
Senior Taylor Thurston: She is a second-time captain and one of the team's top five scorers last season as a defenseman.
Goalies Brooke Stoddart and Jenna de Jonge: RIT split its starts between three goalies last season. Stoddart and de Jonge had similar numbers, so it'll be interesting to see who starts in net for the Tigers.
Seniors Cassie Clayton, Mackenzie Stone and Caitlin Stone will return as the Tigers' top offensive line.
Three questions
1. Can the underclassmen contribute? When 15 of the 23 players are freshman and sophomores, the players have to adapt quickly and find a way to make an impact on the ice.
2. Will the Tigers return to prominence? After an NCAA tournament berth in 2015, last season was a disappointment for RIT. Can they find their way back?
3. Will one of the goalies distinguish themselves? With three different goalies sharing minutes last season, it had to be difficult for any of them to find a rhythm. Stoddart and de Jonge are joined by freshman Terra Langteigne. Can one of them win the starting job and keep it?
Crystal ball
With a young team, RIT may have a tough time unseating the favorites, but could gain valuable experience to return next season. They finish fifth.
Robert Morris
Last season
17-16-5, 7-9-4, (third). Lost to Mercyhurst in the semifinals of the CHA tournament.
Names to know
Redshirt junior Brittany Howard: Led the Colonials with 17 goals and 23 assists and was named to the ALL-CHA first team. Led the CHA in points (40), power-play points (15), short-handed points (3), and assists (23).
Senior Mikaela Lowater: Was an All-CHA first team defender and ranked first in the CHA in power-play goals (7), as well as second in defenseman scoring (22) and power-play points (13).
The Colonials are returning 19 players from last season including their top four scorers. Freshman Jaycee Gebhard is a former AAA Midget Rookie of the year and JWHL Player of the Year. Sophomore Kirsten Welsh led all CHA defenders in scoring last season.
"Our outlook for the season is very positive. We feel we have some great experience and leadership in our upperclassmen in addition to a very impactful freshman class. Aside from championship goals, this year we will look to continue to build our team chemistry and create the ultimate environment for the success of our program and our student-athletes." – Coach Paul Colontino.
Three questions
1. Can the Colonials find consistency, especially in conference?
2. What will it take to topple Mercyhurst and Syracuse?
3. Can the freshmen find ice time?
Crystal ball
Robert Morris is the CHA team most likely to play spoiler. They've got a ton of experience and that may help them move ahead. I'm cautiously picking them third, but would not be surprised to see them higher.
Syracuse
Last season
19-14-3, 14-4-2, (second). Lost to Mercyhurst in the finals of the CHA tournament.
Names to know
Junior Stephanie Grossi: Led the Orange in points and was first team ALL-CHA.
Senior Jessica Sibley: Won the CHA scoring trophy and Best Defensive Forward Award.
Junior Alysha Burris who was also a first team selection
Three questions
1. Can the Orange live up to the expectations? They had a program record for wins in 2014-15 and return 17 players. They needed triple overtime to beat Penn State in the conference tournament semifinals and took Meryhurst to OT before losing in the final.
2. Will the schedule be a help or a hindrance? They bring in Bemidji State and travel to North Dakota, Northeastern, Boston College, and Clarkson. Wins in some of those games could see Syracuse looking at a chance for an at-large NCAA bid if they don't win the CHA tournament.
3. Can they close strong? They play three of the final four games of the season on the road against conference opponents.
Crystal ball
Mercyhurst has momentum and history on its side and this is a tough schedule the Orange are facing. I don't see Syracuse unseating the Lakers, but if they make waves with this schedule, there's room this year for them to sneak up the rankings and get an at-large.