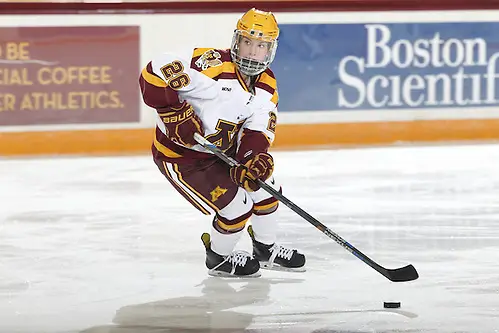 When you've won four of the last five national championships, there are not just expectations — there's a standard that's been set. The Minnesota Gophers are the no. 2 team in the country. They've lost once and tied twice. Yet there are people who think they might be having a down season.
That might seem incredibly unfair, but it's the standard Minnesota has set and it's one the program tries to live up to every day. In order to avoid the crushing weight of those expectations, coach Brad Frost said he and his team work to focus on things other than wins and losses.
It's an incredibly privileged luxury to be able not to worry too much about the win/loss column, but Frost said the Gophers are incredibly honored to be in that position and they don't take it for granted.
To keep things in perspective, Frost said the Gophers define success differently.
"Success for us is really laying it on the line each and every night for your teammates, being part of something bigger than yourself and giving the best effort that you can," Frost said. "Off ice, it's really about our values. That's being tough, grateful, disciplined, and devoted. We want our staff and our players to try and embody and fulfill those values each and every day. Everybody on our team is committed to those things. We're certainly not perfect in them, but it's something we strive for each and every day."
However you define success, Minnesota's top line has been incredibly crucial to providing it for the Gophers this season.
It's difficult to imagine that a two-time Patty Kazmaier top-10 finalist and former National Rookie of the Year could be underrated — or at the very least underappreciated, but if I asked who the Minnesota Gophers' leading scorer was last season, I'd bet most people wouldn't know it wasn't Hannah Brandt or Amanda Kessel, it was actually Dani Cameranesi.
Cameranesi is having another stellar season for the Gophers. She leads the nation with 18 goals scored and is second only to linemate Kelly Pannek for overall points.
"When you're playing with Hannah Brandt or Amanda Kessel, sometimes you get overlooked, but the success of Hannah and the success of Amanda were in large part because of Dani Cameranesi," said Frost.
Pannek and Cameranesi are joined by Sarah Potomak to form the most potent offensive line in the country. The three are the top scorers in the country; they have combined for a jaw-dropping 37 goals and 52 assists in 16 games played.
Frost said the key to that line is how well the players complement each other. While each player is a superstar in her own right, together, they create a little bit of magic.
Potomak was the National Rookie of the Year last season. Her stats were stellar, but perhaps the most lasting impression of her freshman season was her performance in the Frozen Four. She scored in overtime to down Wisconsin in the semifinal and scored the Gophers' opening goal en route to a 3-1 win over Boston College for the national championship.
Frost describes Potomak as a combination of Cameranesi and Pannek, and said she has the best shot of the three. This season, she's expanded her game to both ends of the ice, improving from just an offensive threat.
Cameranesi is lightning fast, with a nose for the goal combined with a backcheck that's as fast as her offensive rush. She's strong and physical and Frost said she's relentless everywhere on the ice, but especially on the puck.
Pannek is more cerebral. She anticipates plays on the ice and has the ability to see the game so well that it seems to move in slow-motion for her.
"She's not somebody that's going to blind her with her speed, but if you watch Kelly Pannek you're just in awe of the way that she can handle the puck and distribute it," said Frost.
Each player brings a different skill to the table and their strengths and weaknesses complement and augment each other.
"They're all different, but they're all elite in their areas," said Frost. "Dani is elite with her skating, with her ability to put pressure on the puck and get to the net. Sarah is elite in her shot and her goal-scoring ability. Kelly (has) incredible hands, Kelly has elite vision. She sees things that other people can't and you see that with her ability to hang on to the puck, to be deceptive and to move the puck to her linemates."
Potomak left Minnesota's second game against Bemidji State after taking a tough hit and at the time of the interview, Frost did not have an update on her condition.
Minnesota heads to Madison this weekend for a border battle with WCHA rival Wisconsin, which happens to be the no. 1 team in the country. The Gophers enjoyed a long stretch of success against the Badgers before Wisconsin was able to beat them last season. It's a series that features some of the top talent in the country and it looks to include about a dozen players that regularly play internationally for the U.S. and Canada.
"The talent on both teams is always exceptional and I think there's just a real hunger by both teams to win; every single time we play them it's a complete battle and grind," said Frost. "(Our players) know they have to be at their best to beat Wisconsin and I think Wisconsin feels the same way. You have to absolutely to be at your best and cannot take a shift off."
No matter who takes the ice for either team, Frost said fans who attend the games will be treated to a great game.
"They're going to see two teams that respect each other, that play at the highest level of women's hockey, and will lay it on the line to try and help their team succeed and win a hockey game. It should be a great weekend of hockey," he said.