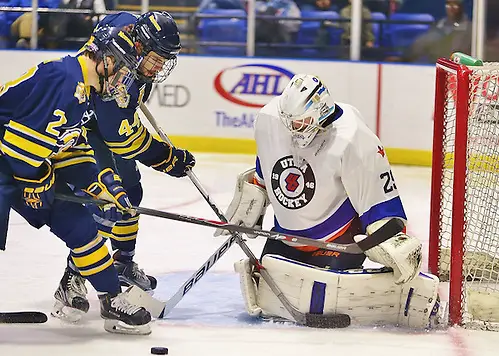 So your team starts out the season at 8-0-0 and is outscoring your opponents by a 45-15 margin — everything is playing out your way. Then you hit a little rough spot before the break and lose four in a row, including three at home, and you may wonder what happened to the team. The team comes back from the semester break and wins a couple before dropping three more in a row while being outscored 15-6 and now it's reckoning time. That was the way the first 17 games played out for the Utica Pioneers and coach Gary Heenan, who drew a line in the sand after a 4-2 loss to Nazareth.
"We had a team meeting after the Nazareth game where we held each other accountable for what was going on the ice," stated Heenan. "It probably falls on me for not addressing it sooner but we have an experienced group here that got away from our on-ice culture. We had a hot start and maybe got a little arrogant. We stopped blocking shots; we took stupid and too many penalties; and we leaned too much on our talent vs. working that talent. It was a good time to get everyone on the same page and refocus in the second half on what we needed to do if we wanted to have a successful season."
Since "the talk," Utica has gone on a seven-game win streak that includes key conference wins over Manhattanville and Hobart that helped seal the top seed in the upcoming ECAC West playoffs.
"We have been playing with some really good jam," noted Heenan. "We have had great starts to games, especially on the road, and have established our game early. The one exception is the game against Hobart, where we got down but didn't quit and came back to win the game. We didn't win on a lucky bounce or a bad call; we won with some good goals and strong play in the final period and a half. That was a big win for us since they have had our number the past couple of years. We needed that win."
A couple of things that have Utica's coach excited in his team's second-half resurgence are great balance and scoring by committee.
"We don't really have a go-to guy for our goals," said Heenan. "We have had 13 different guys score on the power play for us this season, so it is not one or even a couple of guys that are carrying the offensive load for us. We still have to score some ugly ones if we are going to get bunches in a game. I really like how our third and fourth lines are contributing and that will help us in the upcoming playoffs."
One fact that has hung over the team all season is the fact that the Division III Frozen Four is slated to be played in Utica at the end of March. While the coach and the team have tried to avoid the subject and the pressure that comes with it, they can't help being caught up in the potential for being the true home team on a national stage.
"We really tried to avoid that topic," said Heenan. "It is really hard to do in this town where you are asked constantly by casual fans, school administrators, and corporate sponsors about making it to the Frozen Four here in Utica. Nothing would be better than for that to happen, but we have dug ourselves a hole with our collective body of work, and not having an auto-bid need to win everything for consideration as an at-large bid to the NCAA tournament. We will set the school and league single season records for wins this year, but we still have some work to do if we want to come back home in March."
This weekend, the Pioneers close out the regular season with a home game against the same Nazareth team that caused them to challenge themselves to be better back in January. So what does their coach expect on Saturday night?
"We need to treat this like a playoff game," noted Heenan. "We definitely have some extra motivation to avenge the earlier loss and it is just a single game for us this weekend so we can put everything into Friday night. We still have work to do as a team if we want to play more hockey and it starts with ending the regular season with a win and setting the tone for how we want to play in the conference tournament."
The Pioneers recent run has moved them into the national rankings this week, but a chance to play on a national stage on their home ice in March would be a dream end to this season that still has many challenges remaining to keep Utica playing at home.