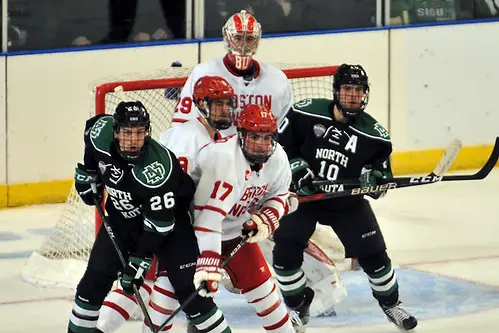 Each week during the season, we look at the big events and big games around Division I men's college hockey in Tuesday Morning Quarterback.
Paula: Well, Jim, here we are at last, with the Frozen Four field set following an incredible weekend of NCAA playoff hockey.
I can't remember when I've found so many of the individual games as entertaining as what we saw last weekend. Seven of the 12 games were decided by a single goal, three in overtime and one in double overtime. In the other five games, the winner was completely dominant and two teams earned shutout victories. Even in a couple of the lopsided games there was some interest late in the game.
The only team that emerged from the field that looked absolutely commanding was Denver. The Pioneers scored 11 goals total, six of those in the first period of their games. They scored first in each of their contests and went 3-for-8 on power plays for the weekend. They also limited Penn State to fewer than 30 shots in Sunday's deciding game, something that hasn't been easy for opponents to do this season.
And three of the top four seeds are heading to Chicago!
All of this sets up a Frozen Four that should produce some excellent, high-level hockey.
Jim: I certainly felt like we had it all, from great comebacks to extensive video reviews, even a delay caused by an exploding wall of glass after a crushing check in the tournament's first game between Boston University and North Dakota.
I agree with what you said about Denver. They looked like they were in complete control of both of their games. A 4-0 lead against Michigan Tech was never really threatened. And versus Penn State, which was coming off a 10-goal explosion (a regional record) against Union, the Pioneers jumped out early, 2-0, and had plenty of responses every time the Nittany Lions struck. I feel like as we head to Chicago, despite having three number one seeds, that this tournament might be Denver's to lose.
On the other hand, in the national semifinal, Denver will face a Notre Dame team that is beginning to seem like a team of destiny. The Irish, hosting next week's Frozen Four in Chicago, overcame a 2-0 deficit to Minnesota late in the second with three goals. Then in the regional final fell behind UMass Lowell with eight minutes left, but found an answer to force overtime and eventually win it.
We've seen these types of teams in recent years. Think of Minnesota in 2002, Wisconsin in 2006 and Minnesota-Duluth more recently in 2011. All three played close to home, brought vocal crowds and found ways to win the national titles. Do you think it could happen for the Irish this year in the Windy City?
Paula: If Notre Dame were playing any team other than Denver, I would say that the Irish had a great chance in Chicago. Frankly, I was surprised by the way Notre Dame played in the regional, as I thought the Irish had some serious consistency problems throughout the season. In both games, Notre Dame looked really unified, focused, and complete. They certainly could pull off the upset, because we both know that anything can happen in single elimination.
But Denver. Holy moly.
It wasn't just that they were dominant over Michigan Tech, a team they outmatched on paper. As you said, they also answered every time Penn State threatened, and Penn State was very good in postseason. If you're invoking destiny, maybe that belongs to the Pioneers – regardless of Notre Dame's advantage.
Besides, we've seen other teams of destiny lose before. I remember well the 1998 Frozen Four in Boston and the 2010 Frozen Four in Detroit. Sometimes, destiny is in the eye of the beholder – and what looks like a sure thing can change within the span of mere seconds.
Jim: I agree that in these single elimination games, just about anything can happen.
Going back to the Irish, I thought one of the biggest pieces to their success was the fact that their top players played like top players in crunch time. Cal Petersen not only made big saves throughout but he had a huge assist on a goal that got the offense going against the Gophers. And possibly most impressive was Anders Bjork, who scored twice on Saturday and then set up all three goals on Sunday. He was named Most Outstanding Player of the regional.
One thing that certainly did was help his stock heading into today's final Hobey Baker voting. I've always contended that the NCAA regionals often have the biggest factor in determining a winner, particularly in a season where there isn't a standout player.
Who else do you think may have helped make a case to the Hobey voters this weekend?
Paula: Without question Denver's Will Butcher. He had Denver's fourth goal in the first period of the Michigan Tech game, scoring 35 seconds after Emil Romig's goal that held up to be the game-winning tally. But it was really what Butcher did with his overall game that made him stand out. He was plus-2 in each of the contests and played notably solid defense all weekend. He was the kind of guy who elevated play when he was on the ice. He got my attention, for sure.
Then there was Harvard's Alexander Kerfoot with his three assists and great two-way play all weekend.
I agree that the NCAA regionals contribute quite a bit to Hobey voting, and I would be very surprised if they didn't this past weekend when the tournament provided a great showcase for three finalists, especially.
Jim: I already had Butcher on my short list for the Hobey Hat Trick. I'll be interested to see if he or others make it when the top three are announced this Thursday.
With this being our last edition of TMQ this season, I (and I'm sure that I speak for Paula) want to thank all of the readers. This is one of the most read stories on our site each week, as evidenced by the plethora of comments and responses and comments on responses at the bottom every week. I have enjoyed having the chance to communicate back and forth with some of the more regular readers who comment. And even when you're tearing us apart, it's always a lot of fun.
We hope to see you in Chicago!