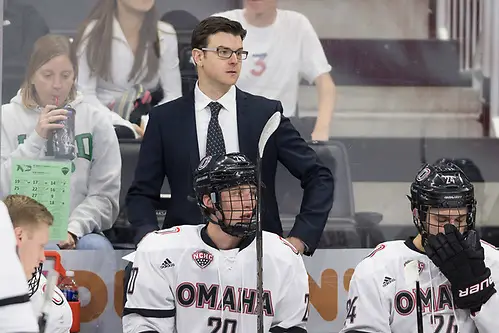 Mike Gabinet will replace Dean Blais as head coach at Omaha, the school announced on Wednesday.
Gabinet was the Mavericks' associate head coach in the 2016-17 season. Blais announced his resignation on March 14 after eight seasons leading the program.
"I'm grateful for this opportunity to be the head coach of my alma mater and excited to build on what's been established here by Mike Kemp and Dean Blais," Gabinet said in a news release. "I came to Omaha last year because of my passion for this program and the great experience I had here as a student-athlete. That's one of the reasons why my wife and I are looking forward to raising our family here.
"The Omaha community has been a great supporter of our program, and I'm looking forward to building that bond with our fans and my fellow alumni, many of whom still live in the area," added Gabinet. "I'm amazed by how far UNO has come since my playing days and I'm excited about where we're going."
Gabinet, 35, coached the Northern Alberta Institute of Technology in 2015-16 after three seasons as an associate coach.
He played defense for Omaha from 2000 to 2004 before starting a pro playing career.
"We undertook an extensive search, and Mike rose to the top of our candidate pool because of his detailed, comprehensive approach to creating a sustainable culture of excellence," Omaha athletic director Trev Alberts said. "He has the passion and understanding of what it means to be a Maverick, and he has the ability to institute the kind of structure and attention to detail that will allow us to be successful in college hockey's toughest conference.
"It also was very important to us to get the feedback from the players and to a man, they all endorsed Mike as the kind of coach who is a great teacher and someone who could help our program take the next step."
New UNO coach Mike Gabinet gets 5-year contract/$250,000 a year. Also CC membership/car. Reg-season title=$20K bonus, Final 4=$50K, NC $75K

— Eric Olson (@ericolson64) April 5, 2017
Omaha played in three conferences in eight seasons under Blais, first the CCHA, then the WCHA and currently the NCHC.
The Mavericks were 146-133-30 under Blais and made two NCAA tournament appearances, including a trip to the Frozen Four in 2015.