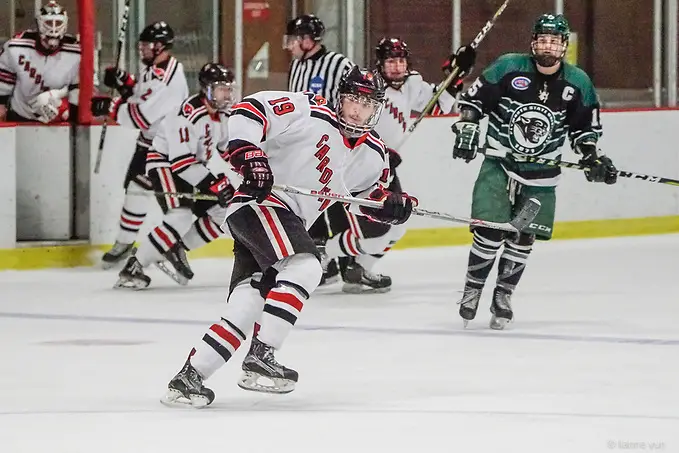 Despite Tuesday night's 7-2 setback against the Plattsburgh Cardinals, the Wesleyan Cardinals have been very quietly having a very good season in the hotly contested ranks of NESCAC. At 8-3-3 overall and 4-2-2 in the conference, Wesleyan has seen a run of good play that includes a nine-game unbeaten streak that contained a key road win at Hamilton. While the results have been good, their coach feels the next few games could be impactful and define their 2017-18 campaign.
"It was a tough game," said coach Chris Potter. "I give them [Plattsburgh] all the credit for taking advantage of their opportunities, but we came out a little flat and never really got it going the way we can play. Whether it was a combination of the long bus trip or the glass repair that delayed the game for a while, we just never got our rhythm, and they played hard to keep us that way, especially with their defensive group. They are a very good team, and we need to put it behind us and focus on the games we have left in the conference over the next five weeks."
There are just five weeks remaining in the regular season, and all of them include critical conference matchups for Wesleyan, starting this Friday night at Connecticut College, which currently sits tied with Wesleyan for the final home-ice berth in the NESCAC tournament at the end of the regular season.
"I told the kids that the next few weeks will define their season in terms of whether we are a contender near the top of the league or battling to stay in the playoff picture. It was in our own hands to control our own destiny and determine what kind of team we want to be playing down the stretch. It is very difficult to win on the road in this league, so we have stay focused and have our best games in those situations. I thought our best game all season was on the road at Amherst followed by the win at Hamilton, which may be one of the tougher road trips we have to make in the conference. We will need to play well and pick up some points on the road and then take care of business at home in the next few weeks if we really want to contend in the conference."
There are a lot of good pieces in their game to help the Cardinals have success, including some talented forwards like senior Dylan Holze, along with sophomores Walker Harris, Spencer Fox, and Tyler Wyatt. Add in the junior defenseman Chad Malinowski leading a solid D-corps and a tandem of solid goaltenders in Tim Sestak and George Blinick and Wesleyan has the pieces in place to make a run.
"I like our depth overall," said Potter. "We don't rely on one line to score, and we have been very good producing playing five-on-five hockey which is a big plus. At this point of the season, we have some bumps and bruises, but so does everyone else, and we need everyone in the lineup to step up their game a bit over the final weeks. If anything could be better, I would say a few more power-play goals could really help take some pressure off the offense and one or two more kills would be good too."
Potter mentioned the next four weeks to his players, and there are five weeks remaining in the season –- bad math at Wesleyan U? No, the quirk in the schedule that has been a significant challenge for the Cardinals is the final weekend of the regular season where the two remaining games are the home-and-home series with travel partner Trinity. You need to go back to the 2012-13 season to find a Cardinals win against the Bantams in one of the two final games of the season, a fact that is not lost on Potter, and something he hopes this year's team can change.
"Finishing the season with those two against Trinity clearly has been a challenge for us," said Potter. "We have to find ways to get points out of that last weekend, but we should not put ourselves in a hole going into that weekend where we need those points to be in good position for the playoffs or seeding. You don't want any weekends where you don't get points, because in this league that means you are going backwards. Trinity has been a really good team on a national level for the past few seasons, but we still need to find ways to get points from them, and hopefully we can do that this season and build momentum into the playoffs."
The Trinity weekend is a month away, and there is business to take of starting this weekend with Connecticut College and Tufts on the road.
"Both those teams are playing well right now," said Potter. "Just last weekend they took four points each from games with Amherst and Hamilton, so we know it is going to be a good test for our team to get back to our game and take some points on the road.
The chase for the playoffs is on, and these Cardinals are hoping to really take off over the remaining 10 games of the season.