It's a rare weekend of all-conference, Friday-Saturday, single-site play — and four of the six games are televised! As we approach the end of January, let's see how Drew Claussen and I have been picking things.
Last week
Drew: 5-1-0 (.833)
Paula: 5-1-0 (.833)
This season
Drew: 73-41-10 (.629)
Paula: 79-35-10 (.677)
Doesn't Drew look like a genius after predicting Wisconsin to end Notre Dame's streak last Sunday?
This week
There's some really exciting conference play this weekend, especially that series between second-place Ohio State and third-place Michigan … which is the only series that's not televised. Is it just me, or is the Big Ten Network showing fewer games this season? Anyway, only a point separates the Buckeyes and Wolverines and three points separate Wisconsin from Penn State as the Badgers and Nittany Lions square off. Minnesota hosts Notre Dame and Michigan State has a bye week. All times are local.
No. 17 Michigan at No. 6 Ohio State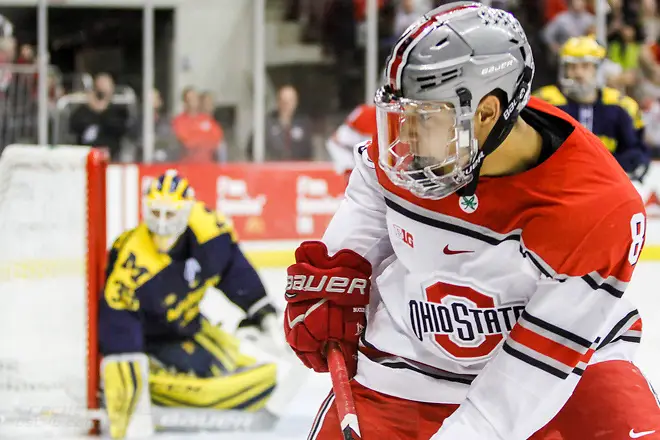 Drew: I like the way both of these teams are playing right now. Michigan is certainly playing with more confidence than when these two teams met in November. I could see the Buckeyes pulling off a season sweep on home ice, but I'll pick a split.
Paula: Both teams are confident, and I'm pretty confident this will be a good series that likely will result in a split, but I'm not calling it that way. Michigan is riding a four-game win streak into Columbus and the Buckeyes are 7-1-0 in their last eight games. Ohio State swept Michigan in Ann Arbor earlier this season. Friday's game begins at 7:05 p.m. and Saturday's at 8:05 p.m. Neither is televised.
Drew's picks: Ohio State 4-3, Michigan 3-2.
Paula's picks: Ohio State 3-2, 3-2.
No. 1 Notre Dame at No. 13 Minnesota
Drew: I'm going to make a bold call and say Notre Dame goes on a losing streak, but it'll just be a two-game losing streak. I'll take the Gophers in a close game on Friday and Notre Dame with a strong rebound performance on Saturday.
Paula: Drew's pick is bold in more ways than one, as the Fighting Irish have yet to lose a road game this season. When the Irish swept the Gophers in Minnesota Thanksgiving weekend, the first night was a 1-0 shutout but the second a 5-2 win in which Notre Dame turned up the heat late, outscoring Minnesota 2-0 in the third period after putting 19 shots on net while limiting the Gophers to five in the final 20 minutes of play. I think a lot depends on how well Cale Morris bounces back from giving up five goals to Wisconsin last Sunday and how much the bigger ice affects the smothering Irish defense. Games are Friday and Saturday at 7:07 p.m. Friday's game is carried by ESPN2, while Saturday's is televised by Fox Sports North Plus.
Drew's picks: Minnesota 3-2, Notre Dame 4-1.
Paula's picks: Notre Dame 3-2, 3-2.
No. 14 Penn State at No. 18 Wisconsin
Drew: Both of these teams would love to pick up a sweep this weekend, but I don't think that either has the consistency to shut down the other for two nights in a row. I wouldn't be surprised if we got an overtime game, like there was when these two met earlier this month. I see the Badgers keeping their momentum from beating Notre Dame going on Friday and Penn State unleashing the offense on Saturday to get the split.
Paula: Wisconsin is 6-7-2 at home and Penn State is 6-6-1 on the road. The Nittany Lions head to Madison with a three-game losing streak that follows an 11-game unbeaten streak. The Badgers may have beaten Notre Dame last Sunday, but Wisconsin is 2-3-1 in January, including that loss to and tie against Penn State to start the new year. I'm thinking a split as well, but who knows in this season of utter inconsistency? Friday's game begins at 8:07 p.m. and is televised by the Big Ten Network. Saturday's starts at 7:07 p.m. and is carried by Fox Sports West.
Drew's picks: Wisconsin 4-2, Penn State 5-1.
Paula's picks: Penn State 3-2, Wisconsin 3-2.
Hello Twitter? It's me, Paula. And Drew's here, too.
Neither Drew (@drewclaussen) nor I (@paulacweston) are sitting in hockey rinks this weekend — sadly — but you should follow us on Twitter all the same.