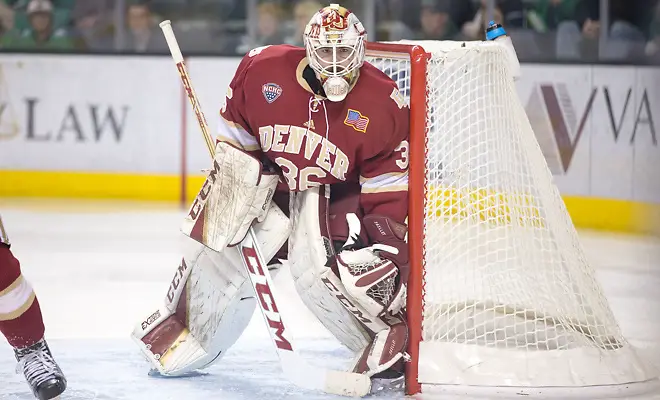 Near the middle of January, defending national champion Denver was in a rut, having gone 2-3-2.
Pioneers coach Jim Montgomery called out his players for their lackluster performance.
Since then, Denver has gone 6-1-2, with the lone loss coming last Saturday, thanks to a 40-save effort from Colorado College goalie Alex Leclerc.
Even now, however, Montgomery doesn't think his team is quite where it needs to be if it wants to duplicate the feat of past Denver teams in winning back-to-back national championships.
"We have areas we have to get better at," said Montgomery. "Like Saturday night, I just didn't think we were offensively tough enough, and that's what these opportunities are down the stretch going into St. Cloud. We're going to see an area that we need to be better at again. You know, the power play is the one concerning area right now that has to give us momentum. Teams aren't taking as many penalties now as they were in the first half, and our power play has to be good on three opportunities. They're not getting five or six opportunities anymore, and they've got to give us momentum in those opportunities that we do get."
One thing that has helped Denver in its recent stretch is improved defensive play.
In the first half, and during its 2-3-2 stretch, Denver often gave up three or more goals. There were several games in the first half where Denver was unable to hold a three-goal lead. In addition to a recent focus on team defense, last year's Mike Richter Award winner, Tanner Jaillet, has been stellar, and it's one reason that Denver is now third nationally in team defense, giving up only 2.07 goals per game.
"I think Tanner's playing the best hockey of his entire college career here for the past really two months," said Montgomery. "Yeah, we really struggled there as a team for a while, and I think his numbers got hurt because of so many great chances we were giving up there for a while. I don't think at any point in this season was Tanner ever not really good for us, but now that we do play consistently good defense, you see him making the big saves when he needs to and occasionally carrying us for a period when he needs to, and he's just been just consistently remarkable for us."
While Denver's power play has been moribund of late, part of that might be to missing a key player.
Troy Terry missed the CC series playing for Team USA at the Olympics in PyeongChang, South Korea. Monday night, Terry had three assists in a key game against Slovakia. While the U.S. was eliminated in a shootout by the Czech Republic Tuesday night, it is unclear if Terry will play this weekend.
According to DU, it will be a game-time decision both nights whether he plays.
"I know the entire staff watched last night, and we were just filled with pride because of how well he played," Montgomery said Tuesday of the Slovakia game. "I thought he was USA's best player, but definitely his line was remarkable with (Ryan) Donato and (Mark) Arcobello, and it's just fun to watch him. We've become accustomed to him playing great in big moments, and it's nice to see him doing it again."
This weekend, Denver has a key series against St. Cloud State, with the Penrose Cup, awarded to the league's regular-season champion, possibly on the line. Denver won the Penrose Cup last year, and currently trails St. Cloud by five points. Denver convincingly swept the Huskies in November in Denver, but Montgomery is expecting a fierce battle.
"What I'm expecting is I think it's going be great college hockey," said Montgomery. "And I think it's a wonderful opportunity and challenge for our group. I think St. Cloud has been the best team consistently in our conference throughout the year, and that's why they're sitting in first place right now. You know what do we have to do to have success? Well, our power play has to be better, we need to stay out of the box, and our rush defense and defensive zone play has to be at the best we've had it all year."
St. Cloud seeks second Penrose Cup
With two weekends to go in the NCHC regular season, St. Cloud State is coming off a big weekend that saw the team have to rally in both games to earn a tie/three-on-three OT win and win against Western Michigan on the road.
"That was a sign of two pretty high-scoring teams that kind of got after it, and we were very fortunate to win, and maybe shouldn't have won, but for parts of the game, we had no business losing," said St. Cloud State coach Bob Motzko. "It was one of those games that if it had gone either way, I accept it. We were fortunate to tie it with the goalie pulled, and I think every season the team's got to come up with one of those, and that seems to be the game for us. It came down to one opportunity. We let a couple things slide in the game, but we tie it up and we were able to get the extra point in the three-on-three, so very up and down game, back and forth. We just made two plays at critical moments in that one. The next night, I think we did a much better job of settling the game down and letting us really establish ourselves."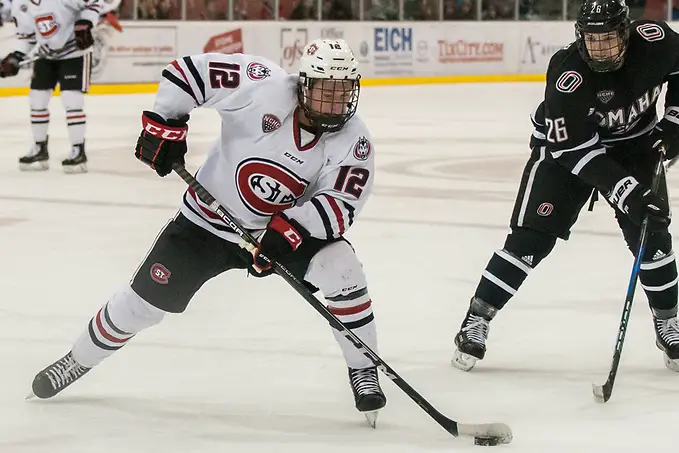 Against Western, Motzko again split his goalie duties, with Jeff Smith playing Friday and Dávid Hrenák Saturday. To date this season, Hrenák has played 14 games and Smith, 18. The two have nearly identical winning percentages, while Hrenák has a slightly better GAA (1.80 to 2.62) and save percentage (.933 to .910). Motzko is happy to have two goaltenders he can rely on, and for now, will probably continue to platoon them.
"It's a crazy situation where we're in a great spot as a team where we sit, and when I look down in conference play, one guy is 7-2, the other is 7-2-2, and both guys have been responsible for us being in the position that we're at," said Motzko. "You know, we haven't been quite as strong in goaltending in the second half as we were the first half, but I think that we're getting back to it. January was a little bit of a slide for us, a slide sideways maybe, and February's been a much better month. I don't have an answer for it outside of both guys from a winning standpoint are dead even, and that's a good position to be in. We're going to let this thing play out here for a couple more weeks."
This weekend, St. Cloud will play Denver at home. The Huskies currently have a five-point lead on Denver in the NCHC race for the Penrose Cup. Like Denver, St. Cloud has been missing one of its key players, defenseman Will Borgen, to Team USA at the Olympics. However, Borgen didn't get a chance to play, which Motzko acknowledges is disappointing.
With the U.S. eliminated, it is possible that Borgen will be able to play in this weekend's series with Denver.
"It's been very disappointing that he hasn't gotten in there for us," said Motzko. "Will was playing the best hockey of his career for us right before he left. And he is such a critical part of our team. I know this overall will be a great experience for him, but I know he's greatly disappointed that he hasn't gotten in there. But you know I'm not there, I don't know the situation. I just know we can't wait to get him back and get him back in our lineup."
When St. Cloud played Denver earlier in the year, the team lost both games convincingly, 4-2 and 5-1. Motzko believes this weekend will be a tough test. Told of Denver coach Jim Montgomery's comments about St. Cloud being the most consistent team this season, Motzko turned it right back around.
"Well, you know if he thinks we're the most consistent, I think they're the best team in the country, and they proved that to us early in the year," said Motzko. "College hockey really is a series of playoffs every weekend. It's like a mini little playoff series, and we really just fight week to week, and it's kind of been our mentality especially coming out of our January where we've just put an emphasis on how we prepare that week for that week's games. I know we are very aware of where the situation is from that standpoint, but our talk to our team yesterday once again was this week preparing for Denver. They were outstanding when we played there early in the year. We want to see if we closed the gap. We want to be up for this series and this series alone. That's kind of what's got us there.
"We're going to stick with that right now. We're just fighting week to week in all these little mini playoff series."
NCHC players of the week
Offensive player of the week ⸺ Dawson DiPietro, Western Michigan: DiPietro notched four points in two close losses to St. Cloud State. Friday, he had three points, including two assists that gave the Broncos a one-point lead. He also scored a goal with 2:25 left in the game that put Western up by one before St. Cloud tied it for a 5-5 tie. Saturday, he scored Western's second goal in the second period, putting the Broncos up by one. He now leads Western Michigan in points with 33.
Defensive player of the week ⸺ Mike Ilvonen, St. Cloud State: Ilvonen was a key contributor in St. Cloud's sweep of Western Michigan. Friday, he had his first career multi-goal game, scoring twice, including the goal with 49 seconds left in the game that tied it for St. Cloud with an extra attacker with the goalie pulled. He finished plus-2 and was named the game's first star. Saturday, he helped kill both Western Michigan power plays.
Rookie of the week ⸺ Easton Brodzinski, St. Cloud State: Brodzinski had three points in St. Cloud's sweep of Western Michigan. Friday, he had two points, scoring on a power play to tie it 2-2 in an eventual 5-5 tie. Saturday, he again scored on a power play, scoring the game's first goal in St. Cloud's eventual 4-2 win. He is currently fourth in scoring among NCHC freshmen with 19 points and leads NCHC freshmen in goals with 12.
Goaltender of the week ⸺ Hunter Shepard, Minnesota Duluth: In the Bulldogs' sweep of Miami, Shepard pitched two shutouts. Friday, he made 16 saves, including three on Miami's power plays, and earned the game's second star. Saturday, he made 34 saves, including 14 in the second period, en route to a 3-0 win and earned the game's first star. He made 50 saves on the weekend with a 1.000 save percentage and 0.00 GAA. He became the first Minnesota Duluth goalie to post back-to-back shutouts in a home series. .