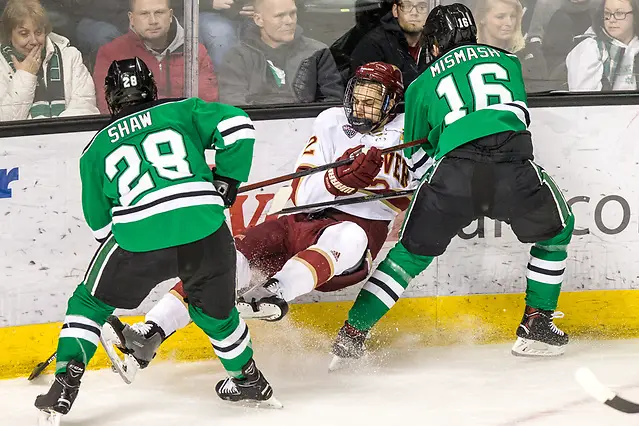 Editor's Note: This is the fifth of six in a series looking at each conference's schedule for the upcoming 2018-19 season.
It didn't take long for the NCHC to become one of college hockey's premier conferences.
It immediately began placing multiple teams in the national tournament annually, with six teams qualifying in 2014. In 2017, both Denver and Minnesota Duluth went to the national championship game, and after the Pioneers won it all that year, the Bulldogs returned favor by beating Notre Dame this past season.
The league's immediate and resounding success is because its eight members are unafraid of playing anybody at any time and in any venue. It's a collaborative effort designed to boost individual profiles within a cooperative structure.
"When you look at the selection of teams in the national tournament outside of automatic qualifiers, every conference is only .500," commissioner Josh Fenton said. "There's a winner and there's a loser, or there's a tie. The differentiating factor is the out-of-conference record from top-to-bottom of each league. We've proven in the last five years that the conference getting more teams into the tournament have a better non-conference record."
The numbers back the assertion. The NCHC is dominating non-conference games since it started play in 2013-2014. North Dakota posted almost 40 wins against outside competition in the past five years, including two seasons with nine non-league wins. Denver has over 30 wins, and both Miami and Minnesota Duluth are right behind it.
There have only been a handful of times where an individual team finished under .500 in an individual season's worth of outside competition. Even then, it's offset by a solid finish somewhere along the line.
Omaha, for example, only won three games against non-league teams in 2013-2014 but rallied to win all 10 games the next season. Colorado College entered the league by losing nine of 10 games in 2013-2014 but won six games last season, a year in which no NCHC team won less than that number.
It's come from varied methodology. NCHC teams play a healthy mix of home and away games against nearly every conference, and it's a model boosting the league's profile amongst its peers. North Dakota, for example, played and won games against every single conference in the past two seasons, including Canisius, a team it will visit in the upcoming season.
"We want a system, and we believe in a system that's good for the game overall," Fenton said. "(The system) encourages people to go out on the road and play other teams in a non-conference setting. We want to make sure that the NCAA selection criteria reflects that, and it does right now. We don't believe it's right and good for the game if a model is set up for a team to play its non-conference games at home because it has the financial wherewithal to buy teams to come in.
"We want to make sure that the system is set up in a way for rewarding teams to go on the road and to get appropriate credit for a 'good win' on the road."
The winning culture boosts the league by making the conference schedule competitive for NCAA tournament slots. It's enabled by a league schedule that needs to remain structured, even as it has to be flexible for a conference spanning three time zones.
"With eight teams, a perfectly balanced schedule is 28 games among seven opponents," NCHC director of communications Michael Weisman said. "But we only play 24 games. Everyone plays teams home and away, but there's one team that league members will only play at home and only on the road. We retain protected partners that are 'travel' or 'rival' partners, but this is the case it's been since the league began."
The league ensures certain members will always remain in four-game season series after a system based largely on geography and, in some cases, logical history. Denver and Colorado College, for example, are paired together as in-state rivals in the Battle of the Gold Pan, and Miami and Western Michigan played together in the old CCHA. St. Cloud and Minnesota Duluth are within two hours of one another in the State of Hockey.
That left Omaha and North Dakota, but even they've played emotional, competitive games through the years.
"They were probably the two odd teams out," Weisman said. "But they're still a bus trip away. All of our protected partners are a bus trip, whereas pretty much all other trips are flights."
The travel partner concept enabled the NCHC to schedule a particular way leading up to the postseason. Because the league is smaller in numbers but spread across the central United States, the league ensures the last weekend of the regular season is between travel partners. That ensures teams of a bus trip if they're not already at home in the week prior to the postseason. If a team needs to a board a flight for the playoffs, being able to get home quickly – and subsequently make arrangements on short notice – became a priority.
"We're still spread out over three time zones geographically," Fenton said. "So there was an aspect of geography that played a role in how we scheduled travel partners. The two schools furthest east have a history in the CCHA with Miami and Western Michigan. There are four schools in or near (the state of) Minnesota that were WCHA rivals, and the Gold Pan rivalry goes back many, many years. So it was important to maximize the number of games those teams have played each other, which led us to come up with the system and the rotation we have."
The NCHC formed something of a super conference in college hockey. The teams are living up to the league's already-developed reputation as a powerhouse, even though they know everything is ever-changing. Right now, the system works out well, and there are no complaints. And if there were, there are back-to-back national champions proving that something is succeeding.
"We check in with membership annually to make sure they feel they can put together a non-conference schedule in a manner of what they're looking for," Fenton said. "To this point, that's been the case. The number of 10 games isn't too many or too less right now because we've been able to make it work.
"We are able to crown what people would refer to as a true champion. We have a full complement of games, even though we stop short of having a true, balanced schedule. So we're in a good spot (as a league)."