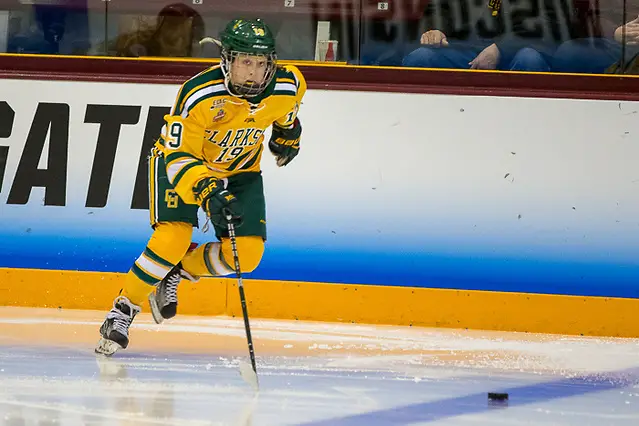 For the teams in the ECAC, the news that national champion Clarkson had acquired standout goalie Kassidy Sauvé from Ohio State to replace the departed Shea Tiley, and had also acquired former ECAC Player of the Year T.T. Cianfarano from Quinnipiac, must have seemed like a case of a loaded team becoming more loaded. After all, the Golden Knights already had standout forwards Loren Gabel, Elizabeth Giguère, and Michaela Pejzlová returning, and while Tiley and departed defenseman Savannah Harmon were important to the team's low overall goals-against last season, getting Sauvé, who had put up outstanding numbers with a less impressive defense at Ohio State, instantly made Clarkson a favorite to repeat as national champions.
Chasing the Golden Knights will be last year's runner-up, Colgate, who were hit hard by graduation. losing seven seniors who saw regular ice time, including Breanne Wilson-Bennet and Megan Sullivan, the team's second- and third-leading scorers respectively last season. A plus for the Raiders is that they have Jessie Eldridge and Shae Labbe leading them up front, as well as the goaltending tandem of Liz Auby and Julia Vandyk.
Cornell will also be a threat, as the Big Red return most of last season's team, and while St. Lawrence lost two standout forwards, the Saints have a lot of depth coming back from last year's team. Despite that, Clarkson does appear to be the clear favorite.
Brown
Last season: 2-27-0, 1-21-0 (twelfth). Did not qualify for the ECAC tournament.
Names to know
Cara Wahlig joins Brown as a first-year coach. She previously was the head coach at D-III Lake Forest. Sam Donovan led the team with 16 points. Sena Hanson was the second-highest scorer on the team as a freshman.
"For us, we're kind of starting at ground zero," said Wahlig. "We're trying to build a base for a successful program. Success is going to be tough to measure in terms of wins and losses. I keep repeating, it's about getting better.
"It's exciting but it's humbling to be playing against some of the top competition and really seeing where you stand. When we can compete with Clarkson, I'll know that we've made it. We're still a few years off from that, but to have teams to be able to measure yourself against, you have to know how to play competitively during the season in order to have any kind of postseason success."
Three questions
1. Can they start strong? They open with two against Holy Cross, and it would do wonders for the team's confidence to sweep that series. They have to find victories where they can get them, and those should be winnable games for them off the bat.
2. Can they improve special teams? Power-play scoring was one of the brighter spots last season, but the Bears are one of the most penalized teams in the country. If the team can find some discipline and stay out of the box, it'll do wonders for them to do more even-skater playing.
3. Can they keep up morale? It's been a long few seasons for these players, and Wahlig and her staff bring a breath of fresh air. As she said, success won't be measured in wins and losses, but can she still get the players to buy in?
Crystal Ball
It's likely another last-place finish for Brown, but there's a lot to look forward to on the horizon for the Bears.
Clarkson
Last season: 36-4-1, 19-3-0 (first). Won the national championship.
"It's a tough balance. We have those lofty goals and expectations each and every year, but at the same time we need to make sure that we remain humble and focus on the little things that it takes to get to that level," said coach Matt Desrosiers. "We have a pretty good understanding of the mentality that we need to have and maintain at the beginning of the year and throughout the year to reach those goals. I'm really happy with the depth of our lineup. Our most talented players are the hardest working players, as well."
Names to know
Kassidy Sauvé was a Patty Kazmaier top-ten finalist and played in the national semifinal last season with Ohio State. She's a huge get for the Golden Knights, who lost Shea Tiley to graduation. Last season, I asked if Michaela Pejzlová and Loren Gabel could become elite. The answer was yes, as Gabel was a Patty Kazmaier top-three finalist and finished third in the country in scoring. Pejzlová finished ninth in the country in scoring.
Three questions
1. What can't they do? There aren't a lot of questions for Clarkson this year. They return their top scorers, picked up Sauvé so there will be no letdown in net, and they're the two-time-defending national champions. Honestly, the question is, "Who can dethrone them?"
2. Who will step up on defense? Savannah Harmon leaves incredibly big skates to fill on the blue line. Her presence was a huge part of Clarkson's effectiveness. Not that I think Sauvé will have any difficulty transitioning, but having another big defender step up would help make her life a lot easier.
3. Will they be postseason ready? Clarkson has what looks to be a pretty easy ride to the playoffs after the winter break, with just one game each against Colgate and Cornell. Their next toughest opponent should be Quinnipiac. In general, coaches like to build up to those sudden-death, postseason games and the Golden Knights will have to do that in practice if they're going to be ready.
Crystal Ball
The Golden Knights will repeat as ECAC champions.
Colgate
Last season: 34-6-1, 19-3-0 (second). Lost to Clarkson in the national championship game.
"We have a really eager group to get back at it," said coach Greg Fargo. "There were so many great things about last season that we can continue to talk about, but what we all realize is that this team is going to be completely different, and this year is going to be different. It's going to feel different, it's going to look different. We have to start from scratch."
Names to know
Colgate has eight seniors, and they are the winningest class to ever play at Colgate. Jessie Eldridge was named All-ECAC second-team, and Shea Labbe and Julia Vandyk earned all-ECAC third-team honors. Eldridge was 12th in the country in scoring, averaging 1.10 points per game. Olivia Zafuto was named to the All-NCAA tournament team and was third in scoring among defenders, tallying 11 goals and 22 assists.
Three questions
1. Can they start strong? Four of their first six games are against nationally ranked nonconference opponents. We'll know a lot more about where Colgate stands this season before we even hit mid-October.
2. Will they be postseason ready? Much like Clarkson, Colgate has what looks to be an easy late-season schedule, finishing with games against four of the preseason bottom five teams. Not only do they need to avoid getting caught out, but they have to work extra hard to make sure they're at full strength for March.
3. What will it take to beat Clarkson? The Raiders topped the Golden Knights just once in four meetings last season — a 4-3 OT win in late October. If they want any hardware, they have to top the Golden Knights, who beat them to win the national title last year.
Crystal Ball
The Raiders finish second.
Cornell
Last season: 21-9-3, 15-5-2 (third). Lost to Colgate in the ECAC tournament semifinal.
"We've got a good group of returning players, so I think we should be able to compete for the top spot in the league," said coach Doug Derraugh. "We struggled to score a lot of goals. We're going to have to find a way to score goals and be better on the power play. Those two have to improve for us to have any chance of competing with the top teams."
Names to know
Micah Zandee-Hart returns to the Big Red after being centralized with Hockey Canada in the lead-up to the 2018 Olympics. She was first-team All-Ivy and All-ECAC her sophomore season and was just the second sophomore in program history to serve as a team captain. Jaime Bourbonnais was named to the 2018 All-Ivy team in 2018 and is a preseason All-ECAC pick. Kristin O'Neill led the team with 41 points as a sophomore. She was the Ivy League Player of the Year last season as well as a first-team All-ECAC choice. She's also on the preseason All-ECAC list. Last season, she broke the program record for career short-handed goals with nine.
Three questions
1. Will a seemingly easy early schedule help them build a lead? Their early schedule includes five games against CHA opponents and four against teams projected for the bottom half of the conference. They don't play Princeton or Quinnipiac until mid-November and don't have to face St. Lawrence or Clarkson until the first weekend of December. That could help them gain momentum and confidence.
2. How do they improve the power play? Cornell had a top-12 offense, a top-10 defense, and the nation's best penalty kill, but was 25th in county with the extra attacker. Figuring out that part of the special teams might be what can help them take the next step.
3. Can they beat Clarkson and Colgate? The Big Red has made a move toward the top of the conference, but were 1-4 against the top two teams last year. No one expects anyone to sweep the top teams, but Cornell has to get a little more competitive against their biggest opponents.
Crystal Ball
I have Cornell third, but think that schedule and their returners may be able to push them past Colgate.
Dartmouth
Last season: 5-19-3, 3-16-3 (eleventh). Did not qualify for the ECAC tournament.
"I think we have a good base that's in place. Our mission is to become a winning program. We're excited about the challenges ahead of us," said coach Laura Schuler. "For us to see success, I think it's important to stick to our process. It's important that our everyday habits reflect our standards."
Names to know
This is a young roster — there are eight freshman and 15 total underclassmen. Christine Honor played the majority of time in net last season, but Schuler said there are four goalies on the roster and the competition to start is wide open. Senior Tess Bracken is the highest returning scorer, and she led the team with eight goals.
Three questions
1. Who's going to step up on offense? The offense has improved — two years ago, there were just two scorers in double digits, and last season there were five, but the top two scorers last season were defenders. For the Big Green to make any advances, they need to find consistent offense from the players playing those positions.
2. Can Schuler pick up where she left off? Coach Laura Schuler was gone last season with Team Canada at the Olympics. She focuses on culture, rebuilding, and process and seemed to find some success two years ago, but Dartmouth won two fewer games while she was gone.
3. Can they finish the season strong? Last year their last win came before the end of January. Success isn't measured in just wins and losses, but being able to close out strong and build momentum is important for the continued growth of this program.
Crystal Ball
I have Dartmouth finishing 11th.
Harvard
Last season: 13-16-2, 10-10-2 (seventh). Lost to Colgate in the opening round of the ECAC tournament.
"We took a big step last year," said coach Katey Stone. "We had a very disappointing season two years ago and made the appropriate steps last year and that had to do with leadership and young blood. We expect to take another step forward. We've got a lot of pieces of the puzzle."
Names to know
Coach Katey Stone has held the NCAA record for wins for a while (she currently has 464), but both Mercyhurst's Michael Sisti (462) and Wisconsin's Mark Johnson (459) are threats to overtake her this season. Becca Gilmore led the team with 35 points as a freshman. She was on the conference all-rookie team and the all-Ivy second team while playing out of position at center. This year, she'll return to the wing and should be even more effective. Dominique Petrie won gold medals with Team USA at the IIHF U-18 World Championships in 2017 and 2018. She scored twice and was player of the game in the 2018 gold medal game.
Three questions
1. Are they back on track? After a five-win season two years ago, the Crimson bounced back a bit last season. It still wasn't what we've come to expect from Harvard, so what comes next?
2. Can they improve the defense? They were 32nd in the country, allowing 2.84 goals per game. Goalie Beth Larcom had a 3.01 goals-against average and 0.904 save percentage. In order to move up in the ECAC, they have to find a way to plug some of those holes.
3. Can they start strong? Right out of the gate they have a pair of games at Colgate and Cornell, followed by a weekend at Quinnipiac and Princeton. They also travel to Wisconsin Thanksgiving weekend.
Crystal Ball
I've got Harvard sixth.
Princeton
Last season: 14-14-4, 11-10-1 (sixth). Lost to Cornell in the opening round of the ECAC tournament.
"We have pretty high goals and expectations for our program this season," said coach Cara Morey. "We think we have pretty much all the pieces to the puzzle in place. We'd like to win the league, and I think that's a realistic goal we'll be shooting for this season."
Names to know
Freshman Sarah Fillier was a two-time captain of Team Canada at the IIHF U-18 Women's World Championships. The Tigers return 90 percent of the scoring from last season. Junior Carly Bullock led the team with 24 goals and eight assists. Junior goalie Steph Neatby was third in the conference with a .929 save percentage.
Three questions
1. Can they stop the backslide? The rest of the conference keeps improving, and after a stellar season in 2015-16, Princeton has regressed each of the past two seasons. It's Morey's second season, so there should be a level of comfort and ease that wasn't there last year. The Tigers are picked to finish fourth, but there looks to be a large gap between them and the top three.
2. What can they do to close that gap? Bullock, Neatby, and Karlie Lund have done a great job of being the core of this team, but even Morey said they need to put the pieces around Bullock so she doesn't have to do it alone. The Tigers have had huge contributions from underclassmen the past few seasons, and now they need someone to step up again.
3. Can they close it out? Every point is going to matter, and Princeton has two games each against St. Lawrence and Clarkson in February.
Crystal Ball
The Tigers finish fifth.
Quinnipiac
Last season: 16-17-3, 12-9-1 (fifth). Lost to St. Lawrence in the opening round of the ECAC tournament.
"I think that our team has made the right steps to be playing our absolute best hockey," said coach Cassie Turner. "The number of personal bests in our fitness testing was absolutely amazing, which helped them to understand they can accomplish great things this year as a team. We like the jump that we could make in terms of scoring goals. To meet our expectations, we need to score more goals. I get really excited about what that senior class can do for us."
Names to know
Melissa Samoskevich led Quinnipiac with 15 goals and 10 assists for 25 points last season. Sophomore goalie Abbie Ives was 12th in the country with a 1.78 goals-against average. Freshman forward Lexie Adzija is 5-foot-10 and was on Canada's U-18 IIHF Women's World Championship squad. She played four years in the PWHL.
Three questions
1. Can they pick up the offense? Just five players scored in double digits, and just two scored more than 20 points. The Bobcats are a defense-first team, and that kept them in a lot of games last season, as they allowed just 1.91 goals per game. Unfortunately, they only scored 1.81 goals per game — which was 30th in the country. They know the blue line is strong, so they need to hope their incoming rookies can infuse the offense.
2. Can they be consistent? They had wins over Clarkson, Cornell, and Princeton, but then lost three games against Yale and a game against Dartmouth. They have to win on the road, they have to win close games, and they have to beat teams below them in the standings.
3. Can they make the jump? At the moment, there's a clear delineation between Clarkson, Colgate, and Cornell and the next set of teams. In order to close that gap, the Bobcats have to score goals.
Crystal Ball
I have them seventh, but think Harvard, Quinnipiac, and St. Lawrence are pretty interchangeable right now.
Rensselaer
Last season: 9-19-6, 6-13-3 (ninth). Did not qualify for the ECAC tournament.
"We want to do some damage in our league and make the tournament," said coach Brian Vines. "(Lovisa Selander) is a leader, and she has been since day one. She's a real role model in our program and at our school. She's talented. She's on track to crack the Swedish National Team down the road."
Names to know
Selander was named to the preseason All-ECAC team. Her .931 save percentage was second in the conference and 13th in the country. Senior Jaimie Grigsby led the team with 10 goals and 20 points.
Three questions
1. Who's going to score? The perpetual question for the Engineers. They scored even fewer goals than the last few seasons, putting just 54 pucks in the net. They've got Selander in net, and not getting her any support is so depressing.
2. Can the defense continue to improve? Selander faced 200 fewer shots, and team defense improved by a nearly a full goal per game. Those are big strides and a great achievement for the program and are the kinds of steps that help build confidence and momentum.
3. Can they make the ECAC tournament? The coaches preseason poll has them finishing ninth and out of the postseason. Last year, they were just three points out of a tournament berth. Making that leap would be a big step for this program.
Crystal Ball
RPI will finish 10th.
St. Lawrence
Last season: 20-11-4, 14-6-2 (fourth). Lost to Clarkson in the ECAC tournament semifinals.
"The top in the country is only 11 miles away," said coach Chris Wells. "We're always trying to get there, and there's certainly a reminder with a two-by-four across the face.
Names to know
Sophomore Skylar Podvey was named to both the ECAC and USCHO All-Rookie teams last season. She was the top-scoring rookie blueliner in the nation with 20 points on eight goals and 12 assists. Senior Justine Reyes led the team with 17 goals and 40 points last season.
Three questions
1. Can they survive October? Coach Wells put it mildly when he said they have a tough schedule before they even put their Halloween costumes on. Their October features series with New Hampshire, Boston College, Clarkson, and Ohio State. Wells said he's looking forward to their first weekend to get a real understanding on where his team stands, but that gauntlet will definitely define the season.
2. What's the goalie situation? Sonjia Shelly and Grace Harrison basically split time in the net last season. The team allowed just more than two goals a game, so it seemed a success, but it's a whole new season. Defense is going to be more crucial than ever.
3. Who's stepping up into Kennedy Marchment's role? Reyes can't do it alone, and the graduation of Marchment and Rachael Smith means the team lost 30 percent of the scoring in just two players. They scored 2.74 goals per game last season, and they'll need to be near that pace again this season to stay competitive.
Crystal Ball
For now, I've got St. Lawrence finishing fifth.
Union
Last season: 7-22-5, 5-12-2 (tenth). Did not qualify for the ECAC tournament.
"We want to be a playoff team. That's our main goal," said coach Josh Sciba. "We've circled February 25th. That's the Monday practice before playoffs. We want to be practicing that day, because that means we're doing something this program has never done before."
Names to know
Haley Shugart finished the season with a team-high 11 points, which included a team-high seven goals as well as four assists as a freshman. Kate Spooner appeared in 26 games in net as a freshman and is the first goalie in Union history to record four or more wins in her rookie season.
Three questions
1. Will experience matter? Last year, there were 12 freshmen. This year, there are just four. Two years ago, they didn't win a game. Last year, they won seven, including their first-ever win over Harvard. There have been clear signs of growth for the Dutchwomen, so with a solid, knowledgeable team, can they take the next step? They were just five points out of the playoffs last season.
2. Can they finish strong? Union has lofty goals, but their final four games are against Princeton, Quinnipiac, Colgate, and Cornell. It's about the toughest final stretch of anyone in the league.
3. Can they shore up the defense? They allowed 3.56 goals per game. Goalie Coco Francis played a majority of the games, and her goals-against average was 2.92, so it seems she's the likely full-time candidate moving forward, but in order to take the next step, they have to be stronger on the blue line.
Crystal Ball
I've got Union ninth right now, but there's a lot of room for movement in this part of the standings.
Yale
Last season: 10-17-4, 8-12-2 (eighth). Lost to Clarkson in the opening round of the ECAC tournament.
"We have our work cut out for us, but we're excited about the group we have," said coach Joakim Flygh. "They seemed to feed off each other last year. Hopefully, they can build on what they've done so far and make sure it's more consistent than it's been in the past."
Names to know
Sophomore Greta Skarzynski led the team with 26 points on 14 goals and 12 assists in her rookie campaign. Recruited as a defender, she was moved to forward due to injuries. Four of the top eight scorers graduated, so there's a lot of room for new players to step into key roles. Rookie Claire Dalton was with Canada at the IIHF U-18 World Championships to start the year. Defender Tabea Botthof played in the 2017 IIHF Women's World Championships with Germany.
Three questions
1. Can they stay out of the box? The Bulldogs were sixth in the country, averaging more than 10 penalty minutes a game, and were just 81.60 percent on the penalty kill. By comparison, they have one of the best power plays in the country. For a team that doesn't score much, maximizing the amount of time they could be with an extra attacker really should be a priority.
2. Can they start strong? Their first four games are against Princeton, Quinnipiac, Cornell, and Colgate. It would be a great bump for them to not go 0-for during that stretch.
3. Can they continue to improve? They made the ECAC tournament for the second-straight year, but the teams before them are pushing for that final spot.
Crystal Ball
The Elis finish seventh.