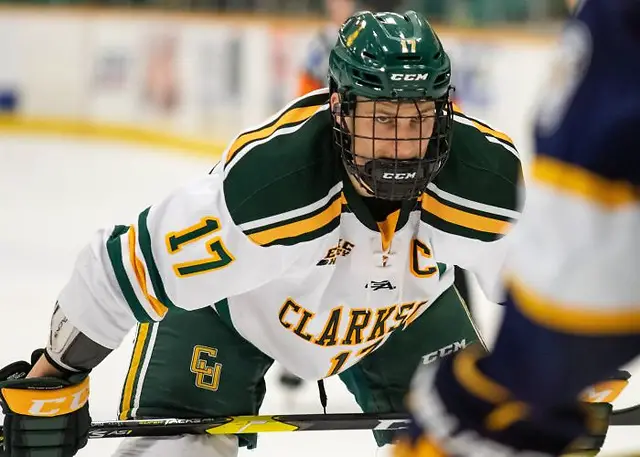 Clarkson has been Jekyll and Hyde to the start of the 2018-19 season, and that isn't too much of a surprise to coach Casey Jones.
He was expecting some challenges to start the year, despite the high expectations by his fellow coaches and the media. The coaches had the Golden Knights finishing fourth while the media had them in third in preseason polls.
The Golden Knights have been outstanding at the Cheel Arena, where they are 3-0 to start the season. On the road, it has been a different story, where they are just 1-3.
Then again, the road docket hasn't been too kind to them either with a pair at "Hockey Valley" against Penn State and at Union, two teams that are ranked in the national polls.
Jones said playing a full 60 minutes has been the issue so far, no matter where the game is being contested.
"We are inconsistent playing the game the right way right now," Jones said. "We expected a little bit of hiccups coming out of the gate with our youth and inexperience. It doesn't have to do with that as much as we aren't playing the game the right way right now."
One can point their struggles so far to the penalty kill, which is at 69.4 percent – fourth worst in the nation with only ECAC rivals Dartmouth and Harvard and this weekend's opponent Michigan Tech having a worst PK. Clarkson has been outshot on average as opponents are averaging 28.6 shots a game while the Golden Knights are at 26.8.
The Golden Knights are also putting themselves in position to win, too, as they have scored first in six of the eight games they have played, but just sitting at .500 when scoring first.
With three graduating seniors on defense from last year's team, sophomore forward Sheldon Rempal signing a free-agent deal with the Los Angeles Kings and forward Josh Dickinson leaving after his freshman season to sign with the Colorado Avalanche, those moves forced underclassmen into new roles at Clarkson.
"We need them to play in some major roles, which makes it even more difficult," Jones said. "For us right now, we feel we have some pieces and we can really skate, [but] we aren't playing the game the right away. We got to play Clarkson hockey and we aren't right now."
While losing Rempal's 23 goals from a season ago, Dickinson's absence may be as big along with the graduation of Brett Gervais, who both played center last season. This season, the Golden Knights have three freshmen down the middle.
Josh Dunne has made the transition well to college hockey from the USHL as he has four goals and three assists in eight games while Nick Campoli and Anthony Callin are are off to slower starts statistically as Campoli has only recorded an assist between the two.
With only three seniors on the roster, Jones is looking at junior Nico Sturm to help right the ship.
"When you look at it right now, with his consistency in his play right now, Nico Sturm has been our backbone right now," Jones said. "He's a great player, [and] we have some older players playing well. He's been consistently here game to game and has been playing at a high level."
Sturm leads the team with five goals and six assists in eight games. He has recorded a point in all eight games Clarkson has played.
The Golden Knights start a stretch this weekend against Michigan Tech where five of the next seven games are being played at Cheel Arena. The two games outside Potsdam are against St. Lawrence, with one in Canton and the other a neutral-site game in Lake Placid.
"We obviously like to play in the friendly confines of Cheel with our fans — it's a big thing," Jones said. "Our goal right now is to play right. I am OK with a loss, but it's playing the game the right way. We are taking shortcuts right now to get an end result and trying to play a way that's not going to get us where we need to go."
The Golden Knights spend seven of the first 10 games in the second half on the road, including the Desert Hockey Classic where they face Arizona State and either Minnesota Duluth or Minnesota State in late December out in Arizona.