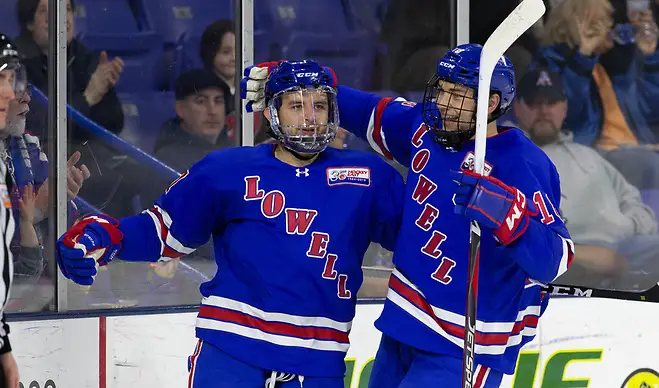 BOSTON – UMass Lowell may not have played their best game, according to their coach, but it was enough to get past a very good Northeastern team on Friday, 3-1,
"I am pleased," said Bazin. "However, you always analyze as a coach and see things you can be doing better. I thought we played better last weekend than we did tonight."
Lowell won the game on a rebound goal from Ryan Lohin with 4:59 remaining. The play was made by a rush from Colin O'Neill who skated the puck from trouble and then, with Lohin crashed the net. With the traffic, Lohin buried the loose puck.
The River Hawks are now unbeaten in eight straight (7-0-1) and have moved from 38th in the PairWise to 14th.
Vermont 3, No. 9 Providence 1
Conor O'Neil's goal with 3:31 remaining in regulation broke a 1-1 tie as Vermont went on to a 3-1 upset of No. 9 Providence.
Stefanos Lekkas finished the game with 33 saves to earn the victory.
Colorado College 4, No. 3 Minnesota Duluth 1
Troy Conzo scored twice and goaltender Alex Leclerc stopped XX shots as Colorado College upset No. 3 Minnesota Duluth, 4-1, in NCHC play.
Trey Bradley and Grant Cruickshank also tallied for the Tigers as they earned their 11th win of the season.
No. 16 Arizona State 6, RIT 1
Arizona State kept its hope to become the first independent team to earn an NCAA bid since 1993 alive on Friday with a 6-1 win at RIT.
Dylan Hollman and Brinson Pasichnuk each scored twice as the Sun Devils improve to 18-10-1 on the season and are in 10th in the PairWise with only five games to play in their regular season schedule.