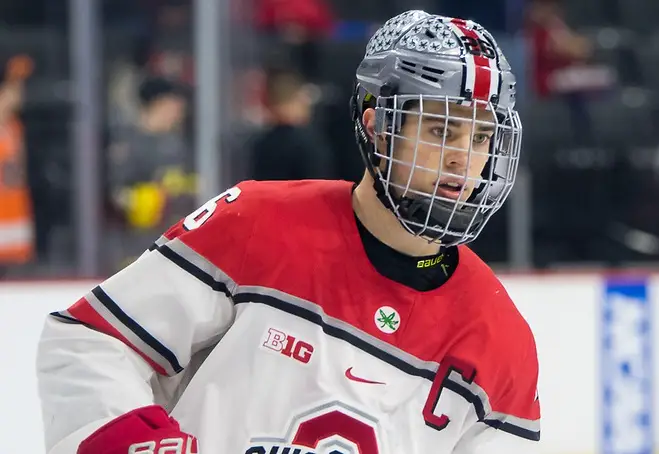 Ohio State has won seven games in a row, outscoring its opponents 26-11 in that time.
Buckeyes coach Steve Rohlik is particularly excited about that second number.
"We've played fairly consistent," Rohlik said "We were a little up-and-down at the beginning of the year. That was our strong point last year — we were pretty consistent start to finish."
Rohlik said he's been reminding the team that they "don't need to score six to win," and that consistency will help them in closer games, like the 2-1 overtime victory over Wisconsin last weekend. Aside from a 6-4 win over Penn State, no team has managed more than two goals against the Buckeyes during their winning streak.
"You've got to play consistent and be connected," he said. "To me, that's what is important for our team to understand because that's what we got away from earlier in the year."
Earlier in the year was a 6-3 loss to Massachusetts, an 8-2 loss to Bowling Green and a 7-7 tie with Michigan State.
"We try not to get into too many of those but the game sometimes dictates that," Rohlik said of high-scoring affairs. "Having some guys that have been around for four years, they understand we've been in those games and they have the confidence that if we play 60 minutes most times you're going to go through some momentum swings in a hockey game.
"You've just got to try and ride out theirs and, again, stay consistent and believe in yourself. We've got a group that believes in themselves."
The Buckeyes have been able to win seven in a row despite Tanner Laczynski, Sasha Larocque and Gustaf Westlund missing multiple games due to injuries. Laczynski hasn't played since Jan. 19 against Penn State and both Larocque and Westlund went down during the game against Notre Dame on Feb. 1. Rohlik said all three are day-to-day or week-to-week in terms of a return date.
"At this point, everybody's dealing with some injuries, that's for sure," Rohlik said. "For us, it's no different. The guys that have filled in have done a great job, but if we can get those guys back, it just gives us that much more depth, and if you can do that, you're probably going to be a little bit better hockey team."
One constant for Rohlik is that he's been able to pencil Mason Jobst into the lineup every game. The senior center leads the Buckeyes with 15 goals and 18 assists this season.
"Players like that don't come around that often," Rohlik said of Jobst. "To have a four-year player, two-time captain, All-American and Hobey Baker candidate and to be there for us his senior year, to me, it's just amazing what he does on and off the ice. He leads by example with his work ethic. That's what you want out of your culture, when you have a guy doing those things and you have other guys following. There's no secret why there's been some success here."
Ohio State has had consistent play in goal, too, from two players. Sophomore Tommy Nappier has a 11-1-2 record with a 1.60 GAA and senior Sean Romeo has a 8-4-2 record with a 2.32 GAA. The two have split duties, with Romeo manning the net on Fridays and Nappier on Saturdays, the whole season. Most goaltending tandems tend segue into one clear-cut starter eventually, but this one seems to be going strong.
"I can't give those two enough credit for understanding what we've talked about and what we've done since the beginning of the year," Rohlik said "They've gone in and done their job and they've put the team first. That speaks volumes of our culture."
This weekend, the Buckeyes get a reeling Minnesota team at home. The Gophers are 2-6 since sweeping Notre Dame, but have already shown Ohio State that they are no pushover. Minnesota took the Buckeyes to overtime twice earlier in the season, scoring with 41 seconds to tie the first game and erasing a two-goal deficit on Saturday.
The difference this time is OSU will be playing at home, where it will play four of the final six regular-season contests and more than likely every game it plays in the Big Ten tournament.
And Columbus has taken note, too, of the No. 2 Buckeyes, as the average attendance for the last four home games has been stellar.
"The energy has been incredible here," Rohlik said. "The fans and our students, you walk in and there's 11,000, 10,000, 9,000 and 10,000. It's been a great run and it speaks volumes for hockey here in Columbus. You've got the Blue Jackets, you've got youth hockey growing, you've got our women's team doing well and then us.
"You've got a lot of people following those teams. It's exciting."