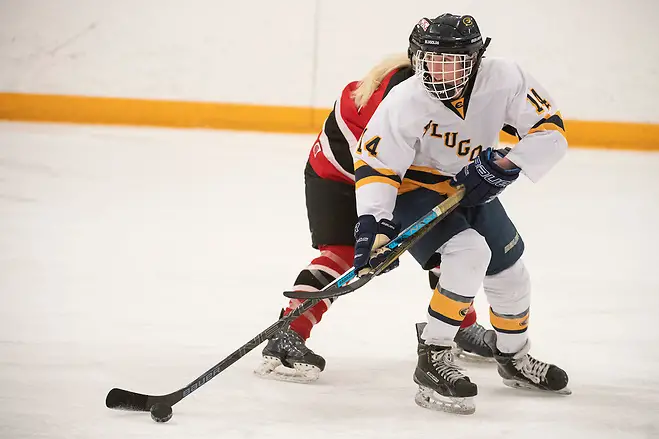 No. 1 St. Thomas versus No. 4 Hamline: St. Thomas 2-0
Kenzie Torpy and the Tommies shut down one of the top offensive teams in the league. Hamline's top scorers in Bre Simon and Leah Schwartzman could not crack St. Thomas's player of the year, goaltender Torpy. Even though the Pipers fell in the MIAC championship, we still will see them in the national tournament with a pool C bid.
No. 5 Wisconsin-River Falls versus No. 9 Wisconsin-Eau Claire: Wisconsin-Eau Claire 7-3
This outcome was crazy and completely unexpected; the Blugolds are not to be doubted anymore. This team can score, but they will need to step up their defensive game for the national tournament. The Falcons were already getting a pool C bid, but Wisconsin-Eau Claire needed specific teams to win their conference tournaments for them to get one as well. Fortunately for the Blugolds, that is exactly what happened.
Endicott versus Morrisville: Endicott 1-0 (OT)
Endicott received their first bid to the NCAA tournament with an overtime goal by Jillian Gibbs. This team wanted redemption from last year, and they got it. Endicott may be the only non-ranked team in the national tournament, but that doesn't mean their opponent should count them out right away.
No. 6 Adrian versus St. Scholastica: Adrian 3-2 (2OT)
This game was intense, and both teams had numerous chances to score during the game. However, both goalies played phenomenal and kept the scoring low. In the end, it was junior Brianna Buchanan that put the puck past St. Scholastica's goaltender and sent the Bulldogs to another national tournament.
No. 7 Williams versus No. 10 Middlebury: Williams 3-2
Defeating Middlebury three times this year is not an easy task. Williams was determined to take control of the NESCAC, and that is exactly what they did. It will be exciting to see how they compete in the NCAA tournament.