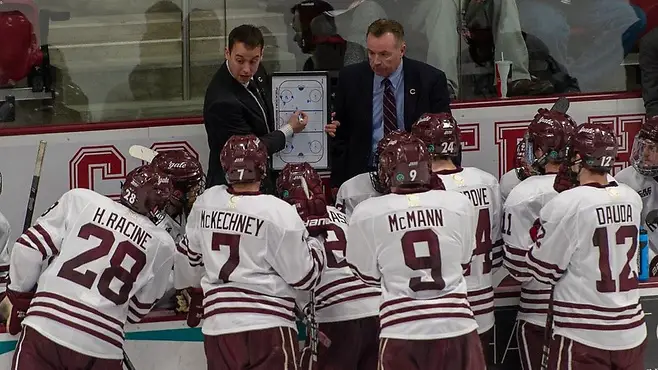 Colgate announced Thursday the promotion of Dana Borges to first assistant of the men's program, as well as the addition of Brett Riley to the staff as an assistant coach.
"Dana Borges is one of the most talented assistant coaches in the country," Colgate head coach Don Vaughan said in a statement. "He thinks the game on a level way beyond his years. He has relentless work ethic and his ability to connect with recruits and their families is more than impressive. He is a real teacher of the game and players are drawn to that."
Borges oversees recruiting efforts for the Colgate hockey program and works extensively with the Raiders' special teams. His research and efforts helped Colgate improve its penalty kill throughout the 2018-19 season.
"I have been doing this for a long time and I can tell you that Dana inspires me," Vaughan added. "He has a bright future in the game and the sky is the limit for him. Colgate hockey is better because Dana Borges is here."
Riley joins the Raiders after leading the inaugural men's hockey program at Wilkes.
"The Riley name is synonymous with U.S. college hockey and Brett is ready to make his own mark on this great game," Vaughan added. "He is a proven recruiter with a great eye for identifying talent and with what he did at the Albany Academy and Wilkes University it's very obvious he can coach, too."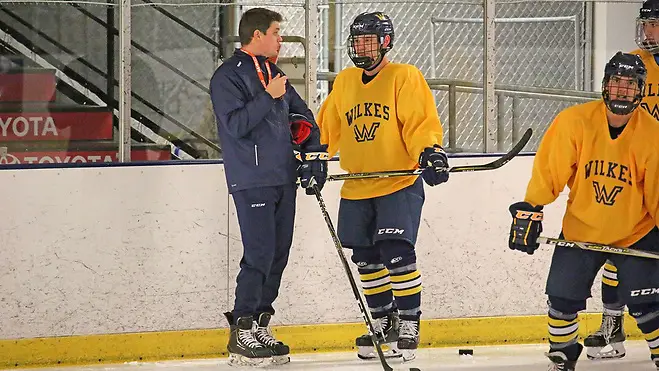 Riley solely recruited the first ever men's hockey team at Wilkes and in his first year behind the bench, the team went 16-8-2, earning him the UCHC conference coach of the year honors.
"I would like to thank Coach Vaughan for this great opportunity," Riley said. "I am excited to get on campus and join the Colgate community. I look forward to working with the student-athletes and staff to make a positive impact both on and off the ice.
"I am so grateful to have had the opportunity to build the Wilkes men's ice hockey program from the ground up. I look forward to watching the tradition of excellence at Wilkes continue to grow on and off the ice."
Prior to his time at Wilkes University, Riley was a three-year head coach at the Albany Academy, where his teams reached historic records highlighted with 2017 NEPSAC large school runner-up accolades. Under Riley's guidance the program was pre-season ranked, hosted and won a semifinal game, and competed in the large school NEPSAC championship for the first time in school history. Riley also served as the head strength and conditioning coach while at the academy.
"His ability to recruit, develop, and mentor quality student athletes will serve him well here at Colgate," Vaughan noted. "He is committed to finding student-athletes of great character and is committed to helping those individuals reach their full potential. Dana Borges and I could not be more excited to start working with Brett."
Riley also founded and maintained operations of GEN3 Hockey, an elite youth hockey program dedicated to teaching, motivating and improving the hockey experience of young athletes.
No stranger to the rink as a third-generation hockey coach, Riley's father, Rob, served as head coach at Army West Point for 19 years and is currently an amateur scout for the NHL's Buffalo Sabres. Jack Riley, Brett's grandfather, also coached at Army for more than 35 years after coaching the United States to the gold medal at the 1960 Squaw Valley Olympics.
A native of South Hamilton, Mass., Riley graduated from Hobart in 2014 with a bachelor's degree in history. He was a three-time ECAC West All-Academic Team selection in his four-year career with the Statesmen.