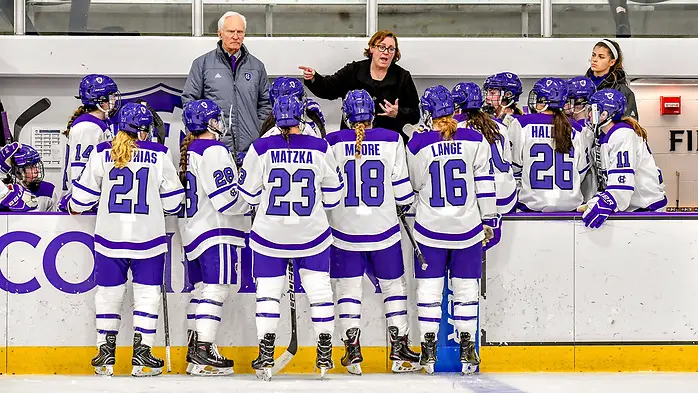 Recent years have brought a lot of change for the Holy Cross women's hockey program as the Crusaders moved to Division I and joined Hockey East. This season, the team also has a new head coach, but she's the least of the upheaval that the program has seen recently. 
When Katie Lachapelle joined Holy Cross three years ago, it was with the knowledge that she was the future of the program. Officially an associate head coach for the past two seasons under Peter Van Buskirk, it was understood that taking over the reins was her next step. Van Buskirk, who spent 34 years at Holy Cross, was the head coach of the women's program for the past 19 years before retiring at the end of last season. 
There's usually a transition period for the players and the staff when a new head coach takes over, but the Crusaders haven't had that. With his decades of experience at Holy Cross, Lachapelle said Van Buskirk was able to help guide her through her transition to a new school. It took a lot of the pressure off and allowed her to become comfortable quickly. It also took at least some of the pressure off as the team moved first to the Division I level and then into Hockey East. 
Lachapelle brings one of the best women's hockey coaching pedigrees in the country to her new role as head coach, but she also brings familiarity. Not only do the players not have to adapt to a new coach or coaching style, but Lachapelle's experience playing and coaching in Hockey East proved very helpful in easing the Crusaders into league play last season. 
Confidence can be tricky business. It's nearly impossible to manufacture and it usually takes some to beget more. Despite winning just a single game last season, Lachapelle said the thing that carries her team through most games is confidence. They're able to be confident in themselves because they pride themselves on how hard they work. 
"The girls have an unbelievable desire to get better. That's one thing we never have to worry about is our team working hard. Even if we're having a tough day, we know we're going to get that effort out of them," said Lachapelle. "To come in and work as hard as these girls have is pretty amazing knowing what they're up against. They don't back down. They have confidence every time they go into a game. They play from the first minute to the last minute. We rarely have any let ups….They will try to out-work every team we play."
Holy Cross opened the season with a pair of ties with Penn State last weekend. The Crusaders were down two goals heading into the final frame of Friday's game before earning the tie. The games were just another step in the direction the Crusaders need to be going. Success may not show in the win column, but Lachapelle says she's seen a marked improvement from her team – not just year to year, but week to week. Of course the team hopes to add more wins this season and have an improved record, but that isn't the only way the team will mark success. 
"We want to limit shots against, score more goals this year. Those are two big things. We'll see in a few months how that translates in the win column," said Lachapelle. "One thing we talk a lot about is getting 1% better. They know that when you get 1% better, you're not going to see it from day to day, but you're going to see it over the course of the month and the course of the season."
The improvements that are already showing on the ice are a combination of those 1% improvements adding up to something bigger, and an increased effort in the weight room and on the ice in player-led practices. The team, Lachapelle said, realized what they're capable of, but knows that they have to work even harder. Every victory on the ice – blocked shots, faceoffs won, goals scored – raises the team's standards. They aren't just happy with what they accomplish, but look to improve on those accomplishments each time. 
Last season's one win was over then no. 5 Northeastern and it came at a time in the season where Lachapelle said the team needed the kind of boost a marquee win can bring. And it set a tone that seems like it will carry Holy Cross through the longest parts of their season, when it can be difficult to feel motivated. 
Lachapelle said there is no quit in her team. She was talking about play on the ice, but it clearly applies to the overall attitude and buy-in of her players, who have shown up day-in and day-out for the past few seasons without a lot of tangible reasons to keep going and when many of us would have already given up. 
"It just made the team realize that we can be in every game and then we'll see what the outcome is," she said. "You never what's going to happen, so you might as well give it your all."