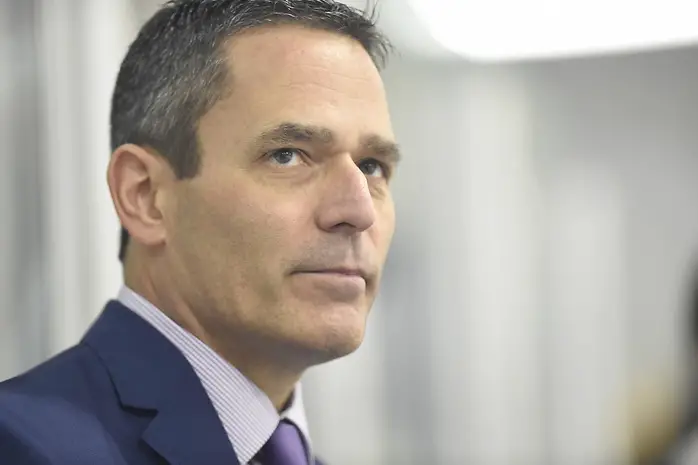 The scoreboard said Northeastern held a lead, but Holy Cross head coach David Berard stood behind his bench with an air of confidence.
His Crusaders were starting to impose a little bit of force against the nationally-ranked Huskies, and he saw a familiar script starting to unfold. His team was beginning to limit scoring opportunities, and the defense began frustrating its opponent.
He almost knew what would happen.
Four minutes after the Huskies scored to take a 2-1 lead, Holy Cross turned an offensive series into a scoring opportunity. Mike Higgins dumped a puck to Patrick O'Leary in the right-wing corner, drawing a defenseman into the corner. The possession turned back towards the faceoff circle, and Conner Jean strode a couple of steps back towards the slot. O'Leary threw the puck to the area, and Jean got enough of a stick on it to send a slow-moving glide past the goalie and over the line.
It was a textbook case of Holy Cross patience, and it helped the Crusaders tie a Hockey East foe 2-2. The goal was deflating, but it became exacerbated because of the road team's defense. Northeastern's early-period goal was one of its few scoring opportunities in the second or third period, and for the second time in three regular-season games, a Holy Cross defense stole the show from an opposing home team.
"We limited scoring chances against a team with a lot of skill," Berard said. "We frustrated them by getting in the way and playing fast and hard. It's a blueprint for some success, and the Providence game was similar. (The Friars) were on us in the first period, and they had legs because they had played a game, and it was our first game after only playing an exhibition. After that first period, we played really well and our defense led the way by protecting the net front.
"It got us back into the game and gave us offensive opportunities."
It's only three games, but it's an encouraging sign of a reemergence of one of the league's defensive stalwarts. The team allowed per game to 27.44 and 26.92 in his first two years, a hefty slash from the high-water mark of 33.18 two years before his arrival. Those numbers jumped over his next two seasons, but the first three games of this season have the team back to 28.30 shots per game.
It's a number helping buoy a complete change in the first three non-league games, and it's especially evident in late-game scenarios. Holy Cross beat Providence and Northeastern with third period comebacks, beating the Friars in overtime and nearly knocking off the Huskies in the same situation. Even in the lone loss against Merrimack, the Crusader offense buzzed, outshooting its opponent by a 27-11 shot margin.
Compare that to last year. Holy Cross was 25 goals better in the first period than the third last year despite being significantly outshot earlier in games. In non-conference games, opponents went 7-0-1 with a plus-20 goal differential in the second and third periods. It's a tangible byproduct of the team's approach, which focuses more on internal improvement than strategy or matchups.
"We don't play in groups of five (defensively)," Berard said. "We soft-match at times, but I don't hard-match lines if we're home or away. It's really hard to match anyways if you're on the road. You might try to match a defensive pair against someone's line, but we won't do it exclusively. We do it situationally. We've talked about being a four line team that can play all of our defensemen. Good teams need to be able to play everyone against anyone, and then at the end of games or periods, go with a certain group."
It's an exemplary system built by a blue collar approach. It seems basic or obvious, but the game results are the result of what happens in practice. Berard indicated that his staff attempts to simulate specific situations as a way to teach muscle memory, and it walks the delicate balance between external preparation and internal development.
"We need to develop that mindset, that anyone can play against anyone and have the confidence to (do it)," Berard said. "The players understand their job to play hard every day and understand situations. (We preach) being smart and making the right plays. That's what a good hockey team does.
"We work on transitions. We work on breakouts, getting through the neutral zone. We create situations in practice that they'll see in the game, so when they get to the game, they've seen it before. It's rehearsed in practice, so they can play without figuring it out on the fly. If you have to figure it out, you're a little hesitant or slow, and that can lead to problems. But we also try to give enough information that it's not overloading about an opponent. We want to execute a game plan, but we want to know what might be coming."
Holy Cross continues its non-conference slate this weekend when it hosts St. Lawrence on Friday. It begins conference play next week when it travels to RIT for two games.
Edge of your seat
The Holy Cross tie marked the latest in an early-season string of extra session hockey for Atlantic Hockey clubs. It was the eighth overtime game and tied the league for second-most among Division I conference with the WCHA. Only Hockey East has more, but four of that league's nine games are against AHA competition.
The league is posting a 4-2-2 record in those games, but the biggest impression comes within the numbers because every overtime except for one is the result of an AHA comeback. The league has eight third period comebacks against non-league teams, including two against Hockey East. Sacred Heart tied UConn after scoring a third period goal with three seconds remaining, and Holy Cross used its tying goal with 23 seconds to springboard to an extra time victory.
There's a little irony to the overtime storyline because the extra session was such a big part of the offseason discussion. The AHA instituted a new overtime format for its league games and shifted to the three-point format used by the western leagues. But because every game happened out of conference, we haven't yet been treated to the league's inaugural 3-on-3 period or a shootout.
I don't think we're going to wait much longer for the overtime format to kick into Atlantic Hockey's league games. Most teams only have one or two conference games played, except for Robert Morris, which is 3-1 with nine points, but Murphy's Law is pretty obvious. The more games there are, the more opportunities everyone will get to break that first barrier.
What to watch this week
Some sneaky good regional rivalries dot the schedule this week, including Robert Morris' trip to Happy Valley for a game against Penn State. The two teams developed a fast rivalry after the Nittany Lions joined Division I, and the Colonials will hope to avenge last year's sweep that included an 11-goal outburst on Neville Island.
Out in Western Massachusetts, the AIC-UMass game is immediate theater this weekend after the teams burst onto the national scene last year. Headlines usually include the term "rivalry" when discussing the two teams, but it certainly never felt like it will this year with both teams coming off of national tournament runs.
Mercyhurst hosts Ohio State in Erie, Pa., in a return match from a two-game sweep for the Buckeyes from last year. The Lakers are only three hours from Columbus, Ohio, so this game will likely reverberate through the greater Cleveland region if they can steal a couple of games for the conference.
The league slate, meanwhile, kicks up with a couple of good, solid matchups. Army West Point heads to Bentley, and RIT travels to Air Force in matchups steeped in familiarity. Sacred Heart, meanwhile, takes the long trip west to Niagara for two games out at the border.
Bentley also plays host to St. Lawrence, which plays at Holy Cross on Friday. St. Lawrence assistant coach Ben Murphy was a longtime assistant coach for the Falcons, and this marks his first trip back to Massachusetts since departing for the North Country.